California Blend Vegetable Recipe
California Blend Vegetable Recipe
10-Minute California Blend Vegetables with Chimichurri Sauce

Frozen California blend vegetable recipe is a quick way to make a healthy and delicious side dish for dinner.  It only takes 10 minutes.  This is a keeper.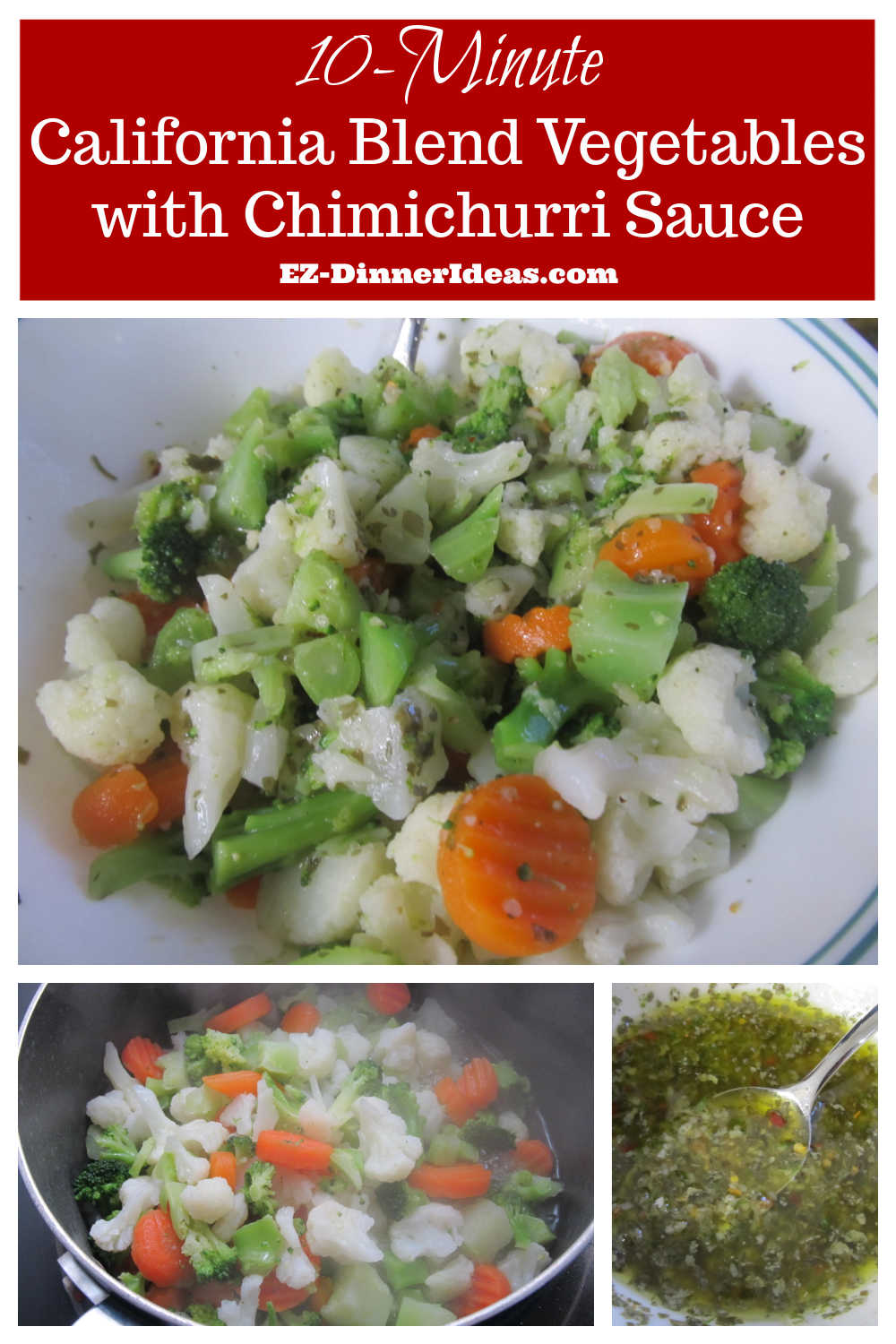 Total Time: 10 Minutes
Prep Time: ZERO 
Active Cook Time: 10 Minutes  
Serving: 4


Frozen California blend vegetables are my staples that many of you may have known already.  This time, we will use one fresh ingredient to give a special touch of this side dish.


CHEF NOTES
If you happen to have a bottle of lime concentrate at home, feel free to use it instead of a fresh lime.

Using dry cilantro makes this recipe low maintenance.  The fresh one is good.  But it has a very short shelf life.  

If you and your family like to eat light, pair this with a couple toasts or garlic bread for each serving.  Then, there is your dinner.
---

Recipe Ingredients and Tools

---

California Blend Vegetable Recipe and Instructions

Ingredients
1 lb (454g) Frozen California blend vegetables
1/4 cup (2oz / 59g) Water
1 Lime (zested and juiced)
1 tbsp Minced Garlic
1 tbsp Dry Cilantro
1 pinch Crushed Red Pepper Flakes
1 tsp Salt
1/4 tsp Black Pepper
2 tbsp Extra Virgin Olive Oil

In a medium sauce pan, combine 1/4 cup (2oz / 59g) water and frozen vegetables together.
Cover and cook at high heat.
When steam comes out of the pot, stir and use a fork to poke through a piece of carrot. If it is tender, it is ready to transfer to serving plate. If not, cover with the lid slightly ajar and turn off heat.  Let it sit for no more than 5 minutes to cook through.
While vegetables are cooking, combine zest, lime juice, crushed red pepper, garlic, dry cilantro, salt and pepper in a small mixing bowl.  Whisk in extra virgin olive oil to make Chimichurri sauce.
Once vegetables are ready, add 1 tbsp or so of Chimichurri sauce on top.  Toss to coat and serve more on the side and enjoy!
---
California Blend Vegetable Recipe Steps with Photos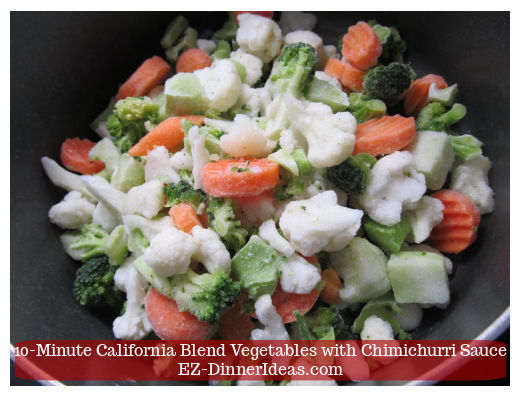 Transfer frozen California blend vegetables and water into a non-stick pot; cover and cook.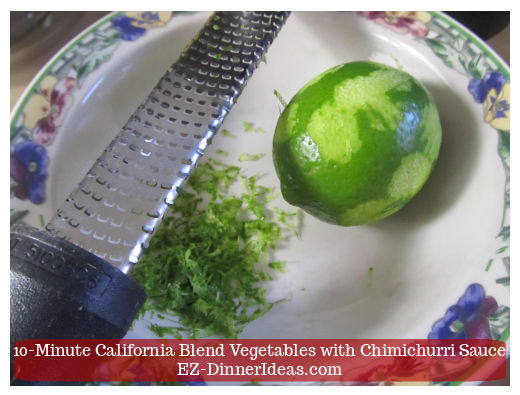 Zest lime over a mixing bowl.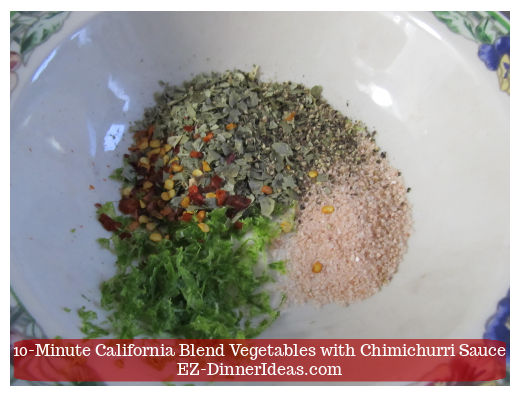 Combine herbs and seasonings together with lime zest.
Stir in lime juice and minced garlic.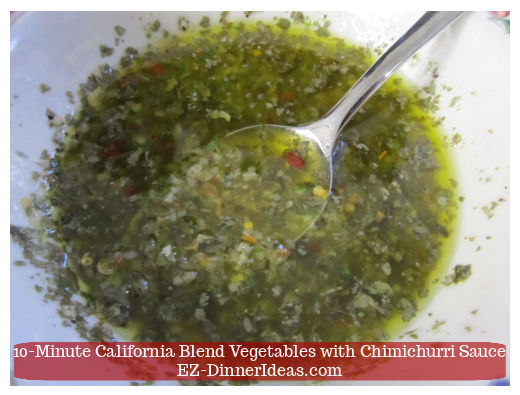 Whisk in extra virgin olive oil to make Chimichurri sauce.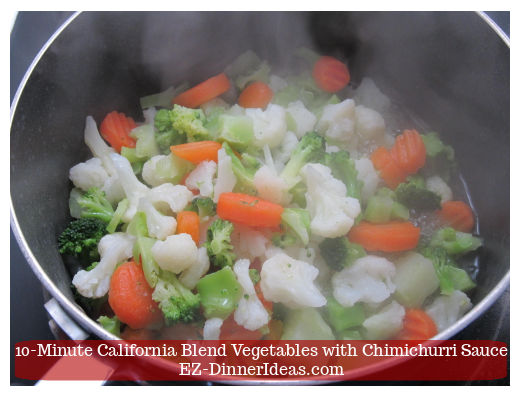 Vegetables are ready.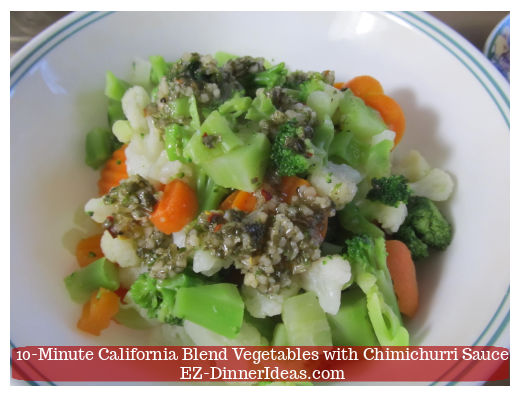 Add 1 tbsp of Chimichurri sauce into cooked vegetables.
Serve the rest of the sauce on the side.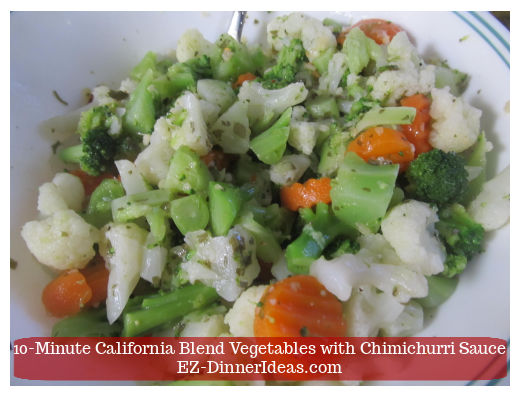 Toss to coat and enjoy immediately.
---
Serve This With: 

---

You May Also Be Interested In:

---
Home > Easy Side Dish Recipes > California Blend Vegetable Recipe with Chimichurri Sauce