5 Must-Cook Frozen California Blend Vegetables Recipes
5 Must-Cook
Frozen California Blend Vegetables Recipes
Eating Healthy Is This Simple
5 Must-Cook Frozen California Blend Vegetables Recipes....there is no excuse when it comes to keep your family and yourself healthy.  This frozen vegetable mix should be a staple in your freezer all time.  You can make these 5 delicious dishes throughout the year.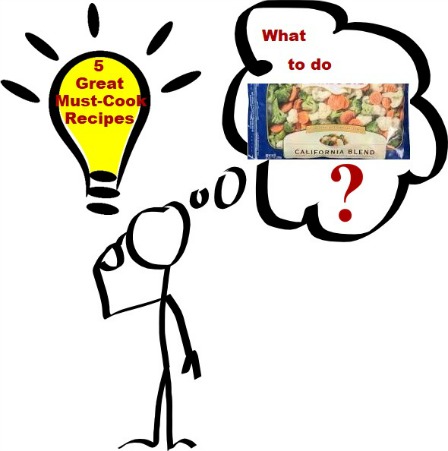 ---

Recipe Ingredients and Tools

---

5 Must-Cook Frozen California Blend Vegetables Recipes Roll Call


Roasted California Blend Vegetables
This is the basic.  Once you master this recipe, you can add any kind of flavor into your California Blend Vegetables Dish.
This recipe also shows you how to use meat dripping to take these frozen vegetables to a different level.  Oh, yes.  Make your main course and side dish in one shot.  Nothing better than that, huh?


Garlic Parmesan California Blend Vegetables

This is the spin-off of the previous recipe.  Garlic Parmesan is one of many flavors you can add to these vegetables.  The options are endless.


Slow Cooker California Blend Vegetable Soup

A slow cooker and a couple bags of frozen California blend vegetables...it is all about convenience.  A bowl of cozy soup can be this easy.


California Blend Vegetables Kielbasa

Kielbasa and any cooked sausage works perfectly with these frozen vegetables, too.

My extended family loves, loves this recipe.  I myself love to cook a big batch and bring to work for my lunch.


Salsa Con Queso California Blend Vegetables

As much as I love to cook with the oven, it could be tough to do it during a hot summer day.  This is another great alternative way to make California blend vegetables on your dining table with a lot of joy and cheers.


10-Minute California Blend Vegetables with Chimichurri Sauce
Don't be surprised.  It only takes 10 minutes to make a healthy side dish for a dinner.  How can you skip that, right?


Cream of Mushroom California Blend Vegetables
Plenty of food tastes better with cream of mushroom.  This side dish recipe is no exception.

There you go.  It concludes the 5 must-cook frozen California blend vegetables recipes.  No matter if you are the beginner of cooking or looking for some healthy easy recipes, these recipes can easily help you to accomplish your goals.  So, stock up the ingredients and make them your pantry staple recipes.
---

You May Also Be Interested In:

---
Home > Frozen Vegetable Recipes > 5 Must-Cook Frozen California Blend Vegetables Recipes