Cheesy Cauliflower Rice Casserole
Cheesy Cauliflower Rice Casserole
Keto Mac and Cheese Cauliflower Rice Brings an American Classic to A Whole New Level

This cheesy cauliflower rice casserole will be one of the most popular dinner ideas in your house in no time.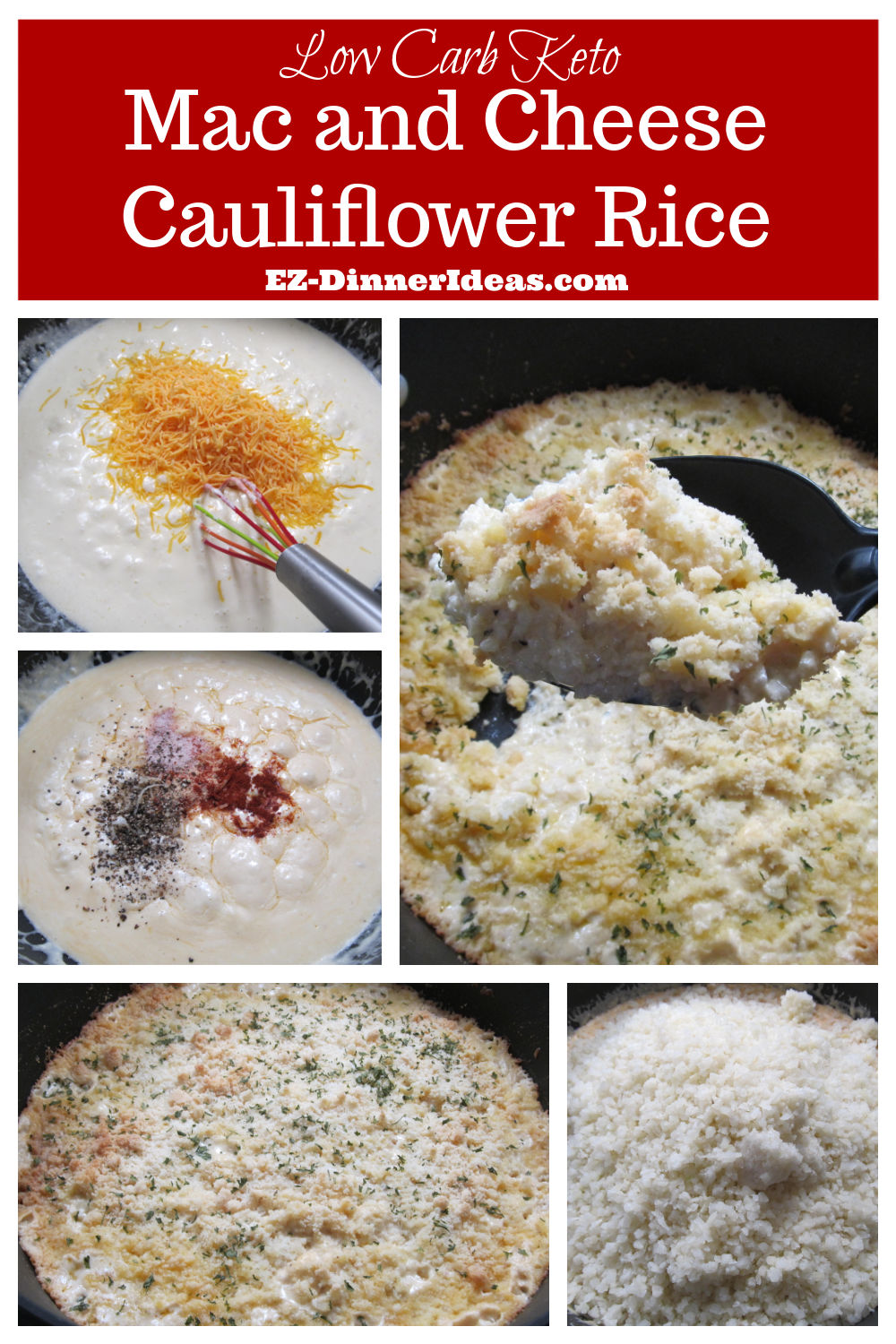 Total Time: 60-65 Minutes
Prep Time: 10 Minutes  
Active Cook Time: 15 Minutes  
Inactive Cook Time: 35-40 Minutes  
Serving: 4-6


Mac and cheese is very popular in many American households. But I rarely have it even though I love pasta and noodles so much. Why? Cheese and carbs are better than any sleeping pills. As soon as I consume any of these combinations, I will dose off on the dining table. As funny as it sounds, it did happen a few times. So, that's one of the main reasons why I stay away from it.  Good news now that I can enjoy it with this Keto version and know that I won't fall asleep after a full meal.

CHEF NOTES
I use a non-stick skillet which can also go into the oven. If your skillet cannot accommodate that, after mixing cauliflower rice and cheese sauce together, transfer it into a casserole dish which needs to be at least 13" x 9" (33 x 22cm) in size. Make sure the dish is coated will no-stick cooking spray.

You can use pre-shredded cheeses.

The cheese combination can be replaced with the blends you like.

You can also add some bacon bits or any crumbled bacon when the Mac and cheese cauliflower rice comes out of the oven.

I am a big eater (or as my husband calls my family and I are professional eaters.) You would be surprised how filling it is per serving.  Cut down the serving size a bit if you need to.  Leftover always tastes better than the day before.
---

Recipe Ingredients and Tools

---
Cheesy Cauliflower Rice Casserole Recipe and Directions

Ingredients
2.5 lbs (1.1kg) Frozen Cauliflower Rice (no big lumps)
1/2 cup (4oz / 118g) Coconut Flour (you can also use almond flour)
4 tbsp Butter (divided; plant-based butter works, too)
1 cup (8oz / 237g) Heavy Cream
1 bar (8oz / 237g) Cream Cheese (cut into 1" cubes for easy melting)
1 bar (8oz / 237g) Very Sharp Cheddar Cheese (Shredded; I use Cabot Very Seriously Sharp Cheddar Cheese)
1/2 cup (4oz / 118g) Pre-shredded Yellow Sharp Cheddar Cheese
1/4 cup (2oz / 59g) Freshly Graded Parmesan Cheese
1 tsp Garlic Powder
1/2 tsp Paprika
Salt and pepper to taste
1 tsp Dry Parsley Flakes (optional; for garnish only)

Directions
Preheat oven at 350F (177C).
Melt 2 tbsp of butter in the skillet and pour into a mixing bowl.  Use a fork to combine it together with coconut flour and put it aside. This will be your "bread crumbs".
In the same skillet, melt another 2 tbsp butter and whisk in heavy cream.
Stir in all cheeses (one cheese at a time), garlic powder, paprika, salt and pepper to taste.
At this stage, make sure to check the seasoning. It should be slightly stronger in flavor and saltier because the cauliflower rice will suck up all these flavors.
Stir in cauliflower rice until every grain is covered with cheese sauce.
Sprinkle the "bread crumbs" on top.
Bake in 350F (177C) oven for 35-40 minutes.
Sprinkle dry parsley flakes on top to garnish and enjoy immediately.
Want More Keto/Low-Carb Recipes?!
This ebook will teach you to cook authentic Chinese food in a healthy way. It will also show you how to get the beautiful colors, texture and taste you get from your favorite Chinese restaurants.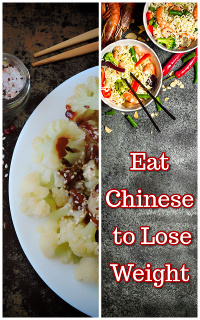 ---
Cheesy Cauliflower Rice Casserole Steps with Photos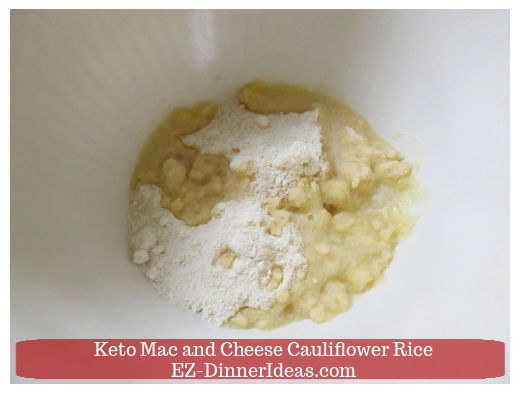 Add melted butter and coconut flour into a mixing bowl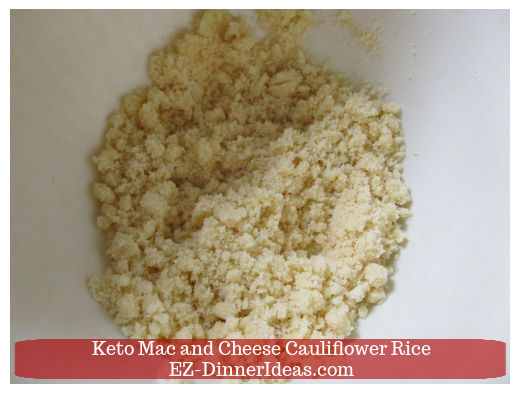 Stir to combine and make "bread crumbs"; put it aside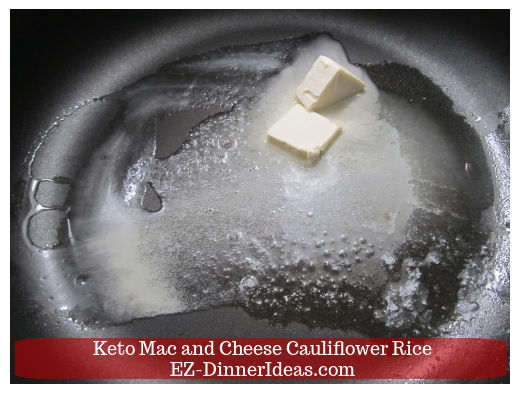 Melt butter in a skillet
Stir in heavy cream and cream cheese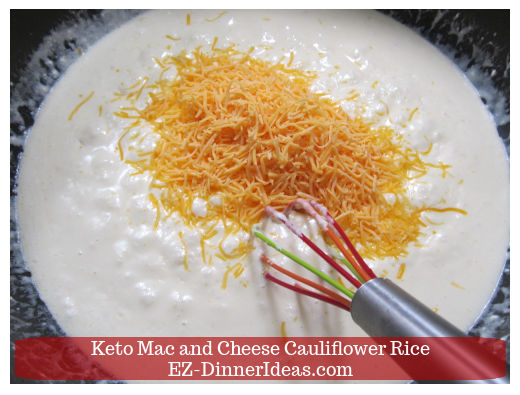 Stir in one cheese at a time; add cheddar cheese and other cheeses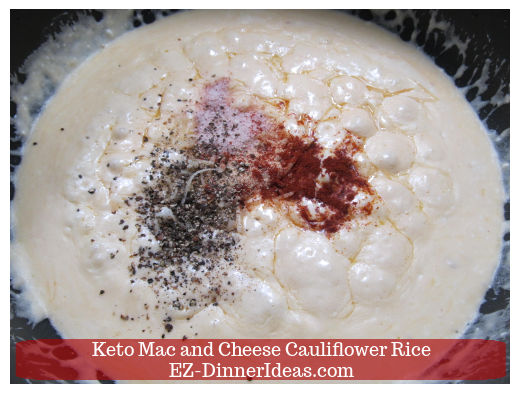 Add spices and seasonings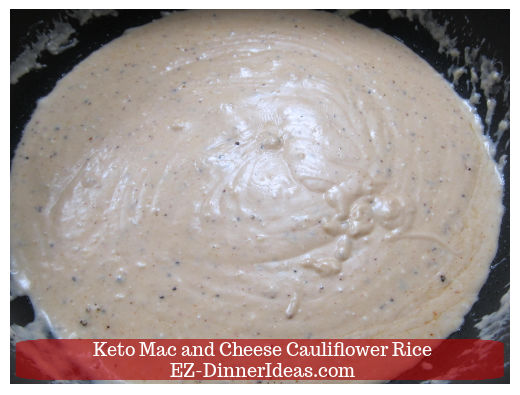 Final product of Mac and cheese sauce is ready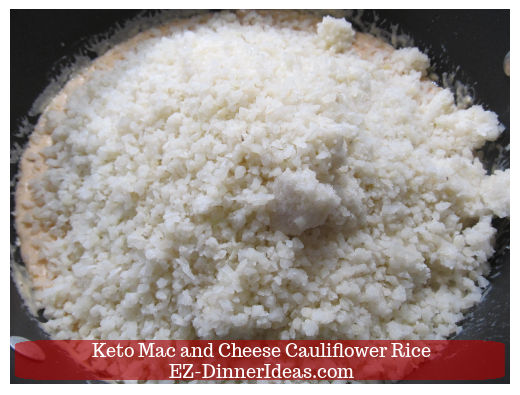 Stir in frozen cauliflower rice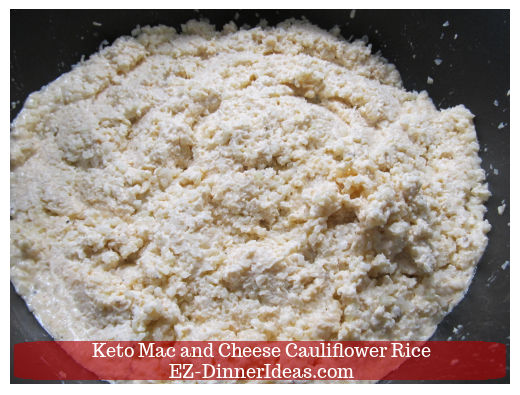 Stir to coat cauliflower rice with cheese sauce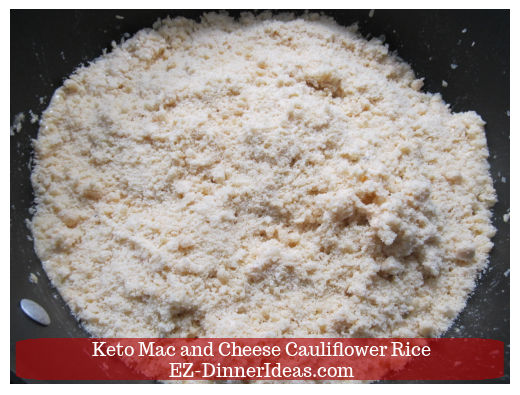 Top it with "bread crumbs" and bake in oven for 35-40 minutes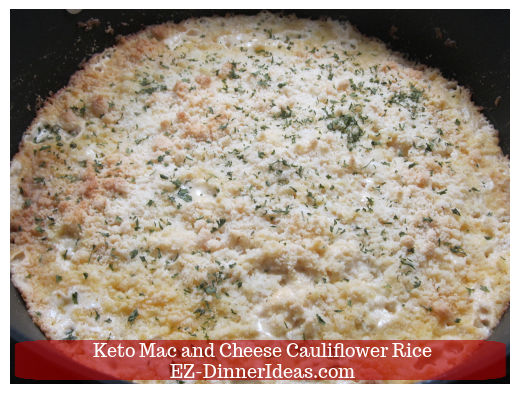 Garnish with parsley flakes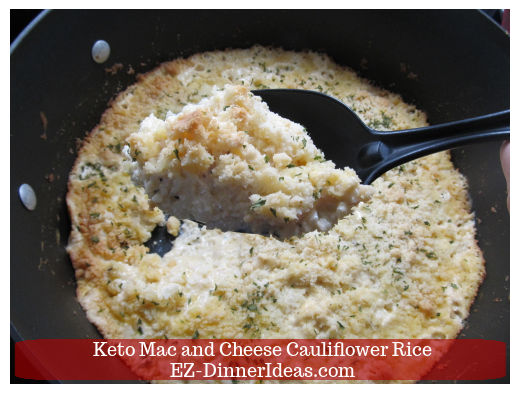 ENJOY!
---

You May Also Be Interested In:

---
Home > Frozen Vegetable Recipes > Cheesy Cauliflower Rice Casserole | Keto Mac and Cheese Cauliflower Rice