Breakfast Potato Hash

Super Easy One Pan Roasted Dish with Kielbasa, Pepper and Onion

This breakfast potato hash is a one-dish meal which is great for breakfast, brunch or dinner.  Chop and drop, pop into the oven, walk away and come back to enjoy.  That's how easy it is.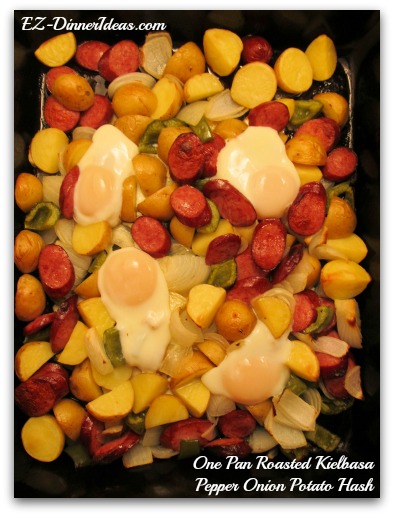 Total Time: 70-75 Minutes
Prep Time: 15 Minutes  
Inactive Cook Time: 55-60 Minutes  
Serving: 4


Nothing better than get everything in one pot or one pan.  Because there are less dishes to do.  A one-pan meal like this even allows you to walkout of the kitchen while it is cooking in the oven.

With my crazy schedule, I usually use this time to revise the test or homework with my child. I bet you can utilize this time to accomplish a lot of things, too.  What is even better....if you can relax and take a break, right?

Think about it in this way, as soon as you get back home from work, you must start cooking.  Taking a 5-minute break is a luxury because you have plenty of things to do before the end of the night.  So, if you can sneak in a break while you are waiting, isn't that wonderful?
CHEF NOTES

There are 2 schools of people in my family which inspired me to cook this dish in 2 ways. 

School #1 (my in-laws) - they don't mind if the vegetables tender or crisp tender.  So, everything will go into the pan in one shot.

School #2 (my nieces and nephews) - vegetables must be crisp tender.  Or else, the vegetables are no good to eat.

Before you prepare this breakfast potato hash, think about which is the majority in your family, school #1 or 2.  Then, you can decide which way to cook.  It is still a one-pan meal through either way of cooking.  The only difference is the timing of when you put in the vegetables.

I love eggs and it is a nice touch for this one-pan meal.  But if you prefer to skip the eggs, please feel free to do so.

Also, I used baby Yukon gold potatoes because it is very low maintenance and easy to cut into the right size.  But you can use other kinds of potatoes for meeting your budget and/or convenience.  Just make sure to cut them into about the same size in order to cook through.
Breakfast Potato Hash Recipe and Instructions
Ingredients
1 green bell pepper (seeded, discard membrane and cut into bite size)
1 Vidalia onion (cut into 1" / 3cm chunk)
2 pounds (907g) baby Yukon gold potatoes (cut into bite size)
1 pound (454g) kielbasa (sliced about 1/2" / 1cm thick)
Salt and pepper
4 eggs
2 tablespoons Extra Virgin Olive Oil
Cooking spray
School #1 - Everything In All At Once

Line a roasting pan with aluminum foil for easy clean up later.
Coat it with no-stick cooking spray.
Preheat oven at 425F (218C).
Put all ingredients, except eggs, into the pan and toss to coat with extra virgin olive oil and salt and pepper to taste.
Bake it in the oven for 45-50 minutes.
Crack the eggs into a bowl first to make sure no shell accidentally drop into the pan before transferring them one by one on top of the hash.
Bake another 10 minutes.  Eggs will come out sunny side up.  Yolks are runny.
Or leave the pan in the oven for a longer period of time to reach the desired doneness of the yolks.
Rest for 2-3 minutes before serving.
School #2 - Crisp Tender Vegetables

If you want the vegetables come out crisp tender, roast kielbasa and potatoes in the oven for 30 minutes first.
Toss in onion and pepper and roast for 15-18 minutes.
Follow the rest of the instructions of the recipe to add eggs and complete cooking process and enjoy.

---

Recipe Ingredients and Tools


A Roasting Pan like this is a must in the kitchen to me.
---

You May Also Be Interested In:

---
Home > Breakfast Recipes > Breakfast Potato Hash | One Pan Roasted Kielbasa Pepper