Pork and Noodles Recipe

Pork Pepper Onion Stir-Fried Rice Noodles
A Few Simple Ingredients with Leftover To Make Another Awesome Family Meal
This pork and noodles recipe is not only yummy, but also very versatile.  You can use leftover or fresh pork.  Or totally skip it to make it a vegetarian dish.


Total Time: 30 Minutes
Prep Time: 15 Minutes  
Active Cook Time: 15 Minutes  
Serving: 4-6


This pork pepper onion stir-fried rice noodles recipe was created because of the leftover from the Oven Baked Pork Roast.
I was raised not to throw food away. My mom always says, "There are a lot of people suffering from hunger in this world. Treasure all the food you got. Don't waste it."

Even though we are all grown-up now, my mom never stops reminding us about that. Therefore, I always have this in the back of my mind and try my best to finish all my leftover.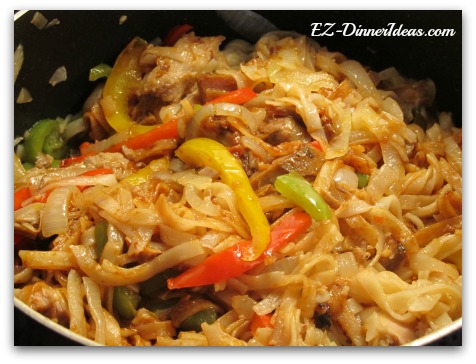 CHEF NOTES

If you don't have any leftover for this pork and noodles recipe, you can do either one of the following:

Just skip the meat and use the rest of the ingredients to make a vegetarian, gluten-free and healthy stir-fried dinner.

Use fresh and thinly sliced pork meat, such as boneless pork chops.  Make sure slice the meat across its grain.  This will ensure its tenderness.
Replace the pork leftover with other meat such as rotisserie chicken or leftover from one of these recipes:
    1) 15-Minute Broiler Lemon Chicken,
    2) World Best Prime Rib and
    3) Chinese Traditional Brisket

I highly recommend to stay away from any meat which has strong flavor.


This ebook will teach you to cook authentic Chinese food in a healthy way. It will also show you how to get the beautiful colors, texture and taste you get from your favorite Chinese restaurants.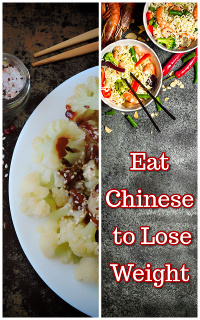 Pork and Noodles Recipe and Instructions
Ingredients
1 pound Thai rice noodles straight cut
3 bell peppers (seeded, discard membrane and cut in stripes; I used 3 different color peppers. It makes the dinner much prettier to eat.)
1 Vidalia onion (cut in strips)
3 cups Pork butt leftover (cut in bite size; refer to the recipe of Oven Baked Pork Roast)
2 cloves Garlic (minced)
1 1/2 teaspoons Salt (divided)
1/4 cup light cooking oil + 1 tablespoon
4-5 Cups of Water

For sauce only
1/4 cup Corn Starch
1 cup Cold Water (Cold water is the key to mix with corn starch.)
1 teaspoon Lite soy sauce
1 tablespoon Dark soy sauce
(Refer to Hongkong stir-fry beef spaghetti recipe for more information about Soy Sauces)
Put rice noodle and 1 teaspoon salt in a heat resistant bowl.
Bring 4-5 cups of water to a boil.
Pour hot water into the bowl of noodles and add 1 tablespoon oil.
Stir with a pair of tongs for a minute so that the noodles don't stick together.
Put this bowl of noodles aside for 15 minutes.  It will do the work for you.
While waiting, use this time to cut up everything, i.e. onion, pepper and pork leftover.
Preheat a Dutch oven at high heat and add 1/4 cup oil.
Add onion and keep stirring for about 2 minutes until the onion starts softened.
Add peppers and stir for another minute.
Add pork and stir for another minute to warm up the meat; turn down the heat to medium.
Drain noodles and transfer to the pot.
Stir in ½ teaspoon salt and garlic.
In a separate mixing bowl, combine all the sauce seasonings together.
Turn up the heat to medium high to high.
Stir in the sauce mixture into the noodles mixture and continue to stir until sauce is thick and stick to the noodles.
Salt and pepper to taste and enjoy immediately.
---

Recipe Ingredients and Tools

---
Serve This With: 

---

You May Also Be Interested In:

Home > Asian Recipes > Pork and Noodles Recipe | Pork Pepper Onion Stir-Fried Rice Noodles