Oven Baked Pork Roast Recipe

Affordable and Versatile
Great Alternative for Dinner Party
This oven baked pork roast recipe is super versatile, low maintenance and affordable.  You can pair it with any side dishes and sauces, like traditional gravy or strawberry pepper sauce.  Great recipe for feeding an army.

Total Time: 9 Hours 25-40 Minutes
Prep Time: 20 Minutes  
Active Cook Time: 5-20 Minutes  
Inactive Cook Time: 9 Hours  
Serving: 6-8


This recipe started out as my another cooking adventure. I always love to try something new. But when I first saw this piece of meat, I was thinking how great the price was and I could feed a crowd in our weekly family dinner.

Pork butt is a very affordable piece of meat. In my opinion, it is a great alternative of prime rib and turkey. It is great for family holiday dinner.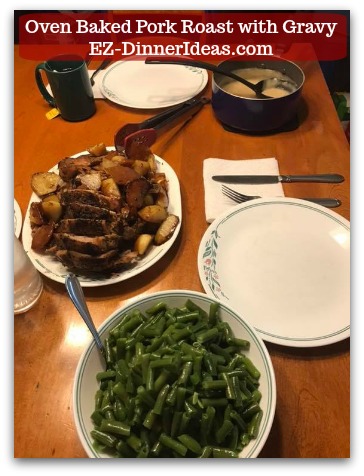 Served it with roasted potatoes, blanched green beans and gravy.

CHEF NOTES
I love this oven baked pork roast recipe so much that I cooked many times after the first trial.  Every time, I like to make a little twist on the vegetables tossed into the roasting pan, gravy or sauce and side dishes. 
Surely, adding the vegetables into the roasting pan and cook together with the meat is the easiest way to go.  But you can think outside the box by making mashed potatoes or baked potatoes, if time is allowed.  I mostly is in a hurry.  My go-to side dish is always blanched green beans on top of the roasted vegetables.  You can even make both traditional gravy and strawberry pepper sauce and serve them together in this dinner.

Just remember, the options are endless.

Although the meat stays in the oven for a long time, it is all inactive cook time.  I cannot emphasize enough that your oven door must be closed at all time.  You only need to open it 3 times.  Here is a summary for you so that you are aware of when you can open the oven door. Take the meat out when:

You need to cover the entire pan with foil after the first hour of cooking at high heat.
Add potatoes, carrots and other vegetables into the roasting pan with meat for the last hour of cooking.
Checking the meat temperature to see if it is cooked through before resting.
As much as we love to have the vegetables to soak up all the yumminess from this oven baked pork roast recipe.  The combined weight of all should be 2.5 pounds maximum.  Otherwise, it will take much longer to complete the cooking process.
I once served it with roasted acorn squash and hasselback potatoes.
Oven Baked Pork Roast Recipe and Instructions

Ingredients
7.5-8 pounds Pork Butt
1 pound Baby Carrots
6 stalks of Celery (cut into about 4-5" long)
1 pounds Potatoes (peeled and cut into bite size or about 1" all around)

For Marinade only
1/4 cup Extra Virgin Olive Oil
2 teaspoons Salt
1/2 teaspoon Black Pepper
1 teaspoon Dried Rosemary
2 teaspoons Garlic Powder
1/2 teaspoon Dried Thyme

For Sauce only
15 ounces Frozen Sliced Strawberries (thawed)
2 heaping tablespoons Jelly Pepper
A splash of Lemon Juice or Apple Cider Vinegar (optional)
Salt and Pepper to taste

For Gravy only
2 tbsp Dripping from the meat
2 heaping tablespoons All Purpose Flour
2 cups Chicken Broth
Salt and Pepper to taste
In a big mixing bowl, whisk together garlic powder, dried rosemary and thyme, extra virgin olive oil, salt and pepper.
Transfer meat into the mixing bowl with marinade.
Rub marinade all around the meat and cover it plastic wrap and chill in the fridge overnight.
Before cooking, take meat out and sit at room temperature for 45-60 minutes.
Line a roasting pan with aluminum foil for easy clean up later.
Preheat oven at 425F.
Put meat into the foil lined pan, skin side up and roast in the oven for an hour uncovered.
Take it out and cover the roasting pan with foil tightly.
Put meat back into the oven and turn off the power, do not open the oven door again.  Let the meat slow cook while the hot oven cools down.
First thing in the morning while getting around, turn on the oven again (do not open the oven door and leave meat as is) at 450F.  Depending on the oven, it takes about 10-15 minutes to reach that temperature.  Once it is reached, turn off oven and let the meat slow cook while you are away for work.
Coming back home at the end of the day. Turn on oven at 250F for an hour.
Put all the veggies into the roasting pan and toss to cover with the dripping from the meat.
Cook at 350F for another hour; covered.  
Turn up oven to 400F and cook for 20 minutes until meat thermometer immediate temperature reaches 170F.  (If the meat didn't meet its expected temperature, put it back into the oven and continue to cook at every 20-minutes interval.)
Rest for 10 minutes before carving.
Strawberry Pepper Sauce

About 30 minutes before the meat coming out of the oven, combine strawberries with juice and pepper jelly in a medium sauce pan.
Bring mixture to boil.
Turn down the heat and simmer for 15 minutes.
Add lemon juice or vinegar if the sauce is too sweet to you.  Salt and pepper to taste and serve along with oven baked pork roast recipe and other side dishes.
Gravy

While the meat is resting, take 2 tbsp of grease from the roasting pan and transfer to a medium sauce pan.
Add flour and whisk until the mixture turns to roux.  Let it cook for about a minute until it starts bubbling.
Whisk in chicken broth until gravy is smooth and thick.  Salt and pepper to taste.
---

Oven Baked Pork Roast Recipe Steps with Photos

Combine all seasonings of marinade into a bowl.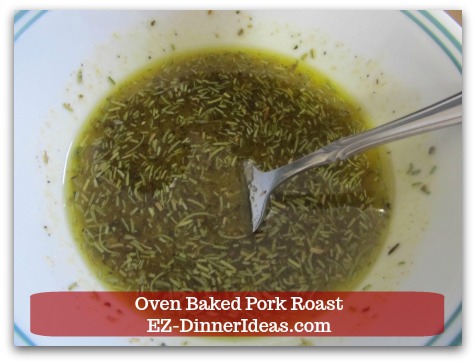 Whisk in extra virgin olive oil.
Rub to coat marinade on meat. Massage the meat while you are doing it. It helps the flavors to get into the meat and tenderize it as well.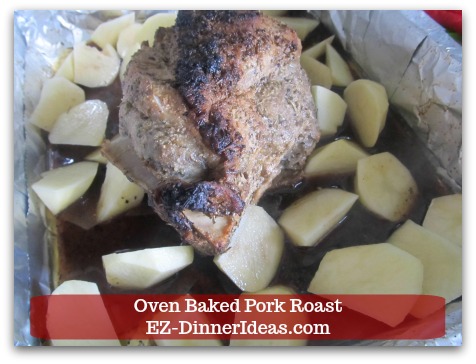 Add potatoes (and other vegetables) in the last hour of cooking.
---

Leftover of Oven Baked Pork Roast Recipe
I doubt that you will have any leftover.  If you do, how to turn the leftover into something delicious and new?  

Check out this Asian Pepper Onion Noodles recipe.
---

Recipe Ingredients and Tools

---
Serve This With: 

---

You May Also Be Interested In:

---
Home > Pork Recipes > Oven Baked Pork Roast Recipe with Strawberry Pepper Sauce or Gravy