Slow Cooker Pork Butt Roast with
Potatoes and Green Beans
Make Comfort Food And
Melt-In-Your-Mouth Dinner Possible
Bet you will cook this slow cooker pork butt roast with potatoes and green beans recipe over and over again.  A little bit of time for prep and doing the finishing touch, the slow cooker will take care of the rest.  With the luxurious gravy, it is like in heaven.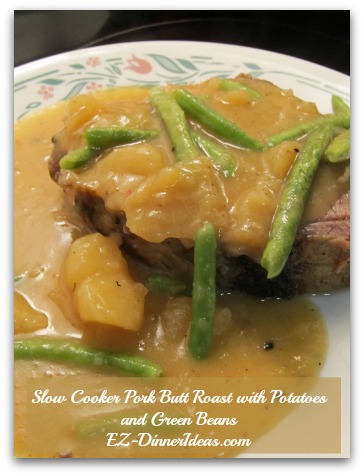 Prep Time: 20 Minutes  Active Cook Time: 25 Minutes
Inactive Cook Time: 4.5 Hours (High Heat) or 8 Hours (Low Heat)
Serving: 6-8
Like, Share & Comment
If you like any recipes on this website, please like, share and comment.  This will help other people like you to find them here.  Thank you very much for your support!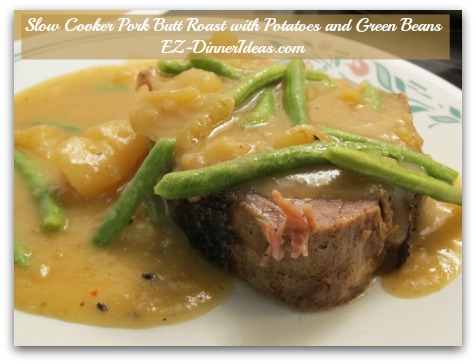 Pork Butt is one of my favorite cut of meat.  It is tender, juicy and very affordable.  I love to cook it in the oven.  But as my schedule getting tighter and tighter with my little one, I find it difficult to cook a pork butt dinner even during the weekend. 

As you may have already known that I am very particular when it comes to slow cooker.  People love to dump everything into a crock pot, but me.  In my opinion, only certain food belongs to the slow cooker.  When I put this recipe together, I was a bit skeptical at first.  But then, you only gain if you are willing to take a risk.  Man, oh man....the texture, the meat and even gravy came out P.E.R.F.E.C.T.
Tips Making Slow Cooker Pork Butt Roast with Potatoes and Green Beans
You may want to switch to pork loin or pork tenderloin for this recipe.  Even several of my family members would love to do that.  I highly recommend you to stay away from doing so.  It is because pork loin and tenderloin is like white meat.  The meat will come out dry.  You don't want to eat sandpaper, do you?

If you plan to cook more green beans or fasten the process instead of waiting the crock pot to cook through the vegetables, cook them on the stove top.  Check out the perfectly blanched green beans recipe.

Although I used Smoky Chipotle seasoning, it only gives the smoky flavor to the meat.  The amount of seasoning used in this recipe is not enough to make the meat hot and spicy.  Please feel free to adjust the amount of the seasonings per your preference.  You can also use different kind of seasonings out there.  Garlic and Rosemary is always a great combination when it comes to pork.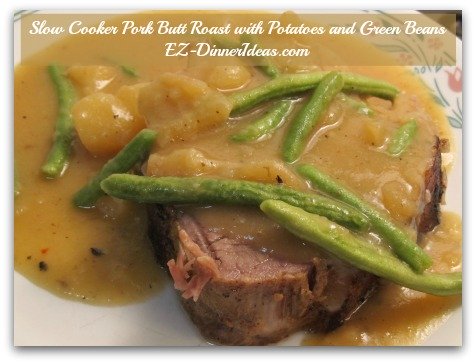 Ingredients
4.5-5 lb Pork Butt
2lb Russet Potatoes (cut in big chunks; about 2" around)
1 Medium Yellow Onion (cut in wedges)
2 Dried Bay Leaves
3 Cups Chicken Broth
1 lb Frozen Whole Green Beans (hold this until dinner is almost ready.  Please refer to instructions below)
3 tbsp Butter
1/3 cup All Purpose Flour
Salt and Pepper to taste
No-stick Cooking Spray

Marinade
1 1/2 tbsp Chitpole Seasoning
1 tsp Salt
2 tsp Garlic Powder
1/8 tsp Sugar
2 tbsp Extra Virgin Olive Oil

In a big mixing bowl, combine marinade together (texture would be like thick paste)
Rub it thoroughly on the Pork Butt and chill overnight
Take meat and sit in room temperature while you are cutting up the veggie
Coat no-stick cooking spray on the insert of a slow cooker
Add vegetables, i.e. potatoes, onion and bay leaves, at the bottom of the slow cooker
Preheat a big deep skillet or Dutch oven at high heat and brown Pork Butt (about 3-5 mins each side.  You don't need any oil in the skillet because the meat is well coated with oil during the marinating process)
Transfer meat into the slow cooker and nestle it into the vegetables
Add chicken broth and marinade into the skillet to pick up the brown bits and flavor from browning the meat earlier
Once it starts simmering, pour hot broth into the slow cooker and cover
Cook at high heat for 4.5 hours or low heat for 8 hours until a thermometer insert and read the instant temperature for 170F (you may need to turn the Pork Butt over so that the top part of the heat nestle into the middle/bottom of the crock pot to cook through)
About 30 minutes before dinner is served, turn heat to high if it was set as low
Take out meat to rest before carving
Add frozen green beans into the slow cooker and cover
While waiting, in a medium sauce pan, melt 3 tbsp butter at medium high heat and whisk in 1/3 cup flour to make roux
Cook roux about 1 minutes
Transfer 3 cups of hot broth from slow cooker and add into the sauce pan
Whisk until roux becomes super thick paste texture
Transfer roux into the slow cooker and stir until well mixed with the rest of the sauce
With the potatoes breaking apart, the sauce should be like gravy now
Add salt and pepper to taste and cook until green beans to crisp tender
Carve meat and add gravy and green beans on top and serve immediately
You May Also Be Interested In:

Return from Slow Cooker Pork Butt Roast with Potatoes and Green Beans recipe page to Slow Cooker Recipes page

Return to Easy Dinner Ideas Homepage