Chicken and Rice Dinner Recipe

Sriracha Chicken Lettuce Wraps
Versatile, Filling, Healthy
Quick And Simple Meal

This chicken and rice dinner recipe is very versatile.  Meat eaters and vegetarians can all sit on the same table at the same time to enjoy together. 

These Sriracha chicken lettuce wraps will be on the table in 30 minutes. Can you believe it? Friends and family will never get enough of this healthy, simple and flavorful dinner. They will rave about it over and over again.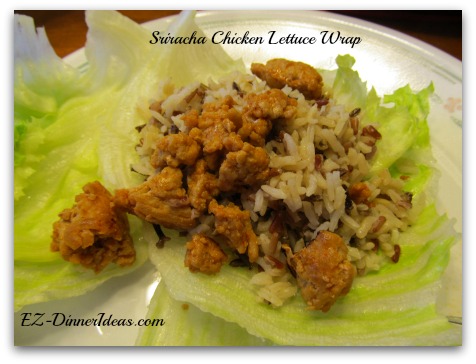 Total Time: 25 Minutes
Prep Time: 5 Minutes  
Active Cook Time: 20 Minutes  
Serving: 4-6


I have used Sriracha sauce just purely for condiment throughout my whole life. My dad loves to put it into any stir-fry noodles like the Hong Kong stir-fry beef spaghetti.

This chicken and rice dinner recipe is very versatile. If Sriracha sauce is not your thing, you can replace it with BBQ sauce, buffalo wing sauce or even sweet and sour sauce. Whatever fits your bill, just go for it.

Before diving into the joy of cooking, let me share with you some important tips.
CHEF NOTES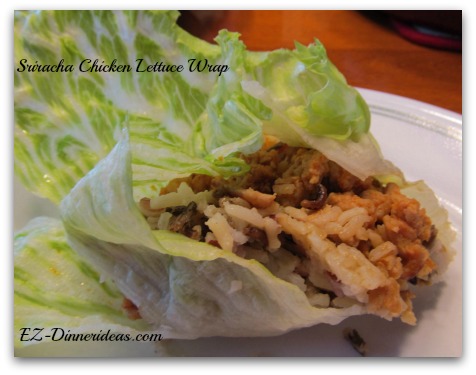 The Lettuce

Hit the lettuce core to the counter which will allow you to take out the core easily.

Then, try your best to separate the leaves carefully without breaking them. As you get closer and closer to the core, it will get more and more difficult to pull the leaves
apart without breaking them. So, just cut the remaining head of lettuce in halves and separate the rest.
You can replace ground chicken with other ground meat. 

Since everybody is going to assemble their lettuce wraps on their own, any vegetarians in your circles are welcome to join in.  If so, switch chicken broth to the vegetable broth.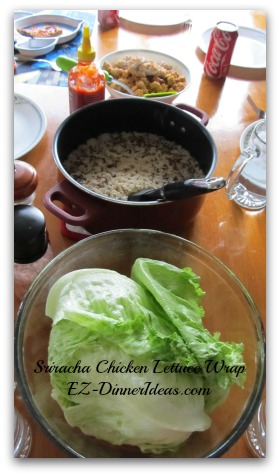 Wild Rice Mix

The yielded quantity on the package of the cooked wild rice is way off. Like in this recipe, it calls for 3 cups of dried rice mix which yielded about 6 cups of cooked rice only instead of 8-1/4 cups.
So, go by the ratio of 1 cup of dried rice mix yields 2 cups of cooked rice. Adjust your quantity of rice based on this ratio.


Sriracha Sauce

I only added 4 tablespoons Sriracha sauce into the chicken which is not a lot, especially for people love hot and spicy food. But there are a few family members in my family can't take too much heat in the food.
So, serving extra sauce along the side will make everybody happy. Do feel free to adjust the amount of Sriracha sauce per your preference.
Chicken and Rice Dinner Recipe and Instructions

Ingredients
1 Head Iceberg Lettuce (cored, separate into leaves and rinsed)
2 pounds Ground Chicken/Turkey
3 Cups Wild Rice Mix (I used Royal Blend because the rice is par-boiled. It will be ready for serving in 20 minutes instead of 45 minutes)
4.5 cups Low Sodium Chicken Broth (typical package of broth is 2, 4 or 6 cups. Instead of buying extra broth, feel free to replace that half cup with water)
4 tablespoons Sriracha Sauce (plus more to serve on the side)
1 tablespoons Honey
3 teaspoons + 2 tablespoons Extra Virgin Olive Oil (divided)
1 pinch of Salt


Combine 3 teaspoons Extra Virgin Olive Oil, rice and chicken broth in a large saucepan or Dutch oven.
Bring the mixture to a boil and cover it to simmer for 15 minutes.
Turn off heat and let it sit for 5-10 minutes before serving.
While the rice is cooking, get the lettuce ready and put aside for later.

Heat 2 tablespoons Extra Virgin Olive Oil in a big skillet at high heat and add ground chicken.
Use spatula to break the chicken into pieces and let it brown.
Stir regularly until the chicken is brown and cooked through; about 10 minutes.

Stir in salt, Sriracha sauce and honey.
Adjust seasoning and serve with rice and lettuce.
To assemble, put in rice and chicken into the lettuce, wrap it and enjoy.
---

You May Also Be Interested In:

---
Home > Chicken Recipes > Chicken and Rice Dinner Recipe | Sriracha Chicken Lettuce Wrap