Oven Roasted Sticky
Orange Sriracha Chicken
Great for Eat with Your Hands
Or A Full-Blown Chinese Dinner
If you like your food with Asian flair, sticky and licking-your-finger good, this oven roasted sticky orange sriracha chicken recipe is made for you.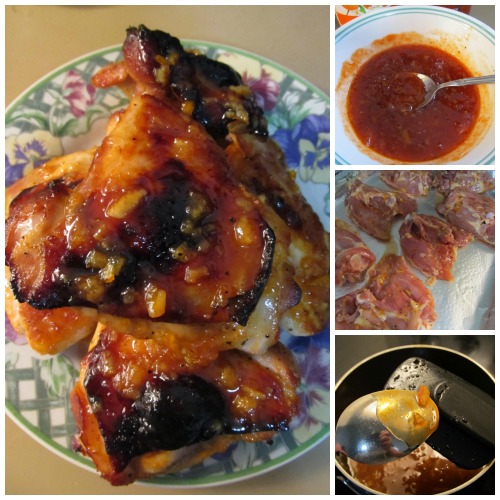 Prep time: 5-15 minutes   Inactive Cook Time: 90 minutes  Serving: 4-6


CHEF NOTES

Sticks with the same chicken parts, such as all drumsticks, thighs or breasts.  This will guarantee every piece cook evenly.
Taste the marinade before mixing it with the chicken.  Do the same thing with the dressing because you and your family may have different preference.  If some like sweeter sauce and the other like more heat in your family, make the marinade and dressing sweeter and serve Sriracha sauce on the dining table.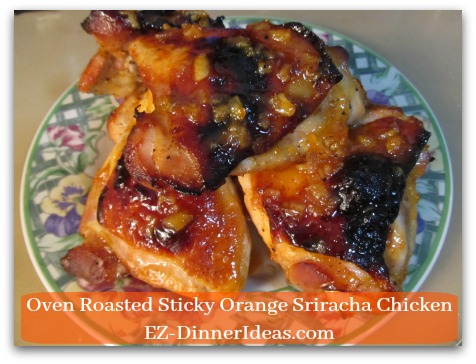 Oven Roasted Sticky Orange Sriracha Chicken Recipe

Ingredients
3-4 lbs Bone-in Skin-on Chicken Parts
No-stick Cooking Spray
Marinade
1 tsp Salt
1/4 tsp Black Pepper
1/4 cup Orange Marmalade
2 tsp Sriracha Sauce
Dressing (additional dressing ingredients are optional.  Depends on the quantity you will get after the sauce thicken up)
1/4 cup Orange Marmalade
1 tsp Sriracha Sauce

Mix all ingredients of marinade into a mixing bowl
Taste and adjust (knowing that the taste will intensify.  Adjust Orange Marmalade and Sriracha Sauce ratio to your liking)
Toss to coat chicken with marinade and chill in fridge overnight
Preheat oven at 425F; line a roasting pan with aluminum foil and coat with cooking spray
Single layer chicken skin side down on foil-lined baking sheet and cook for 50 minutes; save the marinade for making dressing later
Turn chicken over and roast for another 40 minutes until chicken is cooked through
Transfer chicken to serving plate and rest for 10 minutes
Immediately transfer juice from baking sheet and marinade leftover into a sauce pan and bring it to rolling boil and simmer.  The sauce should be thick enough to coat the back of a spoon
Just like mixing the marinade by tasting and adding more orange marmalade and/or Sriracha sauce accordingly
Pour about 2 spoonful of sauce on the chicken and serve the rest along with chicken and enjoy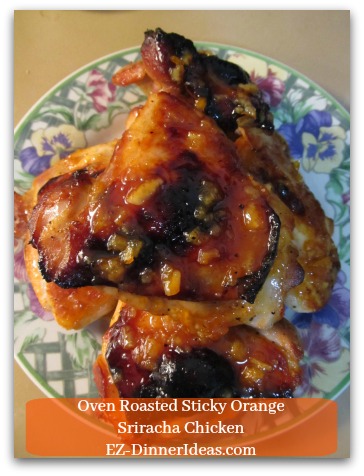 ---
Serve This With: 

---

You May Also Be Interested In:

Home > Chicken Recipes > Oven Roasted Sticky Orange Sriracha Chicken