Party Shrimp Cocktail With 4 Dipping Sauces

Seafood Lover Feast
Party shrimp cocktail with 4 dipping sauces is exciting for any seafood lover.  There are more choices for everyone other than the traditional kind.  Everybody will love you think outside the box.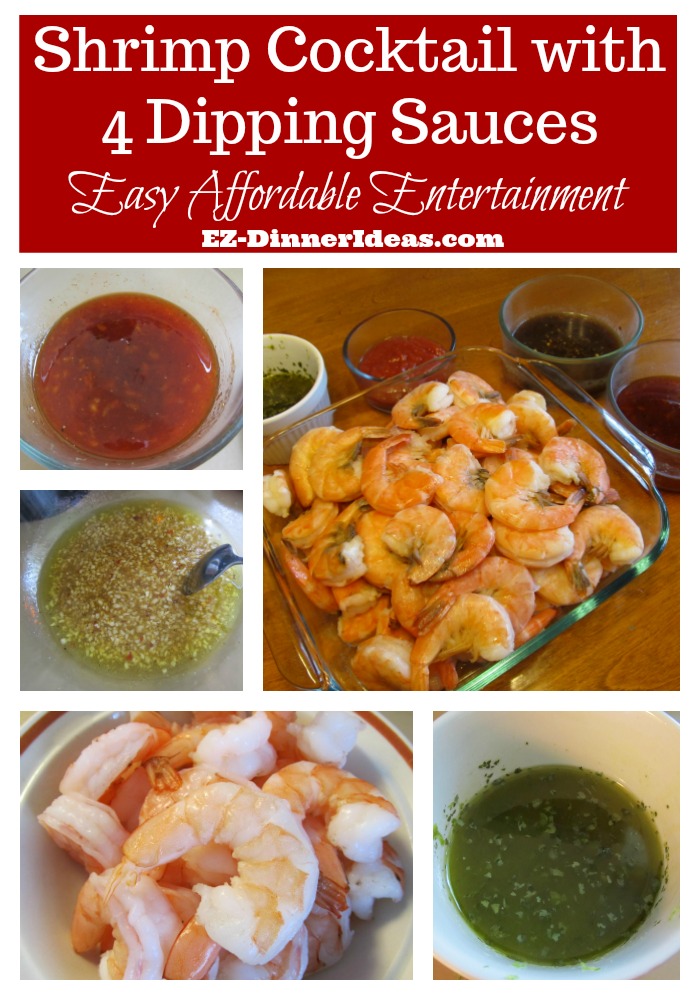 Total Time: 15-23 Minutes
Prep Time: 10-15 Minutes  
Active Cook Time: 5-8 Minutes  
Serving: 4-8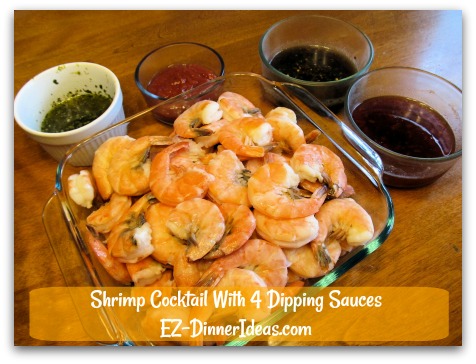 Think about having everybody on the table to dig in on a hot summer day or a big dinner party like Super Bowl, Thanksgiving and Christmas.

That was exactly how I served this dish.  3 pounds of shrimp sound a lot.  But for seafood lovers, they will be gone in no time.  And that was how it happened in one of our weekly family dinners.

Serve another easy side dish eating with your hands.  Everybody will be happy.

CHEF NOTES

I always keep frozen shrimp on hand.  Of course, I stock up my freezer when shrimp is on sale.  Here is a quick way to thaw shrimp and cook it with other ingredients for any stove top recipes.

Follow the directions in this recipe to cook the shrimp and cool it down in ice water.  If you need to shell the shrimp, go ahead and do it.  If not, you can cook another ingredients, for instance pasta, that you plan on pairing with shrimp.  Toss shrimp into your dish to finish it off and enjoy!

There are 4 dressings or sauces here.  Feel free to add or reduce number of varieties to fit your budget and time.

Party Shrimp Cocktail With 4 Dipping Sauces Recipe and Instructions

Ingredients

3 lbs Frozen Shrimp

Sauce #1 - Orange Sriracha (Great for dipping fried chicken, too)
1/3 cup Orange Marmalade
1 tsp Sriracha Sauce (or Buffalo Hot Sauce)
Salt and pepper to taste

Sauce #2 - Super Easy Chimichurri Sauce (I love this Sauce on my steak as well)
Lime Zest
1 Lime (juiced)
1 Minced Garlic
1 tsp Freeze Dried Cilantro
Drizzle of Extra Virgin Olive Oil (optional)
Salt and pepper to taste

Sauce #3 - Honey Garlic Sauce (this is a great salad dressing, too)
1 Minced Garlic
1 tsp Grated Ginger or 1/4 tsp Ginger Powder
1/4 cup Honey
2 tsp Superior Light Soy Sauce
Salt and pepper to taste

Sauce #4 (I use store bought)
Regular Shrimp Cocktail Sauce

In 3 separate small serving bowls, mix the first 3 sauces/dressings separately to taste.
In a big bowl, fill 1/3 of its capacity with ice and add filtered cold water.  Put it aside and we will use this ice water to cool down the shrimp later.
Bring a soup pot of water to boil.
Add shrimp into the boiling water.
Once it boils again, let shrimp cook another 2-3 minutes or until opaque.
Use a slotted spoon to transfer shrimp to the bowl of ice water to stop its cooking process.
Drain water and serve immediately along with dressings.
Or store in food container and chill overnight and serve later.

Party Shrimp Cocktail With 4 Dipping Sauces Steps with Photos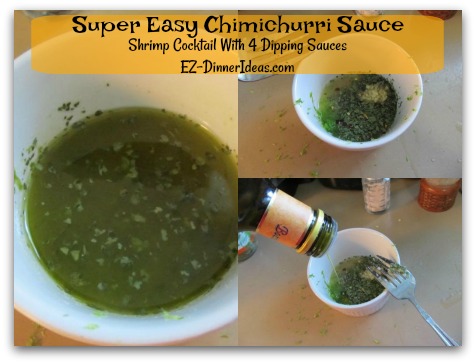 Sauce #2 - Combine, lime juice and zest, garlic, cilantro and olive oil (optional) together to make Super Easy Chimichurri Sauce.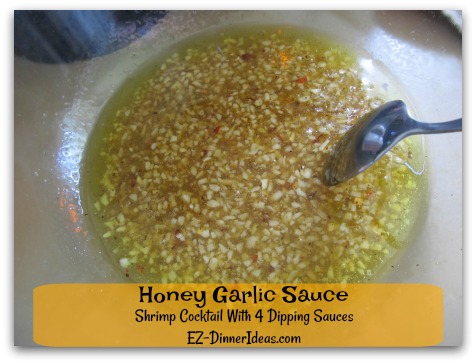 Sauce #3 - Combine garlic, ginger, honey and soy sauce together to make Honey Garlic Sauce.
Sauce #4 - Store-Bought Regular Shrimp Cocktail Sauce
---

Recipe Ingredients and Tools

---
Serve This With: 

---

You May Also Be Interested In:

---
Home > Seafood Recipes > Party Shrimp Cocktail With 4 Dipping Sauces