Simply Healthier Lemonade Concentrate
Simply Healthier Lemonade Concentrate Recipe from Scratch


Control Sugar In Take and Let Everybody Makes Their Own Lemonade with Their Desired Sweetness
This simply healthier lemonade concentrate recipe from scratch can please everybody because you can adjust the sweetness this classic thirst quenching drink perfectly for every individual.

Total Time: 15-20 Minutes
Prep Time: 10-15 Minutes  
Active Cook Time: 5 Minutes  
Inactive Cook Time: ZERO  
Serving: 12+


In my house, we all love lemonade during summer time, especially the homemade one.  However, we never agree on the sweetness of the lemonade.  I prefer a bit sour while my hubby loves a lot much sweeter.  The rest of the family goes along either way.

This recipe is perfect for us to make exactly the way how anybody wants.

Most of the time, you add sugar into the lemonade.  You stir and stir and stir for a long, long time until the sugar completely dissolved.  Or you just add to the level that it tastes right disregarding if all the sugar dissolves or not.  By then, you lost count how much sugar you added into the lemonade.

That's where the simply syrup comes into place.  You have the perfect control of how much sugar you are going to consume.

My son loves to make this drink with me in the kitchen since he was 3.  I highly recommend you to make some room to allow your child(ren) to join you making this drink.  It is a lot of fun. 
As usual, safety in the kitchen is the highest priority of everything.  If you think that it is too dangerous for them to do so, maybe consider to move it to the dining table.  If it still doesn't work, just discard the idea.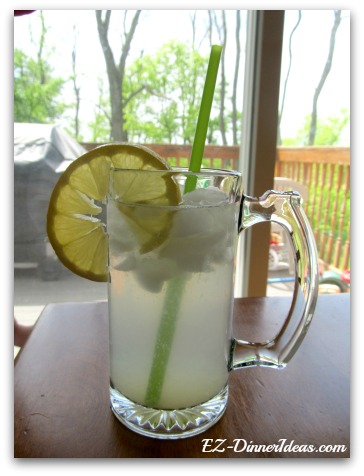 CHEF NOTES
There are 2 major tips that I want to share with you and focus on so that you can nail it the very first time:

a)    Lemons

You can either buy the regular or jumbo lemons to make this simply healthier lemonade concentrate recipe.  I highly recommend you to stick to the regular lemons.  My experience was that you pay a lot of money for the lemon peel when it comes to the jumbo ones.  You are much better off with the regular size lemons.

b)    Simple Syrup

The recipe calls for 2 cups each for sugar and water.  It yields at least 3 cups of simple syrup and you will hardly use up all the simple syrup.  The purpose of the leftover is to allow your family members and guests to adjust to their preferred sweetness. 
What should you do with the leftover?  I always store it in a mason jar and put it in the back of the fridge.  It will be good for at least 2 weeks.  You can use the simple syrup leftover to sweeten strawberries, pineapple or other fruit if it is necessary.

Simply Healthier Lemonade Concentrate Recipe and Instructions

Ingredients
9 Regular Lemons or 5 Jumbo Lemons (halved; juiced and saved for the lemonade)
2 Cups Sugar
2 Cups Water

Combine both sugar and water into a medium saucepan.
Bring it to a simmer and stir until all sugar is dissolved to make a simple syrup.
Juice all the lemons.
Using a sifter to separate the seeds and/or pulps of the lemons.
Combine lemon juice and 2 cups of simple syrup into a 2-Quart pitcher.
Stir to combine.
To serve, depending on the size of a serving glass, add lemonade concentrate to fill about 1/16 of the glass.
Add water and/or ice to fill up the rest of the glass.
Stir well and serve along with the remaining simply syrup.
Simply Healthier Lemonade Concentrate  Steps with Photos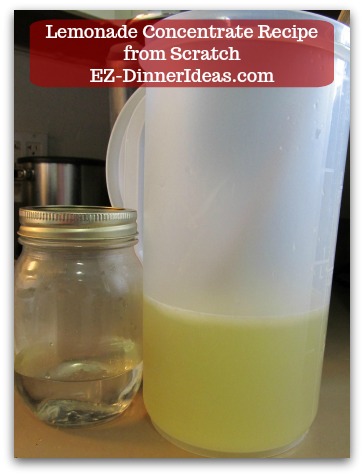 Combine 2 cups of simple syrup into the lemon juice and save syrup leftover in a mason jar for adding more sweetness later
---

Recipe Ingredients and Tools

---

You May Also Be Interested In:

---
Home > Drink Recipes > Simply Healthier Lemonade Concentrate