Asian Pasta Salad with Chicken
5-Ingredient Versatile Dinner that Can Feed Your Hungry Family in 30 Minutes
Asian pasta salad with chicken is going to be one of the easiest recipes on top of your list. It's super versatile to bump up the quantity. If you are too busy, you can switch it to a complete no-cook version.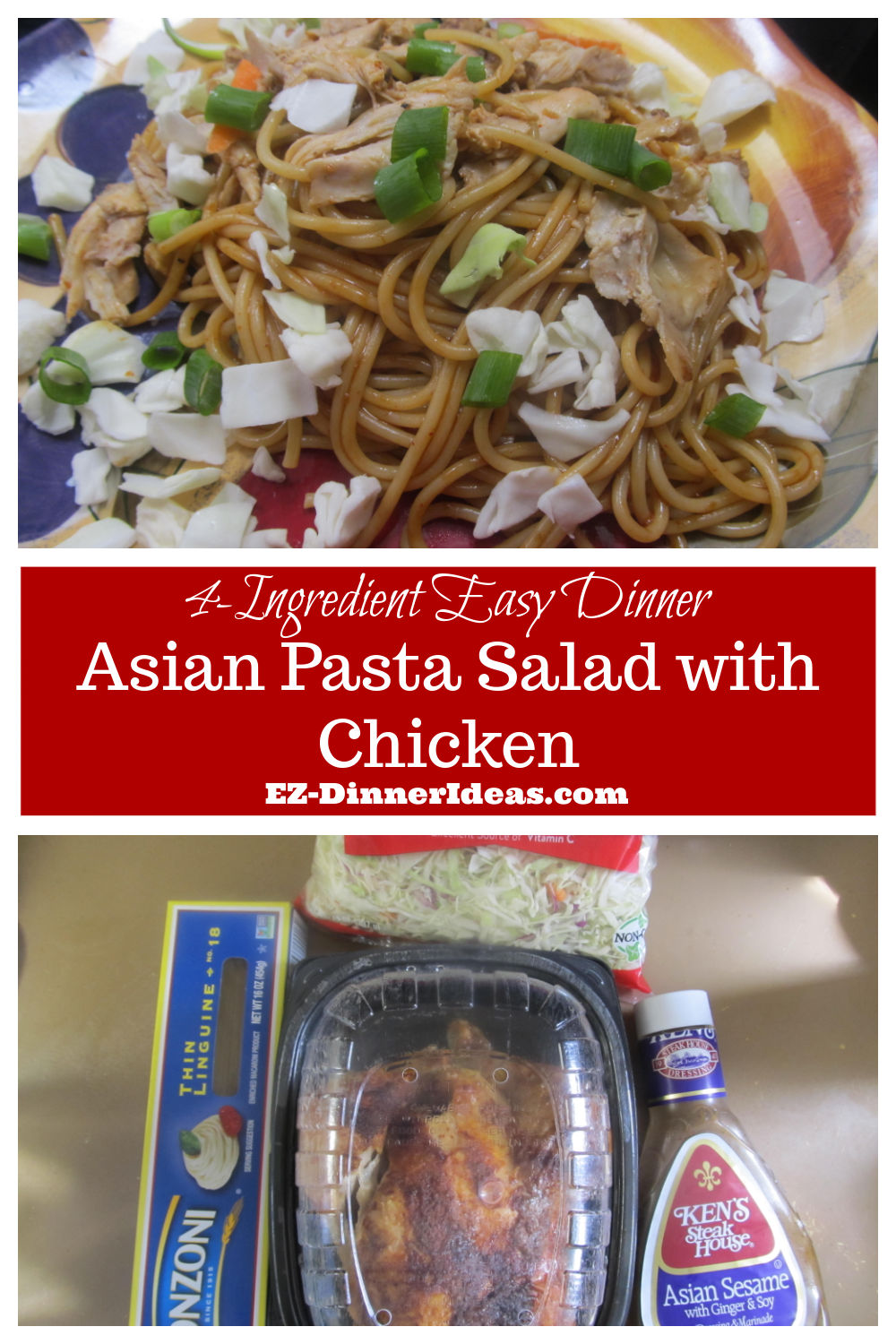 Total Time: 30 Minutes - 35 Minutes
Prep Time: 15 Minutes  
Active Cook Time: 15-20 Minutes  
Serving: 4-6


The inspiration of this recipe came from a thought of a hot summer night that I don't want to get sweaty with the hot food. So, I use store-bought rotisserie chicken, any kind of Asian style salad dressing and some pasta with pre-shredded Cole slaw mix to make a delightful dinner.
I must say that this dinner is a winner chicken dinner. It's within budget to feed a hungry family of 4 easily. It has all the nutrients and packed with fiber. So, for a lazy night like that, I don't mind a repeat.

CHEF NOTES
As always, there are some substitutes you can use to replace the ingredients this recipe calls for.
I personally like long pasta. But if you feel like staying away from your stove top that night, feel free to use some ready to serve pasta which only requires to warm it up in the microwave for a couple minutes. But beware that they are all short pasta. As long as you don't mind the shape and length of it, it is perfectly fine. Besides, the portion is much smaller for each ready-serve package. For a big family, you may need to consider having 2 packages/pouches or more. Another options are to use any pasta leftover from your recent pasta dinner. That would be the most convenient option.
I use store-bought rotisserie chicken. If you happen to have some chicken leftover, preferably just simple salt and pepper taste, it is a great way to use up the leftover. Or you can make your own rotisserie chicken and save some for this delicious Asian pasta salad with chicken recipe. 
There are plenty of brands and blends of Asian salad dressing in the grocery stores. I recommend to use the one that you have on hand and/or prefer. The one I use here is very strong to add into any vegetable salad. But with pasta and vegetables all mixed up together, it balances out everything.
Scallion is optional in this recipe. In my opinion, the flavor of a little bit just gives a perfect touch of the entire pasta salad.
This ebook will teach you to cook authentic Chinese food in a healthy way. It will also show you how to get the beautiful colors, texture and taste you get from your favorite Chinese restaurants.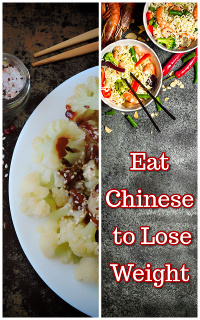 Can You Make Your Own Salad Dressing?
Of course. If you want to use whatever is handy, whisk the following ingredients together to make your own Asian salad dressing:
1/4 cup (2oz / 59g) Fruit Jam or Jelly (Preferably either mango, apricot or orange)
A few drops to 1 tbsp Hot Sauce (This all depends on how spicy you want. I always have Siracha sauce handy. If you happen to have other Asian hot sauce or even Tabasco, it is fine.)
1 tsp Chinese dark soy sauce (It gives the salad a very nice dark color. But you don't have it, it is ok. If you only have regular soy sauce, a small splash will be plenty. Otherwise, the dressing will be too salty.)
1 - 1 1/2 tsp Vinegar (Rice vinegar will be the best. Otherwise, use any vinegar you have on hand.)
1/2 tsp Sesame Oil (That will give a great flavor to the dressing. But this amount will be plenty. Or, it will overpower other dressing ingredients.)
1 tbsp + a little bit more Extra Virgin Olive Oil to reach your desired consistency
Salt and pepper to taste

Can You Make this Asian Pasta Salad as a No-Cook Meal?
Yes, absolutely. As mentioned earlier, you can use ready-serve pasta which will need to warm it up in the microwave. If the grocery store you go to sells pre-shredded rotisserie chicken, it is even better. All you need to do is to assemble everything together. Keep exploring, you will find something in the market that helps to make your daily life easier.
What you just learned here, you can apply the same principles to make the following to be your next no-cook dinners:

---

Recipe Ingredients and Tools

---

Asian Pasta Salad with Chicken Recipe and Directions
Ingredients

1 Box (16oz / 454g) Spaghetti (or any kind of long pasta)
4 cups (34oz / 947g) Shredded Cooked Chicken
1 cup (8oz / 240g) Asian Salad Dressing (any brand of your preference)
2 Scallions (chopped; for garnish only)
1 bag (16oz / 454g) Pre-Washed Cole Slaw Mix
1 tsp Salt
Directions

Bring a pot of water to a boil.
Add 1 tsp salt and pasta into the boiling water; stir and let it cook until al dente per package instructions.
Drain pasta and transfer it back into the same pot or a big salad mixing bowl.
Stir in dressing, chicken, and Cole slaw mix; toss to coat.
Add more dressing if needed.
Enjoy it either warm or cold.
---

Asian Pasta Salad with Chicken Steps with Photos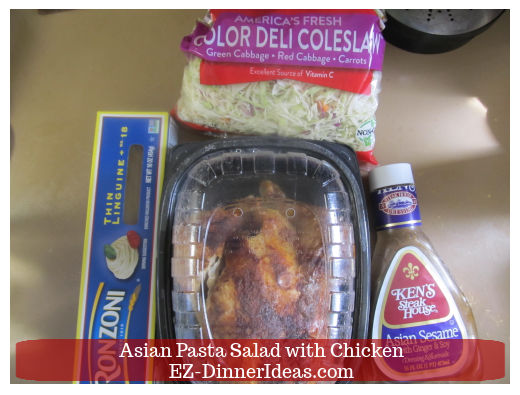 4 basic and easy ingredients to make this Asian pasta salad with chicken
Cook pasta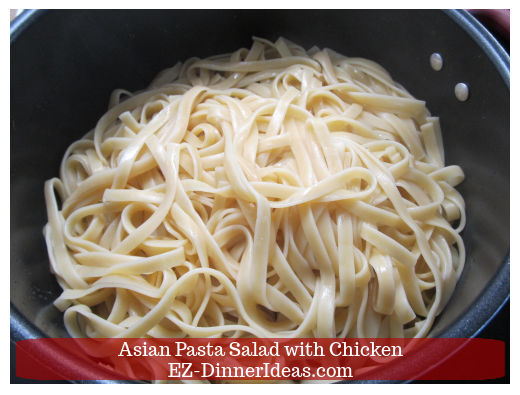 Cooked pasta and ready to assemble with the rest of the ingredients.
Shredded meat from store-bought rotisserie chicken
Coleslaw mix or shredded cabbages in salad mixing bowl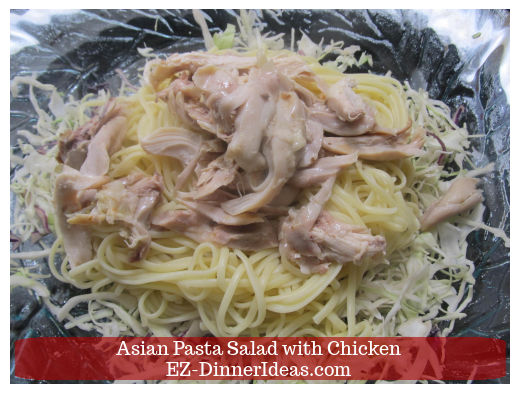 Add pasta and chicken into the same bowl
Add Asian salad dressing and mix well
Garnish with scallions and sesame seeds
This version can feed an army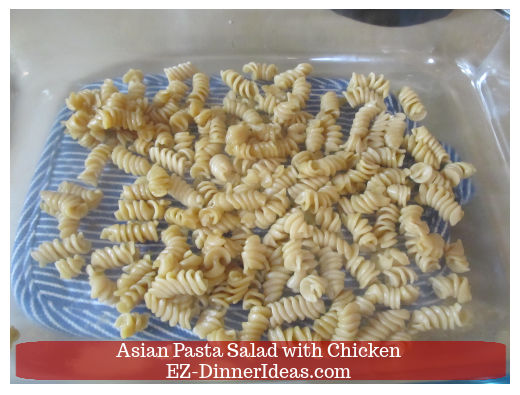 This is a super fast version, but with smaller serving size.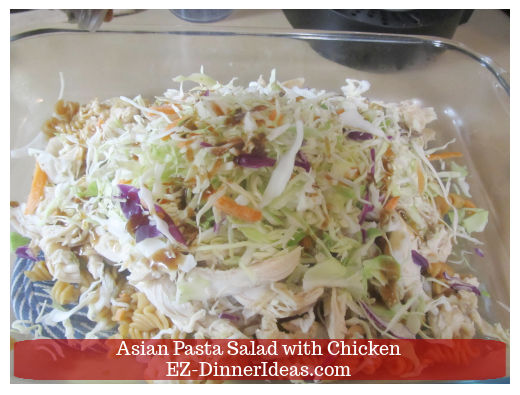 Mix with coleslaw mix, chicken (you can buy pre-shredded from the store) and salad dressing.
Garnish with scallions
No matter which version you choose, it is still a quick and easy dinner in 30 minutes. ENJOY!
---
Serve This With: 

---

You May Also Be Interested In:

---
Home > Pasta Recipes > Asian Pasta Salad with Chicken