Ham and Cabbage Soup Recipe
Ham and Cabbage Soup Recipe
A Super Flavorful Soup Recipe All Because of A Meaty Ham Bone

Ham and cabbage soup recipe is a very affordable, flavorful and healthy dinner.  It is packed with a lot of vegetables.  You may eat a lot. But it is still guilt-free.


Total Time: 1 Hour 8 Minutes - 1 Hours 10 Minutes
Prep Time: 8-10 Minutes  
Active Cook Time: 1 Hour  
Serving: 4-6


You see plenty of meat there.  But the tendons made it difficult to pull it out.  Should you keep it or throw it away?  Does it sound familiar to you?  You most likely know me by now that throwing food away is the last thing I want to do. 
So, I decided to take the advantage of the meaty ham bone to make something new.  If you are interested, I also use meaty ham bone to make split pea soup.  Feel free to check that out, too.

CHEF NOTES
I cook this ham and cabbage soup recipe on the stove top for experiment.  Feel free to make it in a slow cooker.  Just beware that everything will take longer to cook if you decide to use a crock pot.  If you choose to do so, add boiling water into the crock pot to begin with.  Let the meat bone cook in high heat for 3 hours before adding the vegetables into the broth.  It will take another 60-90 minutes to cook through everything to desired doneness.

Meaty ham bone may not be available all the time.  You can use smoke pork hocks instead. 
It may be a meaty bone.  There will be times that you come across one that no matter how long you cook it, the meat is still intact and hard to pull it off.  If that's the case, you get the flavor out of it for this ham and cabbage soup recipe and discard the bone after its last mission.

---

Recipe Ingredients and Tools

---
Ham and Cabbage Soup Recipe and Directions

Ingredients
A meaty ham bone (about 2lbs or so)
1 small Cabbage (about 1lb)
1 lb Carrots (pre-sliced or baby carrots)
2-3 Stalks Celery (diced)
2 Dry Bay Leaves
8 cups Water
Salt and pepper to taste

Directions
Put ham bone and 8 cups of water into a big soup pot.
Cover and bring it to a boil. Then, turn it down to simmer for 45 minutes.
Add bay leaves, cabbage and carrots to cook for another 15 minutes
Add celery for some crunch, salt and pepper to taste. Enjoy immediately!
Want More Keto/Low-Carb Recipes?!
This ebook will teach you to cook authentic Chinese food in a healthy way. It will also show you how to get the beautiful colors, texture and taste you get from your favorite Chinese restaurants.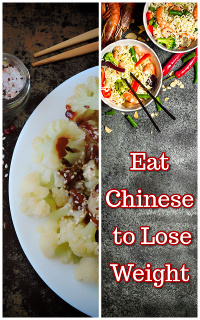 ---

Ham and Cabbage Soup Recipe Steps with Photos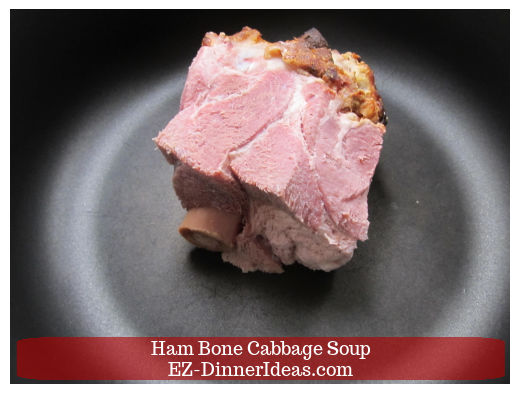 A meaty ham bone (approximately 2 pounds)
Cook ham bone with 8 cups of water in a soup pot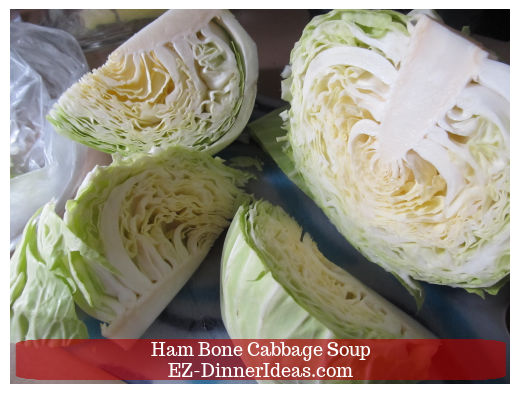 Cut a cabbage into quarters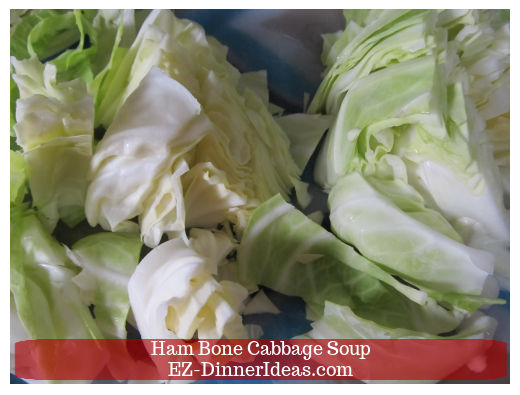 Cut and discard cores. Cut cabbage into bite size pieces
Stir in cabbages and carrots into ham broth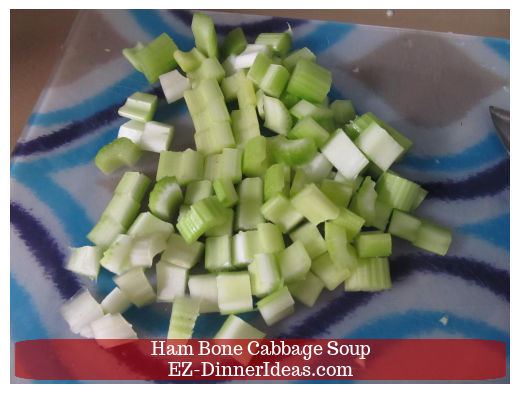 Dice celery
Add celery into soup for crunch
Salt and pepper to taste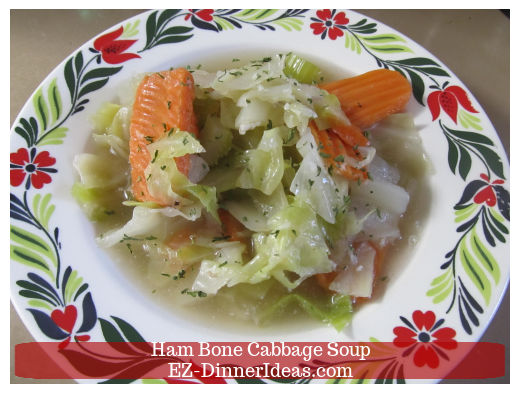 ENJOY!
---
Serve This With: 

---

You May Also Be Interested In:

---
Home > Ham Leftover Recipes > Ham and Cabbage Soup Recipe | Ham Bone Cabbage Soup