Spinach Ham Egg Muffins
Grab and Go
Make Ahead Breakfast
Spinach Ham Egg Muffins, a powerhouse for hunger fighting.  

I love eggs.  As much as I love breakfast casseroles, something has more eggs in it sounds better to me.

A box of frozen spinach and a dozen of eggs are the staples in my freezer and fridge.  Some cold cuts occasionally are there, too.  So, eventually, that was how this recipe came up.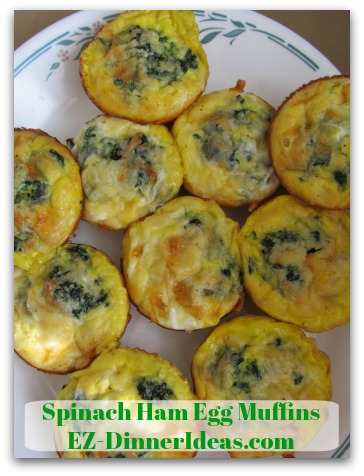 Total Time: 30-40 Minutes
Prep Time: 10-15 Minutes  
Inactive Cook Time: 20-25 Minutes  
Serving: 12



CHEF NOTES

Feel free to switch to other cold cut, instead of ham.  I, myself, prefer to stick with some ingredients which save me from extra cooking time. 
You do need to coat your muffin pan liberally for easy clean-up later.  Or, use baking liner.

What To Do With The Leftover?

Although these egg muffins are so tasty and addictive, there could be leftover.  What can you do with those?

Well, it is super easy.  Here are the steps for you to prepare them to go into the freezer and serve them later.  Or make a grab-and-go breakfast.
Wrap each egg muffin into a piece of parchment paper tightly
Put all wrapped muffins into a food container and store into the freezer
Thaw muffins in the fridge overnight
Heat the wrapped (yes, together with the parchment paper) egg muffin(s) in a microwave oven for 15-20 seconds and serve immediately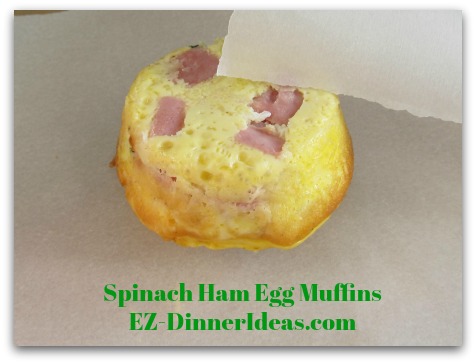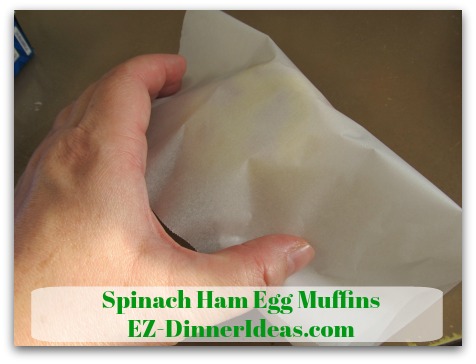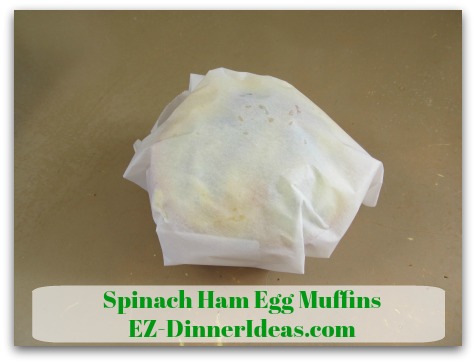 Wrap each spinach ham egg muffin leftover with a piece of parchment paper tightly
Put them into a food container and freeze
Microwave thawed egg muffin for 15-20 seconds and enjoy

Spinach Ham Egg Muffins Recipe and Instructions

Ingredients

12oz Cubed Ham
1 box (10 oz) Frozen Spinach (thawed and squeeze out extra liquid)
1 cup Shredded Double Cheddar Cheese
8 large Eggs (beaten)
1 cup Whole Milk
1 cup Grated Parmesan Cheese
Salt and pepper to taste
Coat a regular 12-cup muffin pan with cooking spray liberally
In a separate bowl, beat eggs, Parmesan cheese, milk, salt and pepper together (I highly recommend to hold the salt until serving because both ham and Parmesan cheese bring a lot of saltiness into these egg muffins)
Evenly distribute these ingredients in this order: Ham, spinach, cheddar cheese
Pour in egg milk mixture to reach about 3/4 full of each muffin cup
Bake at 375F for 20-25 minutes  until knife inserted in the middle and come out clean and serve immediately

Spinach Ham Egg Muffins Steps with Photos
Easy to eat, figure-friendly and filling, how can you resist these cuties?
Coat muffin pan liberally with no-stick cooking spray
Add diced ham at the bottom
Divide 1 box of thawed frozen spinach among 12 cups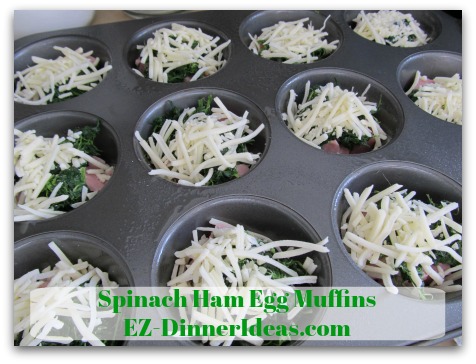 Divide 1 cup of cheddar cheese among 12 cups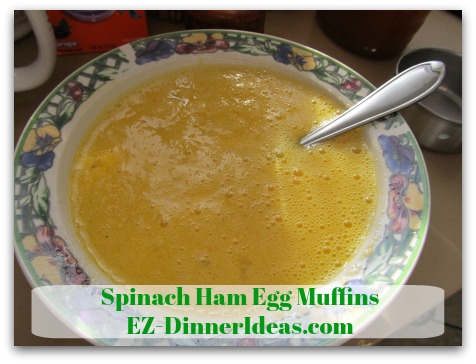 Beat eggs, milk, Parmesan cheese, salt and pepper in a separate bowl
Evenly distribute egg mixture among 12 cups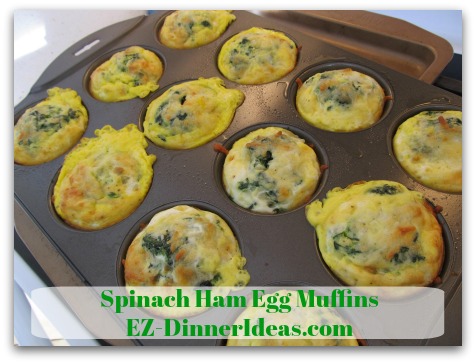 Bake at 375F for 20-25 minutes until knife inserted in the middle and come out clean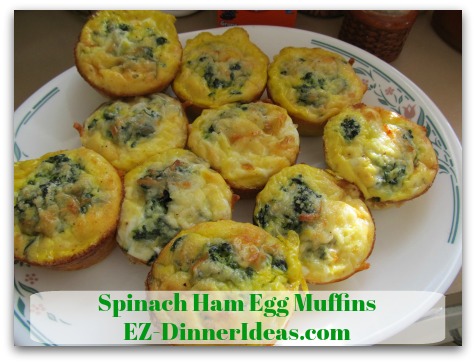 Enjoy!
---

Recipe Ingredients and Tools

---
Serve This With: 

---

You May Also Be Interested In:

---
Home > Breakfast Recipes > Spinach Ham Egg Muffins