Denny's Mango Smoothie
Breakfast-To-Go?
Snack-To-Go?
Great For All Time
To many people, this delicious Denny's mango smoothie is not any food adventure.  But to my husband, it is.  Of course, under his influence, my son became his shadow that he doesn't like to try out something new.  It is rare to see them not to order the typical pizza, hot dogs, soda and lemonade when they dine
out.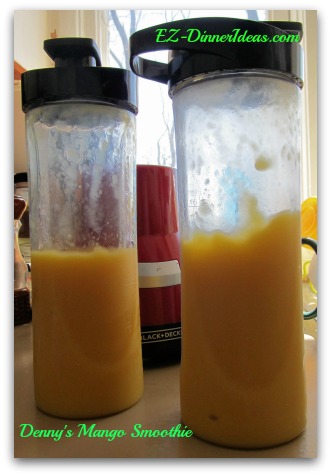 Prep Time: 5 Minutes   Active/Inactive Cooking Time: ZERO
Serving: 1-2
While on the other hand, like many of you, I didn't think that this smoothie was that special.  So, I didn't bother to order.  Until I tried the first sip, it was like "WOW".  This is awesome.  The burst of fresh mango flavor just had an explosion in my mouth.  Way much better than eating a fresh mango!!!!

I use the blend-and-go blender in this recipe.  If you need to feed a big family, please feel free to double, triple or maybe even quadruple the quantity. 

Of course, it would be better to use a powerful blender to make that big quantity.  Hope you will enjoy it as much as we do.

Great to pair this mango smoothie with hot and spicy food
See how thick the smoothie is...but it is all natural ingredients.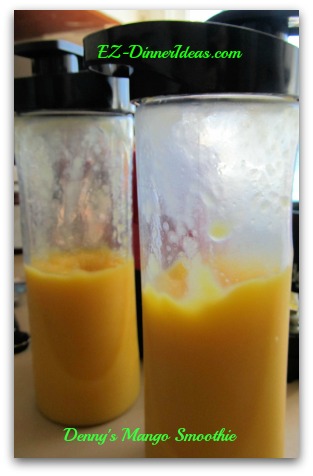 Options to serve this mango smoothie is endless.
Ingredients

6 oz Frozen mango chunks
1 cup Mango juice (I use Ceres brand)


Add all ingredients by following the order of the above list into the blender and blend until smoothie and enjoy
(If you use the regular blender, add the liquid first, then the frozen mango chunks)





The Personal (or Blend-and-Go) Blender I used in this recipe
---

Recipe Ingredients and Tools

---
Serve This With: 

---

You May Also Be Interested In:

Return from Denny's Mango Smoothie page to Restaurant Remakes Recipes page

Return to Easy Dinner Ideas Homepage