Peanut Butter Banana Oatmeal Smoothie
Not A Big Fan Of Oatmeal?
Give This A Try
Peanut butter banana oatmeal smoothie is the spin-off of my overnight oatmeal on-the-go recipe.  If you still don't like the texture of oatmeal, this may be a recipe for you to enjoy this healthful ingredient.

The volume you get out of this smoothie is way less than what you see from my other smoothie recipes in this website.  But this smoothie is SUPER filling.  So, little goes a long way.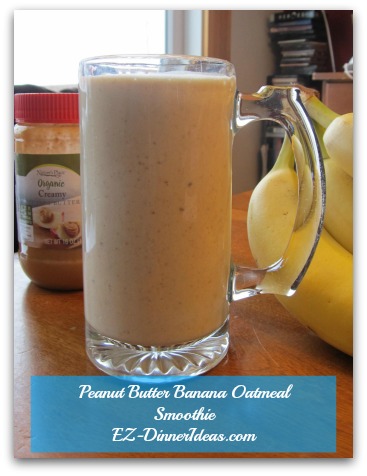 Prep Time: 8 Minutes   Cooking Time: ZERO   Serving: 3-4

Why Organic Peanut Butter
Honestly, I always use typical peanut butter available in the stores.  But there is a lot of sugar in it.  Using the organic peanut butter in this smoothie will cut down tons of sugar consumption, but still delicious.
Ingredients
2 Bananas (break into big chunks)
1/4 cup Organic Peanut Butter
1 cup Coconut Milk (divided; I have been using Coconut Milk in my overnight oatmeal.  Please feel free to replace it with almond Milk, regular milk or other liquid)
1 cup Ice Cubes
1/2 cup Rolled Oats
1 tsp Brown Sugar
1/4 tsp Chia Seeds
1 pinch of Salt

Combine 1/2 cup Coconut Milk, oatmeal, brown sugar, Chia seeds and salt (optional) in a container
Stir to combine and cover, store container in the fridge overnight (this is the basic of making overnight oatmeal)
The next day, combine oatmeal mixture and the rest of the ingredients in a blender to pulse ground a few times before turning on full speed to blend until smooth and serve immediately

Recipe Ingredients and Tools


You May Also Be Interested In:

Return from Peanut Butter Banana Oatmeal Smoothie Recipe page to Breakfast Recipes page

Return to Easy Dinner Ideas Homepage