Avocado Smoothie Recipe with Apple Oatmeal
Healthy And Yummy Smoothie Like Eating Dessert
Avocado Smoothie Recipe with Apple Oatmeal consists of 3 major ingredients which are great for our health. If you consume them regularly, good for you and I am very happy to hear that.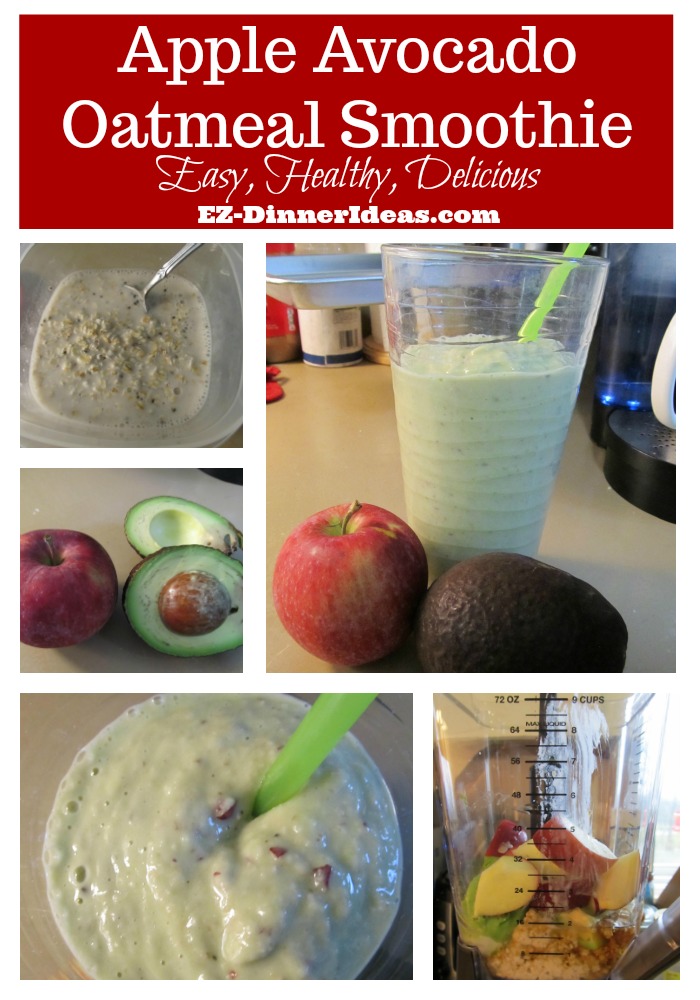 Total Time: 5-8 Minutes
Prep Time: 5-8 Minutes  
Active Cook Time: ZERO  
Serving: 1-2


But how often do you eat all 3 together in a meal? I think it is pretty rare. Some people don't like to mix different textures of food together so they will stay away from having these 3 in one shot.
Here is a good news for you. You can make a beautiful smoothie and enjoy the benefits of them all at the same time. Man...it is filling and does make you feel awesome.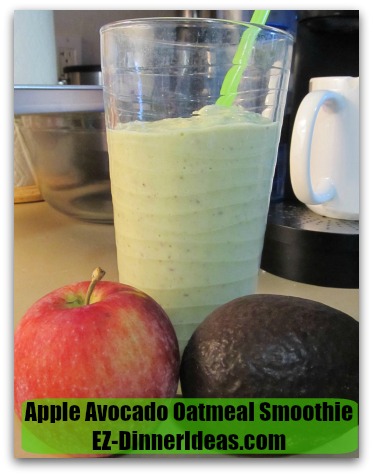 CHEF NOTES
We all know that both avocado and apple oxidize quickly. Keep it from browning is impossible. But you can definitely slow it down. The pinch of salt is the major ingredient to perform that exact function. I found that table salt works best compared to Himalayan pink salt or sea salt.
Also, as soon as the smoothie is ready, transfer it to a thermo. It can stay in its crisp, beautiful color for the next 2-3 hours. After that, the browning will start and get serious. So, what I highly recommend is that blend everything together until the very last minute.
While you are peeling and cutting the apples and avocado, you may wonder, "Is there a priority so that it helps to slow down the browning process?" Yes, for sure. This recipe calls for an unpeeled apple because it gives some texture to the smoothie. But not everybody likes it. If you insist to peel it, between an avocado and an apple, which one should go first? I highly recommend to do the apple first because it takes longer time to prep it than an avocado. It also takes a relatively longer time to brown.
What if you want to double the quantity? Here is a trick that is widely used in Chinese restaurants. Prepare a bowl of cold water with 1/8 tsp of salt. Peel apples and core them. Transfer the peeled apple pieces into the salted water while you move on to work on the other apple(s). Your apples will stay nice and fresh. When you are ready for transferring them into the blender, discard the water. A little bit of salty water goes along is perfectly ok.
---

Recipe Ingredients and Tools

---

Avocado Smoothie Recipe and Directions

Ingredients
1/2 cup (1.6oz / 45g) Rolled Oats
1 cup (8oz / 240g) Coconut Milk (or any kind of milk of your preference, such as almond milk, soy milk, regular milk and so forth); divided
1 Avocado (seeded and peeled)
1 medium size Apple (quartered and cored)
1/2 tsp Chia seeds
2 tsp Honey
1 pinch of Salt

Directions

Combined Chia seed, rolled oats and 1/2 cup (1.6oz / 45g) coconut milk into a small container and chill overnight.
To make smoothie, add the other 1/2 cup (1.6oz / 45g) coconut milk, then the rest of the ingredients, i.e. apples, avocado, and honey, into a blender.
Pulse ground about 10 times before turning on into full speed to blend until smooth and enjoy.
---
Avocado Smoothie Recipe Steps with Photos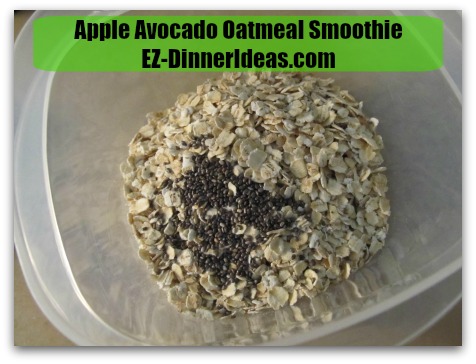 Combine rolled oats, Chia seeds and salt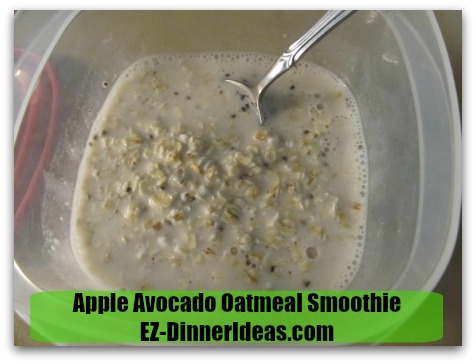 Stir in milk of your preference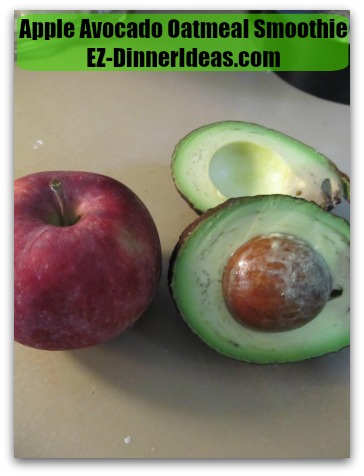 Cored and cut apple and avocado in quarters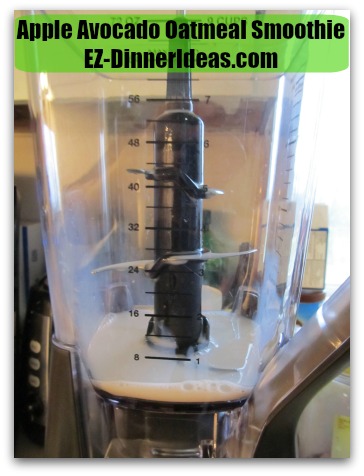 Add 1/2 cup (1.6oz / 45g) of milk of your preference into blender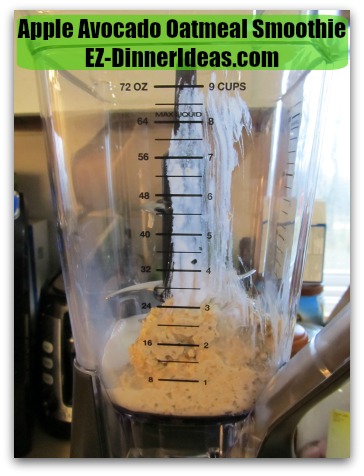 Add overnight oatmeal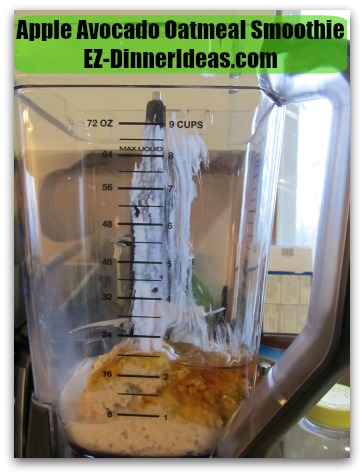 2 tsp Honey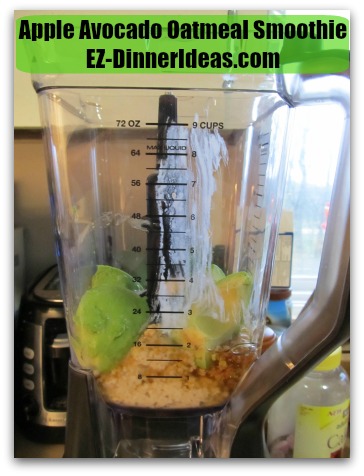 Seeded, peeled and quartered avocado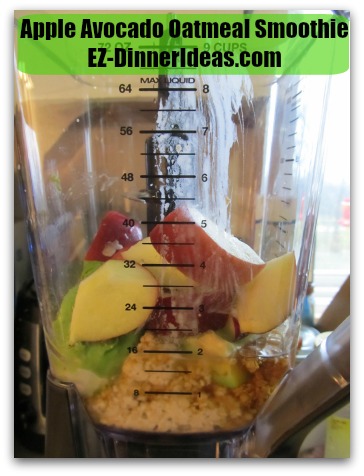 Cored and quartered apple; blend to desired smoothness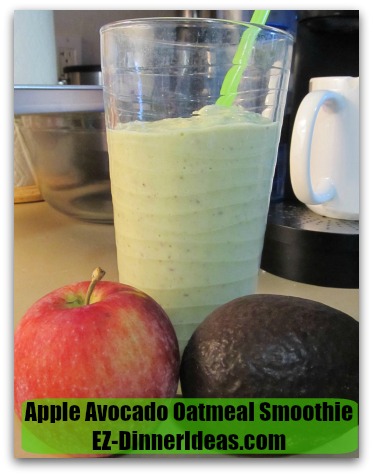 Filling and healthy. This smoothie likes eating dessert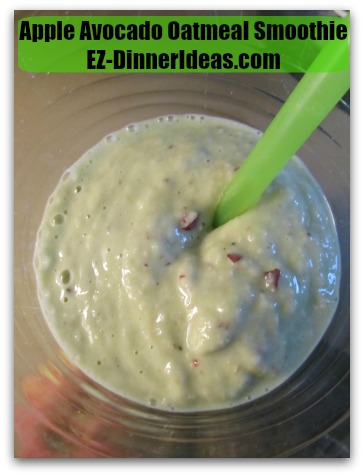 Apple skin gives this smoothie extra fiber. Make this smoothie super smooth by peeling the apple skin.
---

You May Also Be Interested In:

---

Home > Breakfast Recipes > Avocado Smoothie Recipe with Apple Oatmeal