Apple Avocado Oatmeal Smoothie
Apple Avocado Oatmeal Smoothie
Healthy And Yummy
Like Eating Dessert
Apple Avocado Oatmeal Smoothie...these 3 major ingredients are great for our health.  If you consume them regularly, good for you and I am very happy to hear that.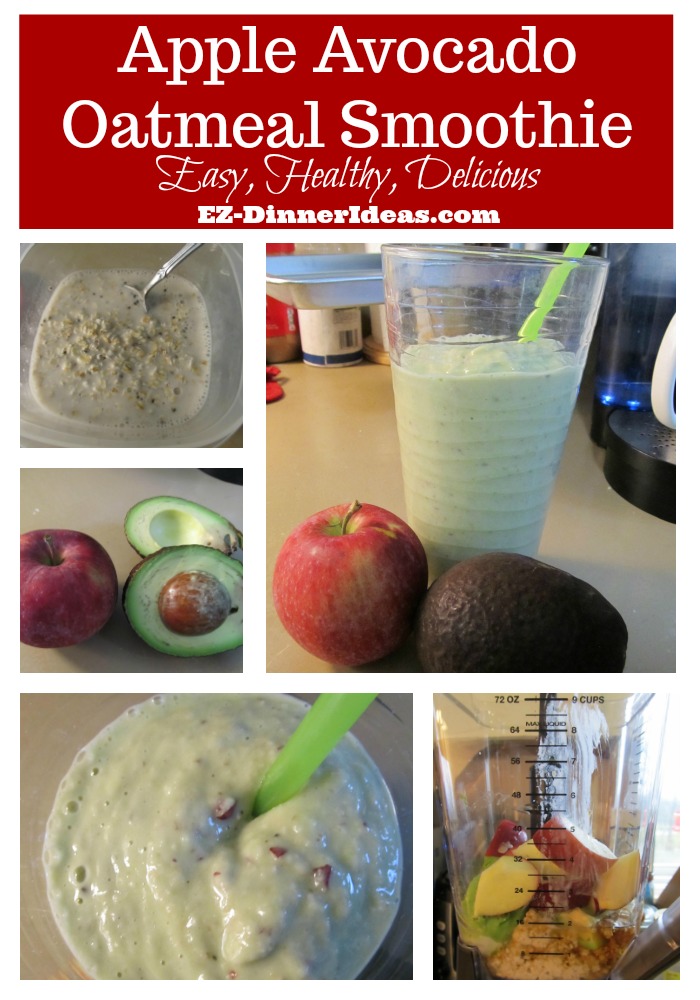 Total Time: 5-8 Minutes
Prep Time: 5-8 Minutes  
Active Cook Time: ZERO  
Serving: 1-2


How often do you eat all these 3 ingredients together in a meal?  I think it is pretty rare.  Many people don't like to mix different textures of food together.  Those definitely will stay away from having these 3 in one shot.

Here is a good news for you.  You can make a beautiful smoothie and enjoy the benefits of them at the same time.  Man...it is filling and does make you feel awesome.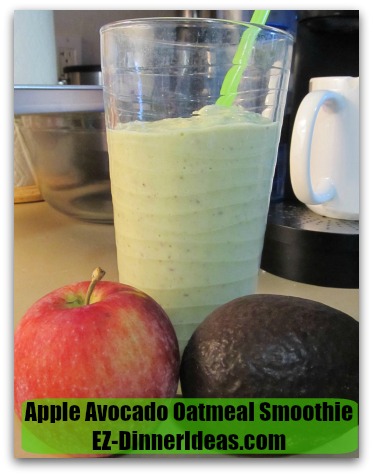 Apple Avocado Oatmeal Smoothie Recipe and Instructions

Ingredients
1/2 cup Rolled Oats
1 cup Coconut Milk (or any kind of milk of your preference, such as almond milk, soy milk, regular milk and so forth); divided
1 Avocado (seeded and peeled)
1 medium size Apple (quartered and cored)
1/2 tsp Chia seeds
2 tsp Honey
1 pinch of Salt

Combined Chia seed, rolled oats and 1/2 cup coconut milk into a small container and chill overnight
To make smoothie, add the other 1/2 cup coconut milk, then the rest of the ingredients into a blender
Pulse ground about 10 times before turning on into full speed to blend until smooth and enjoy
Apple Avocado Oatmeal Smoothie Steps with Photos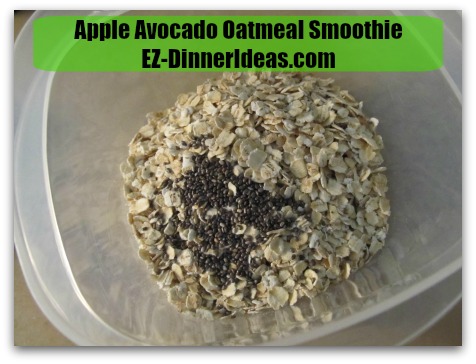 Combine rolled oats, Chia seeds and salt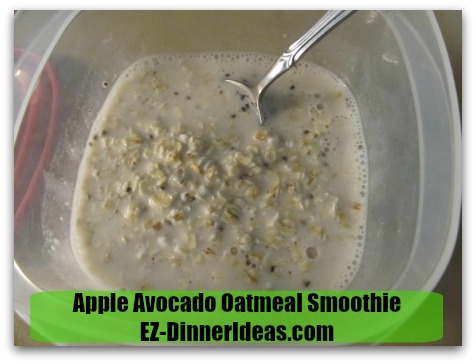 Stir in milk of your preference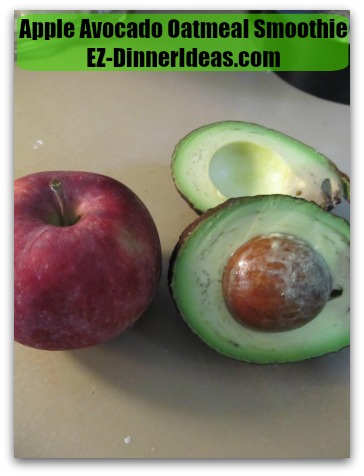 Cored and cut apple and avocado in quarters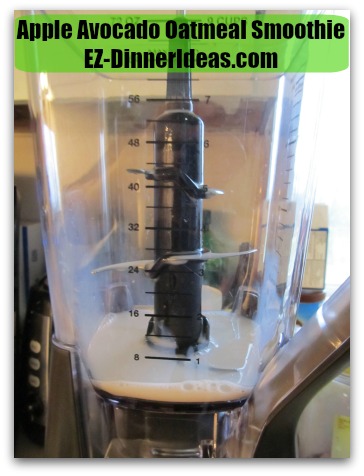 Add 1/2 cup of milk of your preference into blender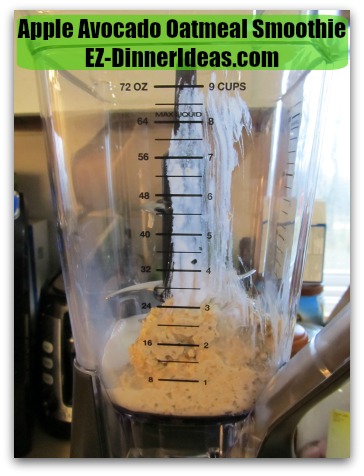 Add overnight oatmeal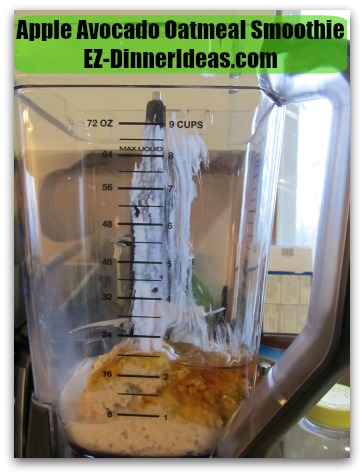 2 tsp Honey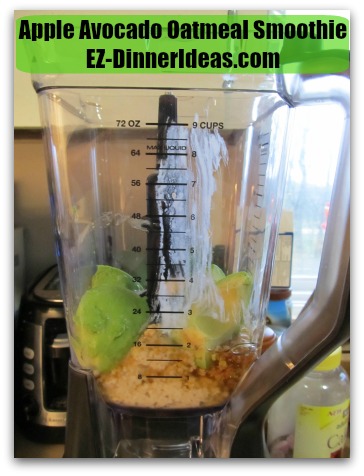 Seeded, peeled and quartered avocado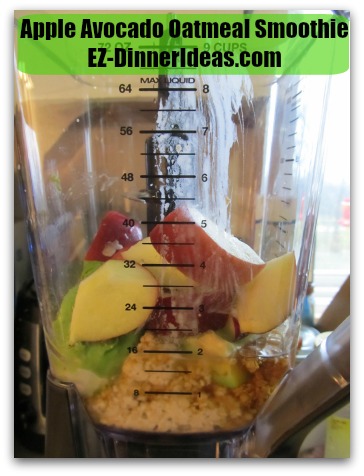 Cored and quartered apple; blend to desired smoothness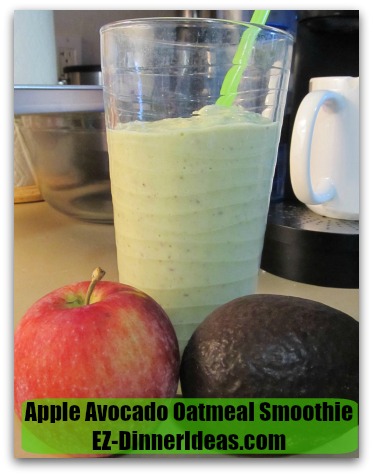 Filling and healthy. This smoothie likes eating dessert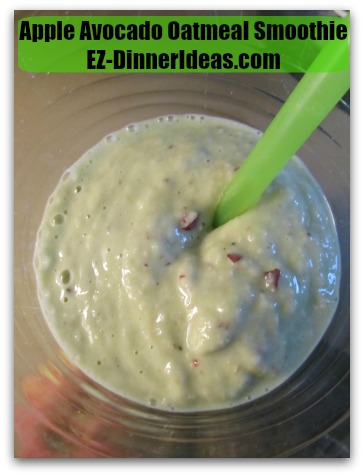 Apple skin gives this smoothie extra fiber. Make this smoothie super smooth by peeling the apple skin.
---

Recipe Ingredients and Tools

---

You May Also Be Interested In:

---

Home > Breakfast Recipes > Apple Avocado Oatmeal Smoothie