Quick Healthy Breakfast Idea
Quick Healthy Breakfast Idea

Very Healthy Chocolate Overnight Oats
Way...Better Than Just Eating
Dark Chocolate
Quick healthy breakfast idea for all Chocolate lovers and everyone who has sweet tooth. Be ready for this irresistible, yummy and super healthy breakfast idea.  It is like having dessert first thing in the morning.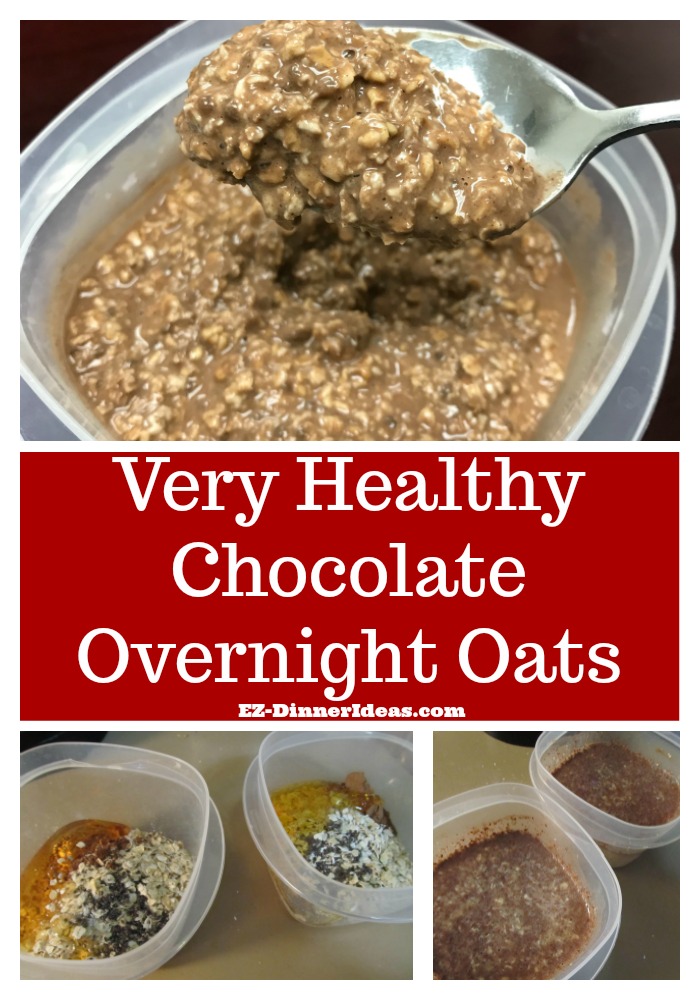 Total Time: 2 Minutes
Prep Time: 2 Minutes  
Cook Time: ZERO  
Serving: 1


Have you tried any overnight oats?  It is like the latest trend that you see it almost everywhere now.  You can even buy a ready-to-make one from the grocery stores.  But I love to make my own.  It is easy and I can make several different flavors in one shot.  That will get my entire week done with different flavor almost every day.

But there is one overnight oat always stands out.  I love to put peanut butter and Nutella in it.  Well, as you know, Nutella fills with sugar and other artificial stuff.  "There got to be a way to make it better right?"  I have asked this same question to myself for a long, long time.

Then, it was just like a switch one day.  The idea came through.  I tried it out and worked perfectly that I am seriously hooked with this recipe.

Quick Healthy Breakfast Idea Recipe and Instructions

Ingredients
1 Cup Old Fashion Oatmeal (a.k.a. Rolled Oats) or Quick Cooking Oats
1/2 tsp Chia Seeds
1 tbsp Brown Sugar/Honey
1 (heaping) tsp Baking Cocoa Powder
1 1/4 Cup Almond Milk, Coconut Milk, Regular Milk or any milk of your choice
1 pinch of Salt
1 tbsp Dark Chocolate Morsels (optional)

Combine all ingredients in a food container or a mason jar
Stir well and chill in the fridge overnight and serve
(You can add the chocolate morsels before serving)
Quick Healthy Breakfast Idea Steps with Photos
---

Recipe Ingredients and Tools

---

You May Also Be Interested In:

---
Home > Breakfast Recipes > Quick Healthy Breakfast Idea | Very Healthy Chocolate Overnight Oats