Crispy Baked Buffalo Wings
The Easiest and Healthiest Way to Cook Buffalo Wings For A Big Crowd

Crispy baked buffalo wings is a super easy and healthy recipe with little to none maintenance.  This is also the first of my baked wing and baked chicken recipe series.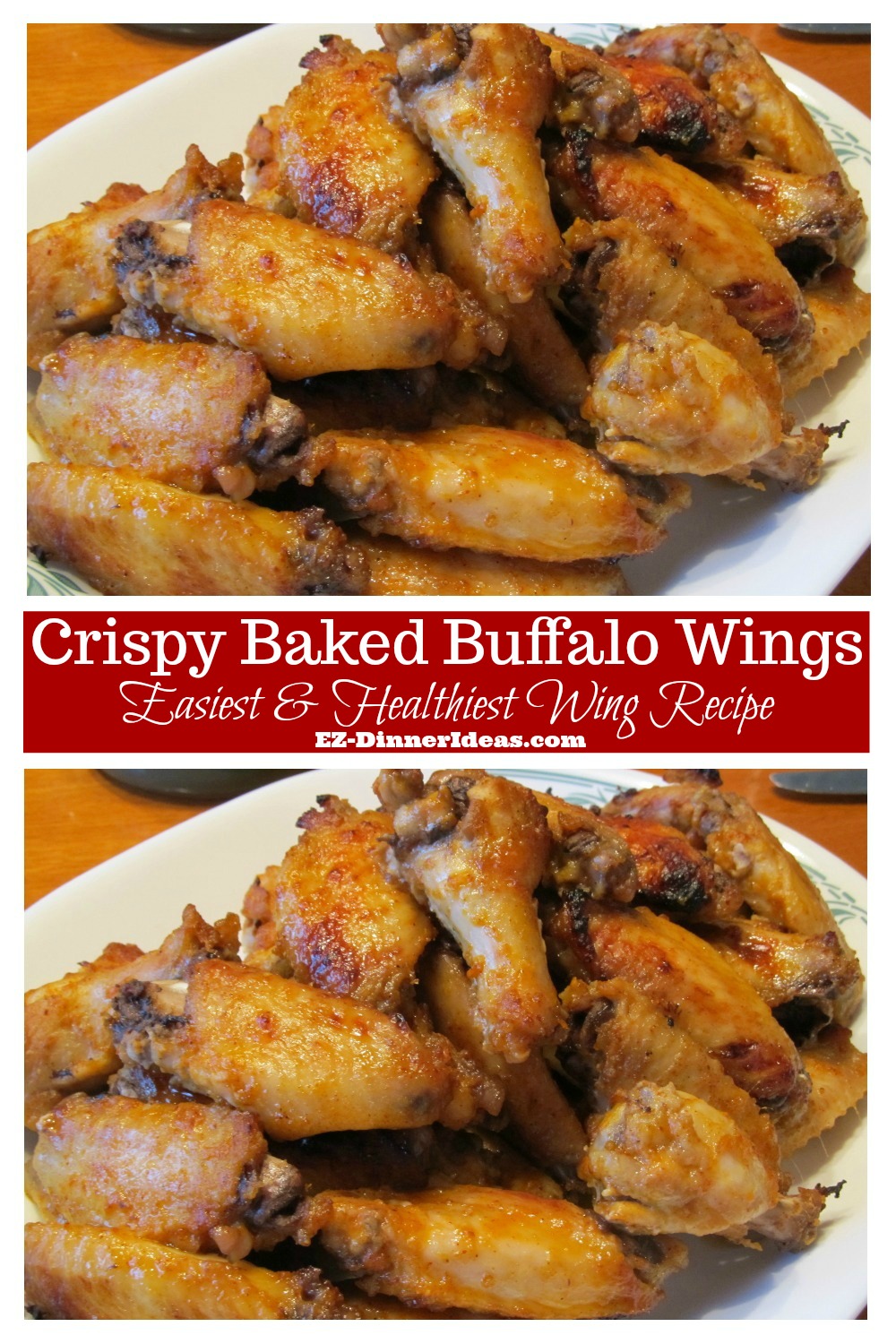 Total Time: 55 Minutes
Prep Time: 5 Minutes  
Inactive Cook Time: 50 Minutes  
Serving: 4-6


My mom cooks wings all the time and has tons of great chicken wings recipes. She is very health conscious.  So, I had never had deep-fried wings until I moved to the States.  Also, under her influence, I try my best to stay away from deep-fried foods. 
Until when my hubby and our little one starts to eat wings, I tried my best to think of a way to cook wings in a super healthy way.  This was the reason to create this chicken wings recipe.


CHEF NOTES
To make the skin crispy, the major ingredient is the extra virgin olive oil.  I tried different combinations with water, canola oil and extra virgin olive oil.  None of them worked except extra virgin olive oil.

Feel free to double this recipe.  Make sure that the wings will separate equally among two same size baking sheets.  This will guarantee every wing is cooked evenly.


Crispy Baked Buffalo Wings Recipe and Instructions

Ingredients
2 1/2 lbs (1.1kg) Wings (padded dry; I usually get frozen wings and let them thaw in the fridge until the day I am ready for mixing them with marinade.)
2 packs (McCormick) Buffalo Wings Mix (I personally prefer to combine 1 bag of original flavor and 1 bag of BBQ flavor)
¼ teaspoon Sugar
2 tablespoon Extra Virgin Olive Oil
Cooking Spray
In a mixing bowl, combine the Buffalo wings mix, sugar and oil together.  The texture of the marinade is thick as paste.
Toss and coat the wings with the marinade.  Chill overnight.
Preheat oven at 425F(218C).
Line a baking sheet with aluminum foil and coat with cooking spray liberally.
Single layer the wings skin side down.
Bake for 30 mins.
Turn over and bake for another 20 mins or until juice comes out clear when poked with a fork.
Rest for 5 mins before serving and ENJOY!
---

Recipe Ingredients and Tools

---
Serve This With: 

---

You May Also Be Interested In:

---
Home > Chicken Recipes > Crispy Baked Buffalo Wings