Creamy Chicken Soup Recipe
Creamy Chicken Soup Recipe
Creamy Buffalo Chicken Soup Turning From A Finger Licking Dish To A Bowl Licking Soup

This creamy chicken soup recipe is a perfect couch potato recipe.  If you are the buffalo chicken lover, this is even better.  You don't need to worry about getting messy and dirty, but comfy.


Total Time: 45 Minutes
Prep Time: ZERO  
Active Cook Time: 45 Minutes  
Serving: 4-6


Like many of you, I love Buffalo wings, too.  But sometimes, I do want to stay away from the mess, especially on some days you want to be a couch potato.  That was the reason I created this recipe.

Tug it under a cozy blanket on the couch watching a movie with a bowl of hot soup tastes like Buffalo wings.  Wouldn't you say that is one of the best moments of life?  I would.  Simple and relaxing.
When I make soup, I don't usually make it too thick.  This one is an exception.  When I made this creamy chicken soup recipe the first time, I tried to make it similar to the regular soup I always make.  It was not filling or thick enough to hold the Buffalo wing flavor.  So, when I made it the second time, I made a thick one like this which comes out perfect.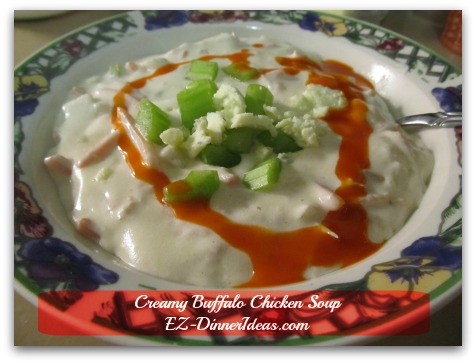 CHEF NOTES
Feel free to replace the fat free half and half with regular milk or fat free milk.

Also, I purposefully put just a little bit of Buffalo wing sauce into the soup and serve the bottle of sauce on the side.  It is because some of my family members can only take a little bit of heat.  If you have family and/or friends like that, I highly recommend you to do the same as well.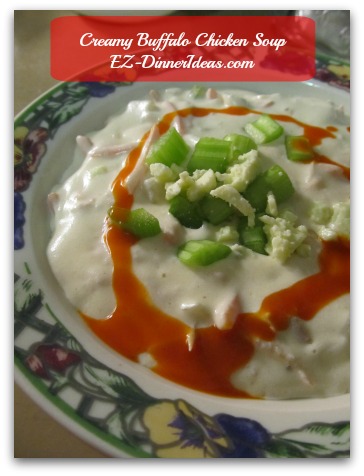 Creamy Chicken Soup Recipe and Instructions

Ingredients
1 pound Russet Potato (peeled and small dice)
10 oz Carrot Matchsticks (rough chop)
1 small Yellow Onion (small dice)
2 stalks Celery (small dice; reserve about 2 tbsp for garnish later)
2-4 cups Diced Cooked Chicken (rotisserie chicken, make your own or any chicken leftover would work out fine)
3 cups Low Sodium Chicken Broth (reserved 1 cup to thin out the soup, if it's too thick)
1 quart Fat Free Half and Half
6 tbsp Butter (or 3/4 sticks)
3/4 cup All Purpose Flour
4 oz Blue Cheese Crumbles (reserve about 1 tbsp for garnish later)
1 tbsp Buffalo Sauce and more to serve on the side (I use Frank's Red Hot Wings Buffalo sauce)
1 tbsp Garlic Powder
Salt and Pepper to taste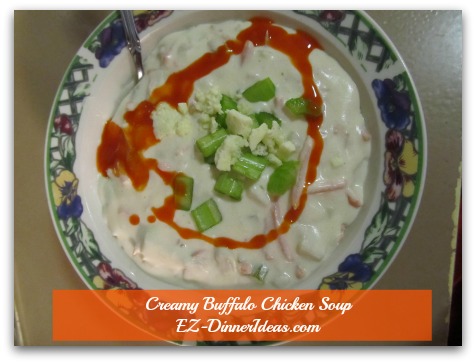 Bring 2 cups of chicken broth to a boil in a big saucepan.
Chop and drop the vegetables; add diced vegetables in this order: potatoes, carrots, onion and celery.
Stir regularly so that all the vegetables cook through and tender.
While the vegetables are still cooking, add butter and flour into a big soup pot.
Whisk to combine and let it bubble 2 minutes; stir regularly.
Whisk in half and half until thick.
Stir in blue cheese until melted.
Transfer the cooked vegetables and broth from the saucepan to the roux in the soup pot.
If the soup is too thick, add the other cup of broth (I recommend to add 1/2 cup first and add the other half if necessary).
Stir in buffalo sauce, chicken, garlic powder, salt and pepper to taste.
Garnish with the reserved celery and blue cheese.
Enjoy immediately and serve buffalo sauce on the side.


---

Recipe Ingredients and Tools

---

You May Also Be Interested In:

---
Home > Soup Recipes > Creamy Chicken Soup Recipe