(Nanny's) World Best Chicken Soup
The Tastiest and 100% Natural Ingredients

This world best chicken soup recipe was inspired by my mother-in-law, Anna.  Everybody calls her Nanny. 
In the Chinese culture, if you are sick, you must stay away from chicken.  When anybody in my husband's family is sick, including myself, Nanny always makes chicken soup which is the best medicine ever.  I revised this recipe several times after her moving down south.  I always save 2-3 containers in the freezer.  When you need it urgently, you can just heat it up in the microwave oven.

In my opinion, the most important ingredient of this recipe is LOVE.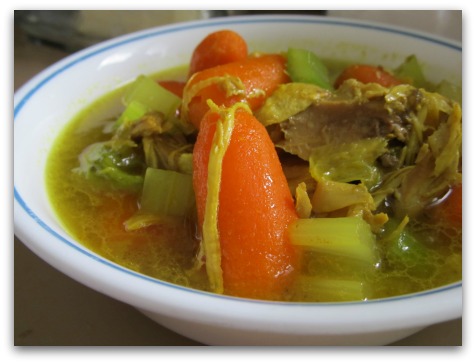 Prep Time: 20 Minutes   Cook Time: 90 Minutes   Serving: 4-6
Ingredients
4 – 4 ½ pounds (Bone-in) Chicken Leg Quarters and/or Thighs (discard the skin)
2 pounds Baby Carrots
6-8 stalks Celery (diced)
2 Bay Leaves
1 tablespoon Onion Powder
1 teaspoon Turmeric (I use Spice Islands brand)
1/2 - 1 teaspoon Ginger Powder (optional; ginger has a great healing power.  I added this ingredient lately.  It works very well and married to other flavors perfectly.)
8 Cups of Water

Seasonings
1 tablespoon Sea Salt
½ teaspoon Black Pepper
1 tablespoon Extra Virgin Olive Oil

Trim the fat; remove and discard the skin from the chicken
Preheat the soup pot at medium high heat and add 1 tablespoon Extra Virgin Olive Oil
Brown the chicken in the pot; about 4-5 minutes each side
Add 8 cups of water, 2 bay leaves, salt and pepper and turn up the heat to high
Cover and bring the soup to a boil
Turn down the heat to medium low and cook for an hour
Take the chicken out and seperate the meat from the bones
Return the meat back into the soup and discard bones
Add the rest of the ingredients, i.e. carrots, celery, and onion powder

Cook at medium heat for another 20 minutes until carrots are fork tender
Add turmeric; taste and adjust seasonings and serve
Tips
Feel free to serve egg noodles or crusty bread on the side
When dark meat is on sales, this soup only costs for $10.  So, stock it up.

You May Also Be Interested In:

Return from World Best Chicken Soup Recipe page to Soup Recipes page

Return to Easy Dinner Ideas Homepage