Kale Chicken Soup
Vegetable Loaded Cajun Chicken Soup
Comfort Food on Fast Lane

This kale chicken soup is loaded with tons of awesome vegetables.  It is super quick and easy and tasty.


Total Time: 45-55 Minutes
Prep Time: 10-15 Minutes  
Active Cook Time: 35-40 Minutes  
Serving: 4-6



CHEF NOTES
I love dark meat.  But do feel free to replace it with white meat, such as boneless skinless chicken breast.

Frozen crinkle cut carrots would have a shorter cook time compared with fresh baby carrots.  It is always my personal preference of having baby carrots because they are sweet and cute.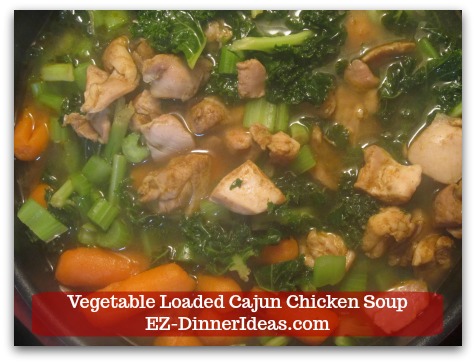 Kale Chicken Soup Recipe and Directions

Ingredients
2 lbs Boneless Skinless Chicken Thighs (cut into bite size)
1 lb Baby Carrots
4-6 Stalks Celery Ribs (diced)
1 bag (12-16oz) Pre-cut Kale
6 cups Chicken Bone Broth
2 tbsp Cajun Seasoning (adjust the amount per your preference)
2 tbsp Extra Virgin Olive Oil
Salt and pepper to taste (hold until the end.  You may not need either.)

Directions
In a big mixing bowl, add 1 tbsp Cajun seasoning into the chicken and toss to coat. 
Preheat a soup pot at high heat with extra virgin olive oil

Add chicken into the pot and brown; stir every 2-3 minutes to brown the outside.  Add the remaining 1 tbsp Cajun seasoning in.  (You may want to wait until the end to add the last tbsp of Cajun seasoning if you can't take too much spice and heat.  Chicken is not cooked through at this time.)
Add broth and bring it to rolling boil.
Add carrots and cook it at low boil for 20 minutes. (Chicken will be cooked through after this step)
Add kale and use a spatula to press the vegetables down into the soup.
Add celery and cook for another 3-5 minutes until crisp tender.
Salt and pepper to taste and enjoy immediately.
Want More Keto/Low-Carb Recipes?!
This ebook will teach you to cook authentic Chinese food in a healthy way. It will also show you how to get the beautiful colors, texture and taste you get from your favorite Chinese restaurants.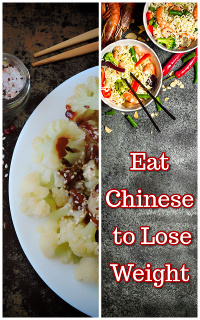 ---

Kale Chicken Soup Steps with Photos
---

Recipe Ingredients and Tools

---

You May Also Be Interested In:

---
Home > Soup Recipes > Kale Chicken Soup | Vegetable Loaded Cajun Chicken Soup