Better Than Buffalo Wild Wings Lemon Pepper Wings
Better Than Buffalo Wild Wings
Lemon Pepper Wings
Wings Made At Home
Entertainment Is That Easy
Better Than Buffalo Wild Wings Lemon Pepper Wings (Did the name get you tongue tied?)...I love wings.  It was awesome to step into a place where you can order just wings like Buffalo Wild Wings.  

There are some wings out of this world on their menu.  There are also some too hot for me to handle.  You know me.... I always love to do restaurant remakes recipes, especially if it is something great.


Total Time: 75-78 Minutes
Prep Time: 5-8 Minutes  
Inactive Cook Time: 70 Minutes  
Serving: 3-4


I swear this lemon pepper wings are way much better than you order from this restaurant joint.  They are oven roasted.  The flavor is throughout the chicken instead of just limited to the top layer of the meat. 
My 8-year-old chewed down several of them in no time.  Before dinner was over, he told me, "Mom, they are so good.  Make sure you post them on your website."  This is how family-friendly this chicken wing recipe is.  It is also great for game night and any dinner parties.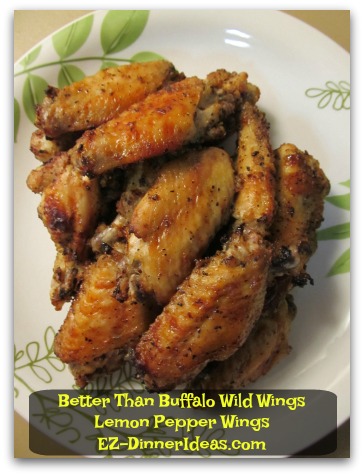 Better Than Buffalo Wild Wings Lemon Pepper Wings Recipe

Ingredients
2-2.5 lb (about 1kg) Frozen Wings (thawed and padded dry with paper towel)
3 (heaping) tbsp Lemon Pepper Mix
1 tsp Salt
2 tbsp Extra Virgin Olive Oil
Dried Parsley flakes (optional; for garnish only)
Cooking spray

Combine all seasonings in a mixing bowl and toss in wings to coat.
Chill in fridge overnight.
Preheat oven at 425F (218C).
Line a baking sheet with aluminum foil and coat with cooking spray.
Single layer wings on a baking sheet with about 1/2" (1cm) around of space (use 2 baking sheets if necessary).
Roast in oven for 30 minutes (if there is too much grease and/or juice on the baking sheet, spoon half of it out).
Turn wings over to the other side and cook another 40 minutes.
Let wings rest in room temperature 5-8 minutes.
Transfer to serving plate and garnish with parsley and serve immediately.
Better Than Buffalo Wild Wings Lemon Pepper Wings Steps with Photos
Combine lemon pepper seasoning and salt into a big mixing bowl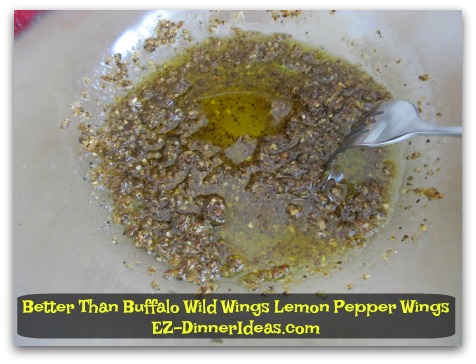 Whisk in extra virgin olive oil
Add wings into seasoned oil
Toss to coat and chill in fridge overnight
Single layer on baking sheet, roast and turn halfway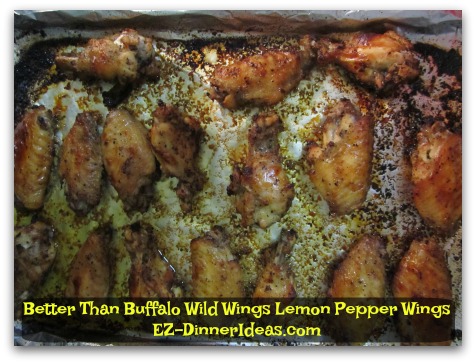 Rest 5-10 minutes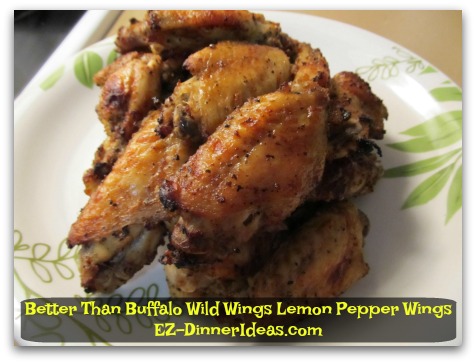 Garnish and enjoy
---

Recipe Ingredients and Tools

---
Serve This With: 

---

You May Also Be Interested In:

---
Home > Chicken Recipes > Better Than Buffalo Wild Wings Lemon Pepper Wings