Pizza Hut Sweet Chili Wings
Pizza Hut Sweet Chili Wings
A Healthier Cooking Method
With Much Lower Price
For A Bigger Crowd
When I first saw this Pizza Hut sweet chili wings on the menu, I was so excited to give it try.

As soon as I saw it, even before diving in it, I knew where I can get the sauce.  It tastes great that I wished I could have more.  But an order from any pizza parlor is always not enough.  Good thing is that you can make your own with a bigger quantity for paying the same price for a small order from the pizza parlor.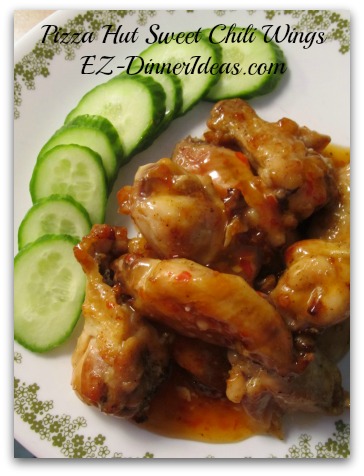 Prep Time: 10 Minutes  Active Cook Time: 10 Minutes
Inactive Cook Time: 50 Minutes   Serving: 4-6

I love wings.  My mom is an expert when it comes to cooking wings.  No, she doesn't own or run a restaurant.  But her wings are always a killer in the party.  My friends always anticipated her to send wings to school for Christmas party every year.  We have wings all the time.  Mom knew that we love wings so much that she always cook at least 3 pounds in one shot and we always mop the dishes clean.

Having wings like this in our childhood and teen, it is impossible to enjoy with only just 6-8 wings in front of you while you still need to share them with anybody.  It is no fun.  It just never satisfies your crave.  That's why you see all my wing recipes are not shy on the quantity.

There is more this recipe offers you than you get it from the big chain restaurant.  Instead of deep-frying the wings, we are going to bake them.  They are still crispy, but way much healthier and less guilty of enjoying them, too.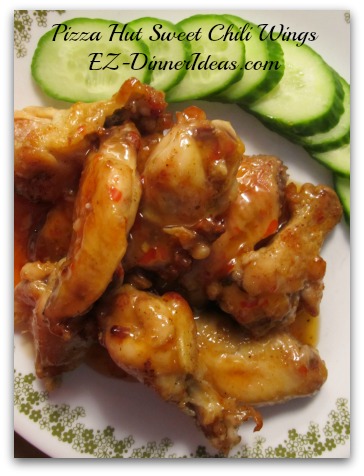 Ingredients


2 1/2 pounds Frozen Wings (thawed and padded dry)
1 bottle Thai Sweet Chili Sauce
1 tablespoon Garlic Salt
1/4 teaspoon Ground Black Pepper
1 tablespoon Extra Virgin Olive Oil
No-stick cooking spray
Sugar (optional)
Crushed Red Pepper Flakes (optional)



Thai Sweet Chili Sauce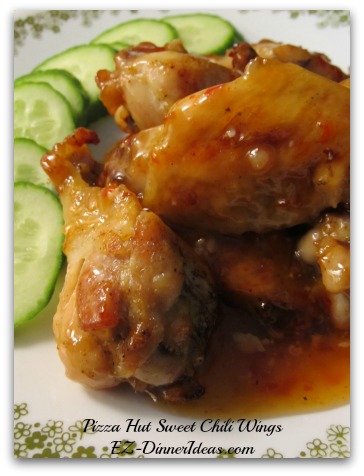 Mix garlic salt, black pepper and extra virgin olive oil in a big mixing bowl
Toss to coat wings and chill in fridge overnight
Preheat oven at 425F
Line 2 big baking sheets with aluminum foil and coat with no-stick cooking spray
Single layer wings on both baking sheets skin side down (leave at least 1/2" space around each wing) and roast in the oven for 30 minutes
Turn wings over and roast for another 20 minutes
Pour bottle of sweet chili sauce into a sauce pan and warm it up at low heat (the main purpose of this step is to toss the wings into the warm sauce instead of the cold one.  The other purpose is to allow you to taste if the sauce satisfies your taste bud.  Add sugar and/or crushed red pepper flakes if needed)
Pour half of the sauce into the wings.  Toss to coat and serve immediately with extra sauce on the side
---

You May Also Be Interested In:

---
Return from Pizza Hut Sweet Chili Wings Recipe page to Restaurant Remakes Recipes page

Return to Easy Dinner Ideas Homepage