Baked Garlic Parmesan Chicken Drumsticks

Wayyy....Better Than Wings
From Any Pizza Parlor
This baked garlic Parmesan chicken drumsticks recipe was inspired by a restaurant's dish called, garlic Parmesan wings.  I am pretty sure many of you are very familiar with that dish.  My little one loves it.

The flavor of the dish was great.  But with the grated Parmesan cheese sprinkled on top of the cooked meat just diminished the greatness of the dish, in my opinion.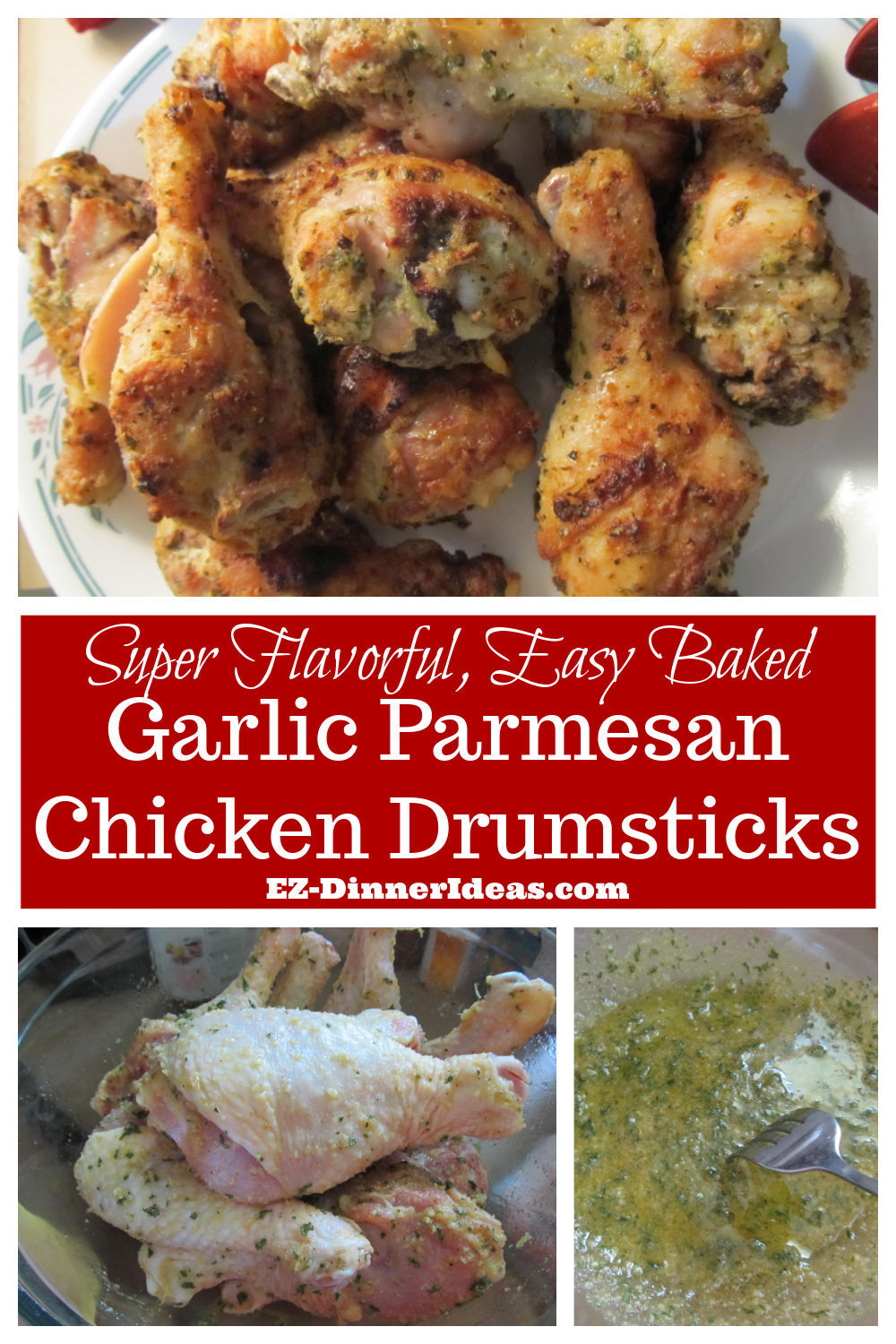 Total Time: 1 Hour 40 Minutes
Prep Time: 10 Minutes  
Inactive Cook Time: 90 Minutes  
Serving: 6-8


So, I went back home to try it with some twists.  Instead of adding Parmesan cheese on top of the cooked chicken, I mixed it into the marinade.   It just came out perfect. 

The cheese flavor blended into the meat.  It is more flavorful than adding it at the end.  Besides, the cheese gives an extra layer of crust on the chicken.


CHEF NOTES
Why use drumsticks instead of wings?  I just want to make this a dinner instead of a side dish.  There is more meat and much cheaper.  Do feel free to use the same quantity of wings and marinade ingredients to make your favorite pizza parlor side dish.
Also, I use garlic powder and salt instead of garlic salt, because garlic powder can stand higher cooking temperature in the oven.  And it gives more garlic flavor to the meat.  Garlic salt tends to have a higher ratio of salt instead of garlic powder.
Is there a way to get this dish on the table sooner?  Yes.  First, check if there is a function called "Convection Oven" (sometimes called Speed Bake) in your oven.  Usually, this function will only need half of the regular cook time to complete the entire cooking process.  Double check the user manual before using it so that you won't serve a half cooked chicken on your dining table.

Save Garlic Parmesan Chicken Drumstick Dripping
Keep the dripping....this is the great stuff. 
As soon as chicken comes out of the oven, transfer to a serving plate.  Immediately add 3-4 lbs (1.36 - 1.81kg) frozen California blend vegetables or broccoli into the same roasting pan.  Bake in oven 15-20 minutes.  Turn over and bake another 10-20 minutes until crisp tender. (For more info, click here for the recipe)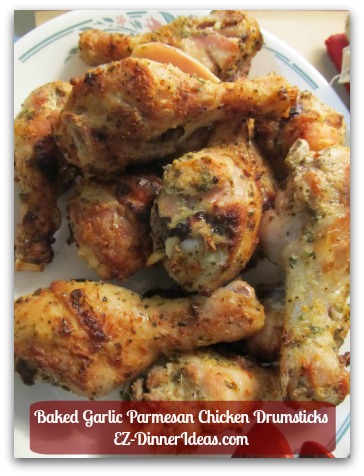 ---

Recipe Ingredients and Tools

---

Baked Garlic Parmesan Chicken Drumsticks Steps with Photos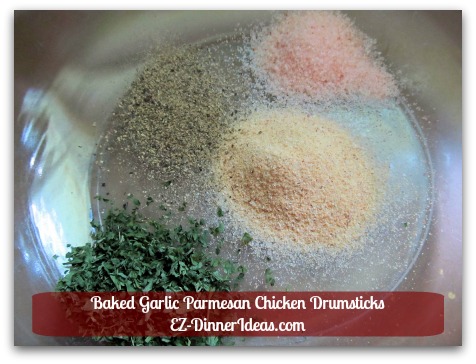 Combine all ingredients in a big mixing bowl to make marinade and/or dressing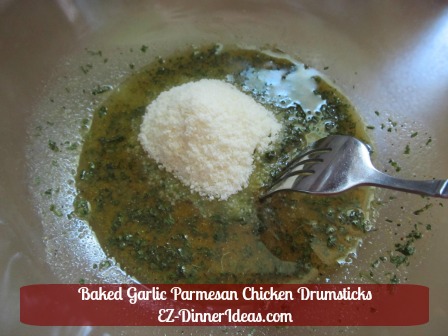 Don't forget ths Parmesan cheese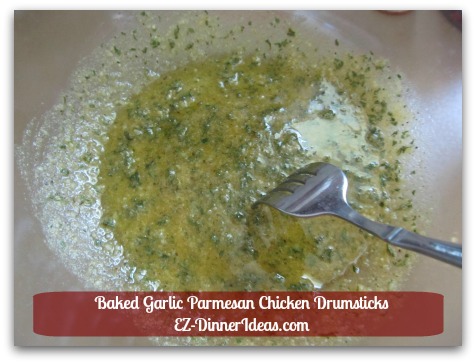 Marinade should look like thick paste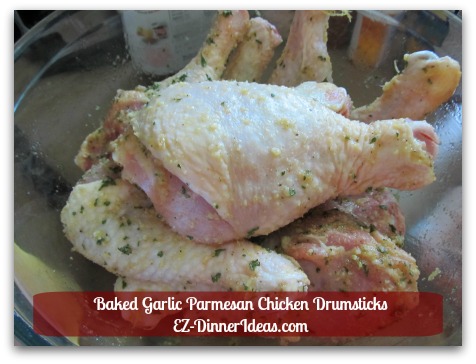 Toss to coat chicken and chill in fridge for at least 4 hours or overnight

Baked Garlic Parmesan Chicken Drumsticks Recipe and Directions

Ingredients

4 lbs (1.7kg) Chicken Drumsticks
2 tbsp Grated Parmesan Cheese
1 tbsp Garlic Powder
1 pinch Crushed Red Pepper Flakes
1 tsp Italian Seasoning
2 tsp Dried Parsley Flakes
3-4 tbsp extra virgin olive oil
2 tsp Himalayan Pink Salt
1/2 tsp Black Pepper
Cooking spray

Dressing
Same ingredients as marinade (optional; you can make this dressing and pass around on the table.  It intensifies the flavor of the chicken.  Feel free to double the quantity of marinade.  Save half for use as dressing)

Directions
Whisk all seasonings, i.e. garlic powder, crushed red pepper flakes, salt, pepper, Parmesan cheese, Italian seasoning, parsley flakes and extra virgin olive oil, together in a big mixing bowl.

Toss to coat chicken drumsticks.
Chill in the fridge at least 4 hours or overnight.
Preheat oven at 425F (218C).
Line a roasting pan with aluminum foil for easy clean up and coat with cooking spray.
Single layer drumsticks on the roasting pan; skin side down.
Bake for 50 minutes.
Turn over drumsticks and bake for another 40 minutes until cooked through.
Rest in room temperature for 8-10 minutes.
Serve along with dressing (optional)
---
Serve This With: 

---

You May Also Be Interested In:

---
Home > Chicken Recipes > Baked Garlic Parmesan Chicken Drumsticks