One-Pan Baked Garlic Parmesan Shrimp
SUPER Easy And Tasty
Eat-With-Your-Hands Seafood Dinner
This one-pan baked garlic Parmesan shrimp is definitely a joy for shrimp lovers.  

I have been making garlic Parmesan this, garlic Parmesan that and a lot of garlic Parmesan lately.  (So, expect a lot of recipes with garlic Parmesan)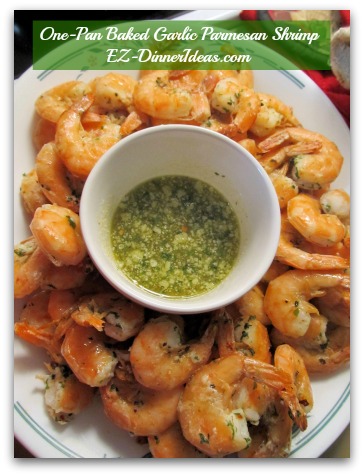 Prep Time: 5 Minutes   Cooking Time: 20-25 Minutes   Serving: 2-4

What made me getting into this kind of craziness because I have been working on the recipe of Garlic Parmesan wings for a long time that I finally nailed it.  Then, I extended this flavor to different levels and ingredients.  Of course, this shrimp bake is a side effect of it. 

Also, I have been dying to cook something that I can literally transfer the ingredients from one place to another and walk away.  Then, one day, I was so exhausted that I want to have something as delicate as lobster to give myself a treat.  Open up my freezer, my little light bulb just went on.  "Ah ha....that's what I am going to cook for dinner tonight."  Super excited with a glass of white wine to go along with this delicious dinner.  I was in cloud 9.

I can guarantee you that you will be amazed with the price you pay for this seafood dinner and big favor.  It is very affordable, easy and super tasty.  It is definitely 100 times better than dining out.  Too bad the night I had this dinner was super cold and snowy, I can see my extended family to mop everything clean in a few minutes for double batches.
What If You Want To Double The Quantity?
It is super easy to double the quantity of this dinner.  Just follow these 3 steps:
Double everything, i.e. ingredients and all seasonings
Split shrimp into 2 same size baking sheets
Cook time will be the same
One-Pan Baked Garlic Parmesan Shrimp Recipe

Ingredients
2 lbs Frozen Shrimp (thawed; I used 31/40 count.  Whatever is on sale would work in this recipe)
2 tbsp Butter
Lemon (optional)
1 loaf Crusty Bread (optional; for mopping up all the awesome juices)
Preheat oven at 350F
Line a 13 x 18" baking sheet with aluminum foil (refer to "How To Line Baking Pan With Foil")
In a mixing bowl, combine all dressing ingredients and save 2 tbsp dressing and put it aside
Transfer shrimp into the baking sheet and toss to coat with dressing
Bake in oven for 20-25 minutes until shrimp are opaque and pink
About 10 minutes before serving, melt butter either in microwave or on stove top
Stir in the 2 tbsp dressing saved earlier and serve along with shrimp
Serve with crusty bread to mop up the juices.  (The bread also makes dinner more filling)

You May Also Be Interested In:

Home > Seafood Recipes > One-Pan Baked Garlic Parmesan Shrimp