Spicy Chicken Recipe
Baked Buffalo Ranch Chicken Is A Great, Yummy and Affordable Alternative of Traditional Buffalo Wings

This spicy chicken recipe will be on top of your favorite list.  Guaranteed!


Total Time: 1 Hour 13 Minutes - 1 Hour 15 Minutes
Prep Time: 3-5 Minutes  
Inactive Cook Time: 1 Hour 10 Minutes  
Serving: 4-6


If you love buffalo chicken, I guarantee you will love this one, too.  In fact, in my opinion, this is more flavorful than any typical buffalo chicken recipes.  Traditional buffalo chicken is all about the heat.  It numbs your taste buds.  This spicy chicken recipe has the ranch mix to bring out the flavor of buffalo chicken flavor.  I dare you to try it.

CHEF NOTES
Some people may not be able to take up this much of spiciness.  If that's the case, use 2 parts of ranch mix and 1 part of buffalo chicken mix.  

I tried out buffalo ranch mix out of the jar, which has everything mixed it up already.  It didn't come out as nice as I expect.  So, mix it yourself allows you to control how spicy or mild you want.

Normally, most of my chicken recipes can be applied to bone-in skin-on chicken thighs, quarters and breasts.  For this specific one, I tried it on the breasts once.  It is not enough to get the flavors all the way through, especially if it is split chicken breasts.  However, if you love spicy food, but cannot stomach it, using chicken breasts will work out better for you.

---
Spicy Chicken Recipe and Directions

Ingredients
1 Envelope (1.6oz) Buffalo Chicken Seasoning
1 Envelope (1 oz) Ranch Mix
4-5 lbs Bone-In Skin-On Chicken Drumsticks or Chicken Thighs
1/4 cup Extra Virgin Olive Oil
No-stick Cooking Spray

Directions
In a small bowl, whisk all seasonings and oil together to make marinade.  It should look like thick paste.
Transfer chicken into a big mixing bowl, toss in marinade and coat meat.  Chill in fridge overnight.
Let chicken sit in room temperature for an hour.
Preheat oven at 425F.
Line a roasting pan with foil for easy clean up later, coat with no-stick cooking spray liberally.  Single layer chicken in the pan and roast for 40 minutes.
Turn over and cook for another 30 minutes.
Let rest for 8-10 minutes and serve along with celery sticks and blue cheese dressing for dipping.
Want More Keto/Low-Carb Recipes?!
This ebook will teach you to cook authentic Chinese food in a healthy way. It will also show you how to get the beautiful colors, texture and taste you get from your favorite Chinese restaurants.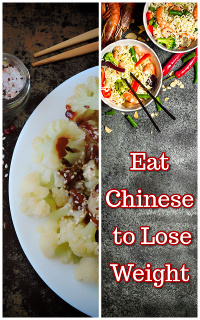 ---

Spicy Chicken Recipe Steps with Photos
---

Recipe Ingredients and Tools

---
Serve This With: 

---

You May Also Be Interested In:

---
Home > Chicken Recipes > Spicy Chicken Recipe | Baked Buffalo Ranch Chicken