Crock Pot Chicken Recipe
One-Pot Cheesy Ranch Chicken with Broccoli Perfect for A Busy Family that Hardly Sits Down for A Relaxing Meal
This crock pot chicken recipe is your next one-pot meal that you are going to make it over and over again.

Total Time: 4 Hours 5 Minutes
Prep Time: 20 Minutes  
Inactive Cook Time: 3 Hours 45 Minutes
Serving: 4-6


I tried this recipe many times with many different cuts of chicken with and without bones. I was so glad that I finally nailed this slow cooker chicken recipe. And I must say that this is most likely one of the easiest ways to cook a low carb juicy chicken with a crock pot.
CHEF NOTES
Cuts of Chicken to Use
The cuts of the meat could affect the cost, cook and prep time of this dinner. So, what should you choose? Let's explore each cut of meat and how it turns out.
Bone-In Dark Meat Chicken
This is a very economical cut to make this meal. However, separate the bones and meat from each other is a bit time-consuming. "Can you serve the chicken with bones on the dining table?" It depends on how you look at it. The meat falls off the bone before getting on the plate. So, presentation-wise, this may not be too appetizing. I must admit that the bone gives great flavor to the sauce. Besides, dark meat is more moist than white meat.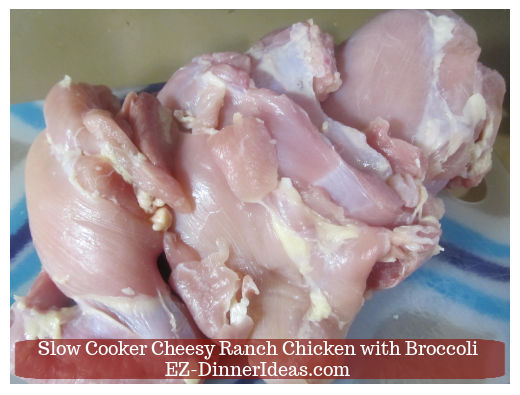 My personal preference for this recipe is boneless chicken thighs. But it could take up to 15-20 minutes to remove the excess fat from the meat.

Boneless Dark Meat Chicken
Fresh Boneless skinless chicken thigh is another great option. You will use the exact amount of meat that the recipe calls for. The meat comes out perfectly cooked and juicy.
The biggest setback is that it depends on your luck of picking that pack of fresh chicken in the store. Some boneless skinless chicken thinghs come with excessive fat that you could spend up to 15-20 minutes to remove it.
Boneless White Meat Chicken
Many people choose white meat. As I always say, white meat is not for slow cooking. Because by the time dinner is served, it tastes like sandpaper instead of white juicy meat.
So, this is what I did which worked out very well. Instead of using fresh meat, I threw in frozen boneless skinless chicken breasts into the slow cooker. NO THAWING. Yes, frozen meat directly into the crock pot. The heat from the slow cooker will thaw it for you. When the chicken dinner is done, the white meat is perfectly cooked and juicy. But because it takes longer to thaw and cook the frozen meat, the quantity needs to cut into halves.
I do understand that there are some cooks still using fresh boneless skinless chicken breasts. Although I am not a big fan of that idea, it is up to you. I just happen to like the dark meat better and it doesn't mean that everybody must agree and follow. Just bear in mind, whatever works for you and your family, go with that direction.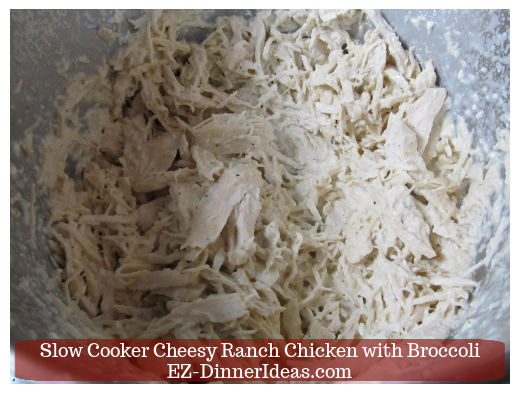 Use hand mixer to shred the cooked chicken. This method is perfect for white meat which helps the meat absorbing all the melted cheese and sauce flavors.

A Benefit of Shredding the Cooked Meat
This step is not necessarily needed for dark meat. However, it may be different from the white meat perspective. The time when I used frozen boneless chicken breasts to make this crock pot chicken recipe, I purposefully took out the meat while the broccoli were cooking in the crock pot. Then, I transferred all the meat into a bowl and shredded it with a hand mixer before putting all the meat back into the slow cooker. I found that it allows more room for the meat to soak up the sauce and cheese which gave the meat more flavor and moisture.
Please note that this step is optional. You can totally skip this step.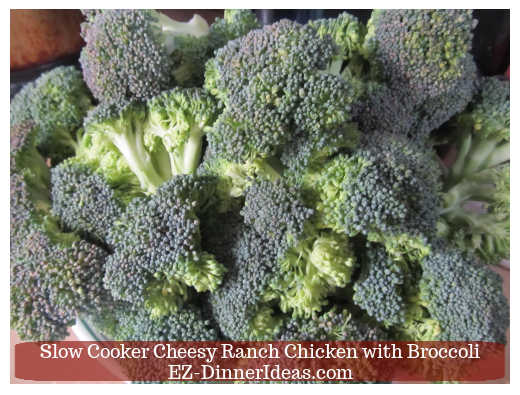 This chicken recipe can use either fresh or frozen broccoli. But it will switch up the recipe a little bit.

Use Frozen or Fresh Broccoli?
I tried both at different times. Since it takes time to thaw the frozen vegetables, the quantity adding the frozen form is less. This will allow the slow cooker to pick up the heat quick enough to cook the broccoli. On the other hand, fresh broccoli is literally in room temperature which takes lesser heat, comparatively speaking. So, you can add a bit more vegetables into the crock pot.
You can throw in fresh meat to cook first and add frozen vegetables later to complete this crock pot chicken recipe. You can also switch the order around. But in my opinion, use frozen meat and frozen vegetables together. Fresh meat with fresh vegetables. That is the best way to do it.
Can You Add Pasta into this Crock Pot Chicken Recipe?
Yes, absolutely. Here are the steps to do so:
About an hour before dinner is served (at this point, the vegetables and cheddar cheese should not be in there yet and it should be about 30 more minutes before adding the vegetables), add 2 more cup of hot chicken broth into the slow cooker. Stir in a box or 1-pound dry orzo pasta.
30 minutes later, add vegetables and follow the rest of the recipe to complete this dish.
What's Other Carb Filling Sides Can You Add?
As much as I love pasta, rice and noodles, having less carb makes me more energetic. Are you in the same position like me? What about your carb-loving family? You can serve steamed rice, pasta or mashed potatoes on the side. Any of them will be great with the sauce from this crock pot chicken recipe.
---
---

Recipe Ingredients and Tools

---

Crock Pot Chicken Recipe and Directions
Ingredients
1 block (8oz) Cream Cheese
4.5 lbs Boneless Skinless Chicken Thighs (or 2 lbs Frozen Boneless Chicken Breasts)
2 Cups Chicken Bone Broth
1 Envelope of Ranch Powder Mix
3 Broccoli Crowns (about 1.5 lbs; cut into florets or 1 lb Frozen Broccoli Florets)
2 Cups Shredded Yellow Cheddar Cheese
Bacon Bits (optional)
Parsley Flakes (for garnish; optional)
Non-stick Cooking Spray
Directions

Coat slow cooker insert with non-stick cooking spray liberally.
Add chicken, cream cheese, ranch mix and broth into the slow cooker; cover and cook at high heat for 3 hours.
Transfer chicken to a plate and put in broccoli florets and cover to cook vegetables at high heat for 30 minutes.
Shred meat. Then, fold meat into the vegetables and the saucy mixture in the slow cooker. (This is an optional step and you can choose to leave the chicken as is in the slow cooker and skip this step entirely.)
Salt and pepper to taste the vegetables and chicken.
Add yellow cheddar cheese on top and/or cover to cook for another 15 minutes until cheese is melted.
Garnish with bacon bits and parsley flakes and enjoy immediately.
---
Looking for More Family Meals for the Weeknights
This ebook has already planned out 3 weeks of dinner plans and shopping lists for you.  Feeding your hungry family is that easy.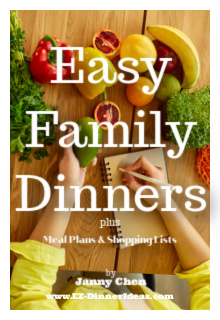 ---

Crock Pot Chicken Recipe Steps with Photos
6 ingredients to make this recipe with your choice of cut of chicken.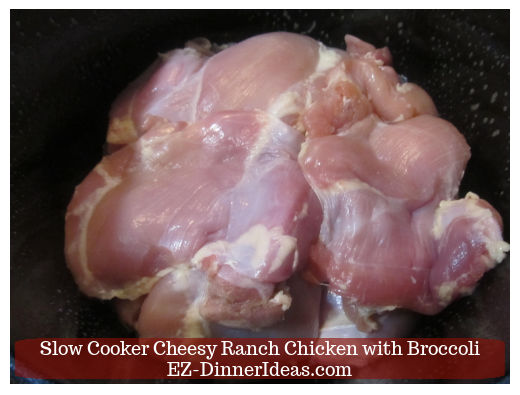 Transfer chicken into crock pot (boneless skinless chicken thighs is my personal preference)
Add cream cheese, ranch seasonings and broth on top of chicken.
After cooking 3 hours on high heat in the crock pot...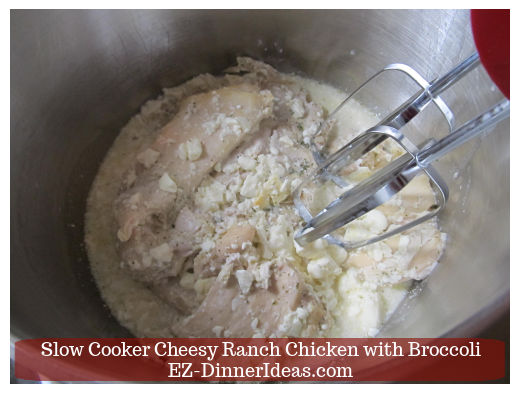 Shred chicken with a hand mixer (this is an optional step)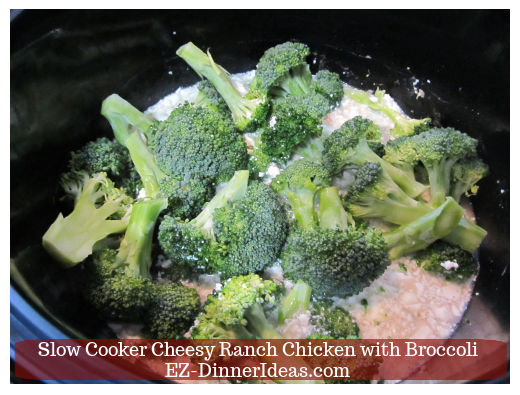 Add broccoli and cook for another 30 minutes
If you shredded chicken earlier, transfer meat back into the crock pot before adding cheddar cheese.
Cheddar cheese is all melted after another 15 minutes of cooking.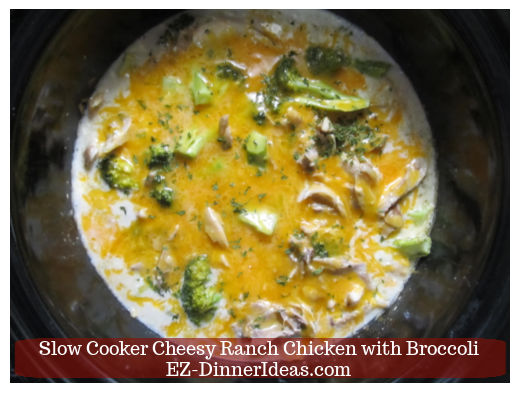 Garnish with parsley flakes and/or bacon bits (optional) and ENJOY!
---
Serve This With: 

---

You May Also Be Interested In:

---
Home > Slow Cooker Recipes > Crock Pot Chicken Recipe | Cheesy Ranch Chicken with Broccoli