Easy Chicken Meal

Thai-Style Pineapple Coconut Chicken
An Authentic Asian Recipe
In Slow Cooker
An easy chicken meal and authentic recipe from a slow cooker?  That sounds too good to be true.  Well, it is true.  This Thai pineapple coconut chicken recipe was inspired by my sister-in-law from Thailand.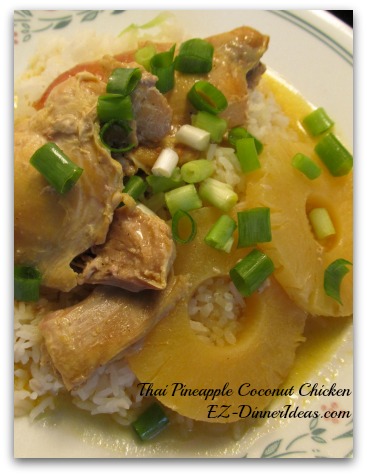 Total Time: 3 Hours 20 Minutes - 3 Hours 50 Minutes
Prep Time: 20 Minutes  
Inactive Cook Time: 3-3.5 Hours (High Heat) or 6-7 Hours (Low Heat)  
Serving: 6-8


Ok, you may say that this easy chicken meal recipe can call Pina colada chicken.  Why didn't I call it that way?  Well, I gave it some thoughts and decided to go with a more authentic name.

I am not a slow cooker fan.  To me, only red meat can go into the crock pot.  Definitely not white meat because I like my meat juicy and tender instead of feeling like eating sandpaper.

But what made me to put this recipe together?  It was my sister-in-law.  We were visiting with her and many family members this summer in a campground.  She loves to cook, like I do.  She brought along a slow cooker with Thai pineapple coconut chicken in it.  I know she is a great cook that I didn't hesitate to give it a try.  I was shocked how delicious the chicken was. 

When I went for the second serving and paid more attention of what she put in it, I realized that she used dark meat chicken.  After going back home and did some experiments, this is how I put together this recipe.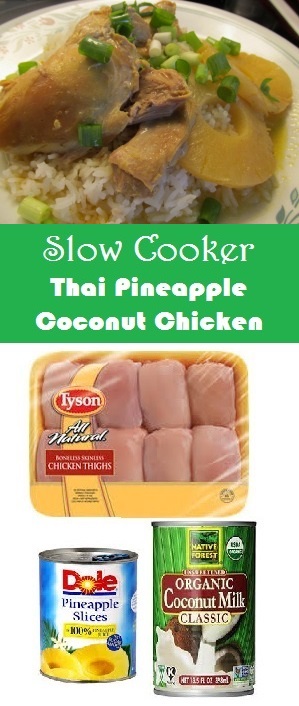 CHEF NOTES
Here are a few things that I want to highlight so that you can make this easy chicken meal perfect.

1. The meat was partially frozen.  After trimming the fat, put the meat into the freezer for about an hour before putting it into the slow cooker.  The meat needs to be hard enough, but not stick to each other.
You are going to ask why should you do that?  Let me explain how we normally cook white meat.  Do you always seal the juice of the meat by searing it on high heat?  If so, this is the philosophy of freezing the meat.
I laid the pineapple at the bottom so that the heat doesn't go directly to the meat.  While waiting for the slow cooker to warm up, the semi-frozen meat thaws on top of the pineapple.  When the insert gets heated through, the meat starts to get the higher temperature and start cooking.  So, it is like mirroring of sealing the juice inside the meat with high heat in the slow cooker instead of stove top or oven.
2. Time is essence - 3.5 hours on high or 7 hours in low is the maximum cook time.  I found out that if I cooked another 30 minute on high or an hour on low, the meat dried out which turned to sandpaper.
3. The quantity of dry chili and lemongrass here is just enough to give the flavor and fragrance of this dish.  It is not hot and spicy enough because some of our family members can't consume too much heat.  Do feel free to adjust the quantity for yours.
4. As much as I will try very hard to convince you that dark meat chicken is the only kind of meat you can use in this recipe, I understand that there are people only eat chicken breasts.  Here is my theory...if your family is resistant to what you put into the dish, no matter how great it tastes, it is just a waste.  Please feel free to substitute it with chicken breasts if needed.  Your family comes first.
Easy Chicken Meal Recipe and Instructions

Ingredients
3-3.5 pounds Skinless Boneless Chicken Thigh (trim and discard fat and partially frozen)
1 (20 ounces)can Sliced Pineapples and juice
1 (14 ounces) can Coconut Milk
3 Dried Chili
1 teaspoon Lemongrass
Cheese Cloth
1/8 teaspoon Turmeric (I use this for giving the color of the dish.)
2 tablespoon Corn Starch
1/3 cup Water
Scallion (chopped)
No-stick Cooking Spray
Steamed white rice

Coat insert of slow cooker with no-stick cooking spray
Line sliced pineapples at the bottom of the insert
Put chicken thighs on top and sprinkle with salt and pepper
Put dry chili and lemongrass in the middle of a piece of cheese cloth and tie it tightly with kitchen string to make a little pouch and put into the slow cooker
Add pineapple juice and coconut milk
Cover with lid and cook on high for 3-3.5 hours or low 6-7 hours
In a separate bowl, combine water and corn starch together to make slurry.  Stir it into the chicken in the last half hour of cook time and let it continue to cook
At the same time, cook steamed rice on the side and chop up scallion
Add turmeric, salt and pepper to taste
Discard the lemongrass and dried chili pouch
Garnish with scallion and serve immediately along with steamed rice
Easy Chicken Meal Steps with Photos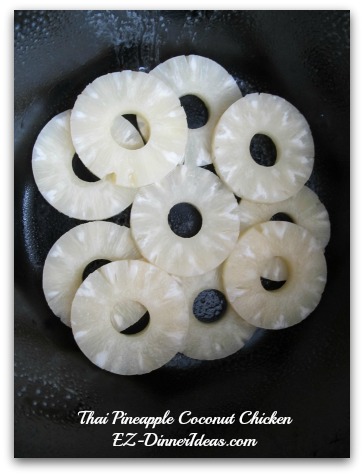 Line the pineapple at the bottom of the slow cooker so that the heat doesn't go directly to the chicken when it starts warming up.
---

You May Also Be Interested In:

---

Recipe Ingredients and Tools

---
Home > Chicken Recipes > Easy Chicken Meal | Slow Cooker Thai-Style Pineapple Coconut Chicken