Gourmet Dinner Menu

One Pan Baked Chinese Pineapple Lychee Chicken
Another Restaurant Remake Recipe
Great Sunday Dinner Idea
Inspiring gourmet dinner menu makes this one pan baked pineapple lychee chicken.  The hardest part is to marinate the chicken and cutting up the vegetables.  Your oven will take care of the rest of the work for you.  Chinese exotic fruit with chicken is like marriage made in heaven.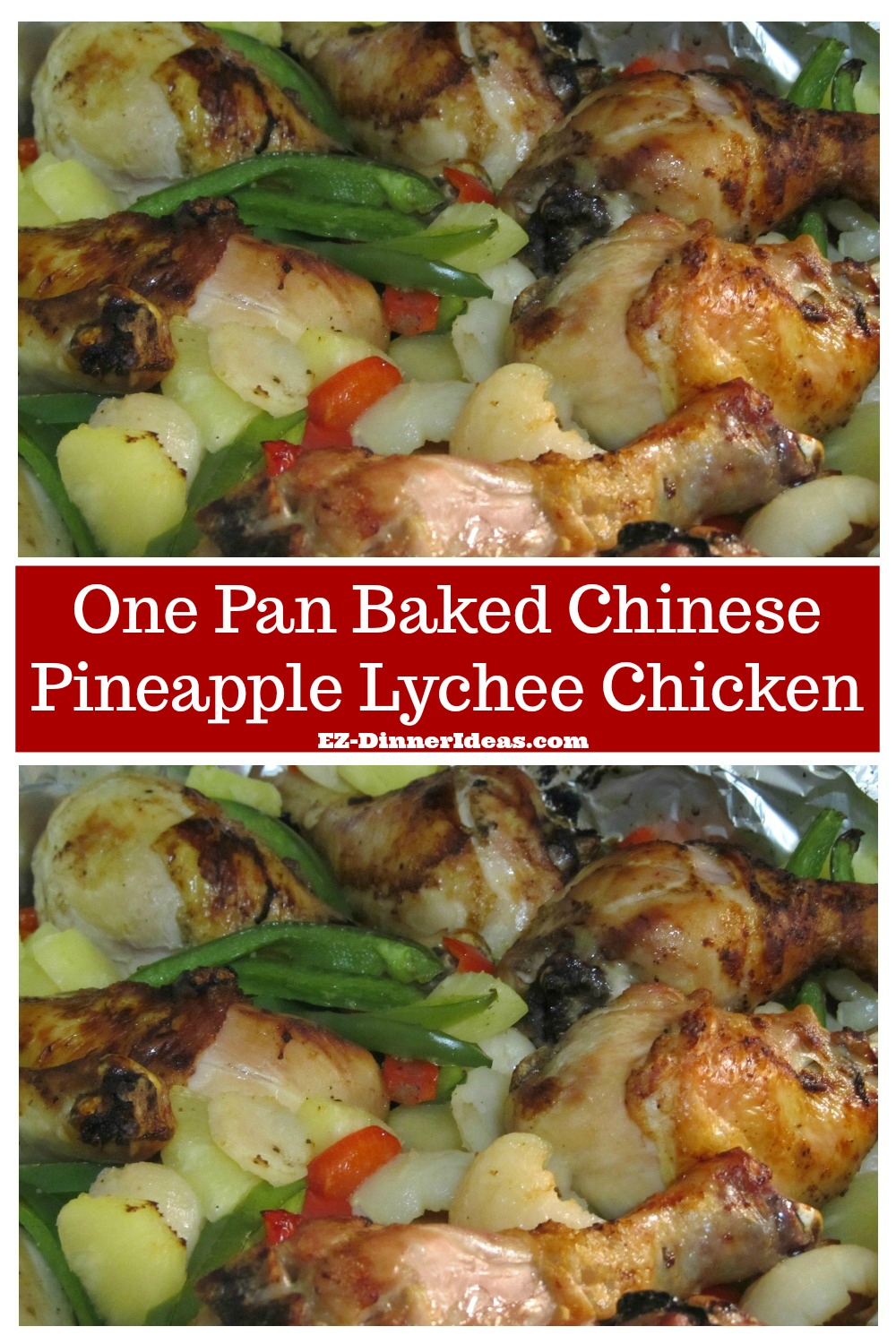 Total Time: 2 Hours 10 Minutes
Prep Time: 30 Minutes  
Inactive Cook Time: 1 Hour 40 Minute   
Serving: 6-8


This one pan baked Chinese pineapple lychee chicken recipe was inspired by a walk passing by a fusion restaurant.

I try my best to squeeze in a short walk everyday within my 30-minute lunch just to get out and have some fresh air and away from the computer.

One day, there was a sign in front of a fusion restaurant showing the lunch special which was Pineapple Lychee Chicken.  Although I have had these 2 fruits countless time separately, I never thought of combining them together. 

I went back home and experimented it.  It turned out pretty well.  But cooking on the stove top is sometimes too much for me, especially with the crazy schedule with my little one.  So, I tried it with my favorite method, roasting the chicken in a roasting pan and cook everything in it.  Man, oh man....how awesome this gourmet dinner menu turns out.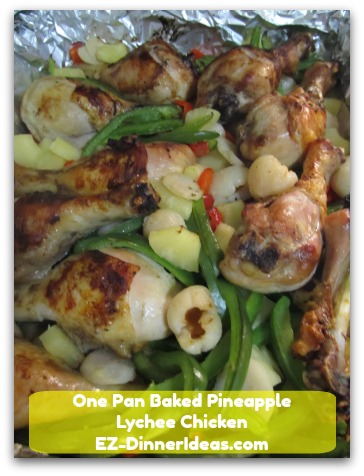 What's Lychee?

So, that was my story how I was inspired to put this gourmet dinner menu together.  You may not know one of the major ingredients here, Lychee.

Let's us dive in how fresh lychees look like first.

They grow on trees with a very thin layer of red shell on the outside.  The flesh is white with a hard brown pit at the middle of the fruit.  The smaller the seed, the better.

In ancient China, Lychee was exclusively for royalty only.

In summer time nowadays, if you travel to southern China in Guangdong province, there are tours for you go into the Lychee gardens and pick and eat fresh lychees.  The condition is...you will not bring any out of the garden.

There is a Chinese saying, "The cicadas sing.  Time to enjoy Lychees."  It means the lychees are ripe when you hear the cicadas chirping.

There is also a Chinese saying, "A Lychee Fruit, 3 sets of fire". You may be scratching your head right now.  This is related to the Chinese medical theory.  It is believed that there is always a balance of everything in our body.  If there is too much "heat", like from too much consumption of Lychees, it will cause some dysfunction or illness in a body.  That was the meaning of this saying.

Fresh lychees are available in Asia during its season.  However, compared to some common fruits, like apples and oranges, Lychees are still rare.  In the West, you may see fresh lychees in the Chinese market.  Otherwise, you will see this exotic fruit in cans.  And we use canned lychees for this recipe.

For more info about Lychees, check out Wikipedia link.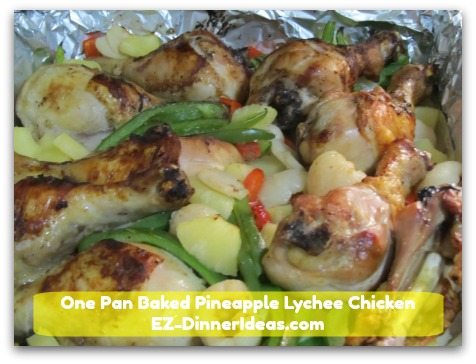 Gourmet Dinner Menu Recipe and Instructions

Ingredients

1 can (14 oz) Pineapple Chunks (drained)
1 can (14 oz) Lychee Fruit (drained)
1 can (4 oz) Pre-sliced Water Chestnuts (drained)
2 Green Bell Peppers (discard membranes and seeds; sliced)
2 Red Bell Pepper (discard membranes and seeds; sliced)
5-6 lbs Skin-On, Bone-In Chicken Breasts, Drumsticks or Thighs
No-stick Cooking Spray

Marinade
1 tbsp Salt
1 tsp Garlic Powder
1 tsp Ginger Powder
1/2 tsp Black Pepper
1 tsp Superior Light Soy Sauce
2 tbsp Extra Virgin Olive Oil

Combine all seasonings at the bottom of a big mixing bowl, toss to coat chicken
Chill in fridge overnight
Preheat oven at 425F
Line a roasting pan with aluminum foil and coat with non-stick cooking spray
Single layer chicken on roasting pan, skin side down
Bake for 50 minutes
While waiting, get all vegetables and fruit ready
Turn chicken over the other side and bake for 20 minutes
Nestle vegetables and fruit in between and get chicken on top to get brown in the oven
Cook another 30 minutes or until chicken is cooked through
Let rest for 10 minutes and serve immediately with steamed white rice
---

Recipe Ingredients and Tools

---

You May Also Be Interested In:

---
Home > Chicken Recipes > Gourmet Dinner Menu | One Pan Baked Pineapple Lychee Chicken