Orange Creamsicle Smoothie Recipe

Great Dessert Alternative!  Better Yet...
Replace Iced Coffee On The Road
This creamsicle smoothie recipe is delicious, refreshing, cheap and easy.  Why spend money buying from the coffee shop?  You can make it at home.


Total Time: 5 Minutes
Prep Time: 5 Minutes  
Active Cook Time: ZERO   
Inactive Cook Time: ZERO
Serving: 3-4
This recipe was inspired by our nephew.  My little one went to sleepover with his cousins.  Our nephew made this smoothie for kids for dessert.  He used ice-cream.  I never planned to make this recipe at home because I want to save it for our nephew.  I want this great memory always tied back to him.  He owns it.  

Well, several months later, while we were doing our routine grocery shopping one day, my son asked me to make it at home.  How could you not give in to your child when you know that you can easily achieve this, right?  So, this recipe was born.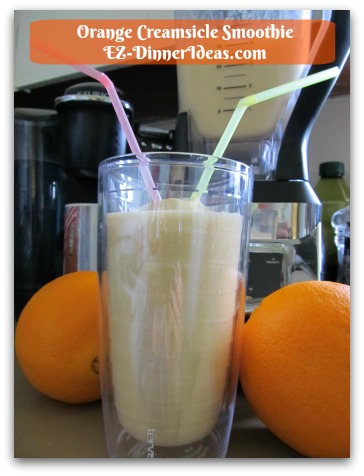 CHEF NOTES
Where To Store The Leftover?
What to do if there is leftover?  It is almost impossible.  But it happens. 
I tried using both plastic and stainless steel thermos.  They both worked very well as long as you keep them refrigerated.  Here are the differences:
Plastic thermos - store in freezer.  When you are ready to serve the leftover, sit in room temperature for 5-10 minutes before serving to allow it melt a little bit.   Then, enjoy your smoothie with a spoon.  If you want to make ahead of time for serving a big party, this is the way to go.
Stainless steel thermos - store in fridge.  Surprisingly, the smoothie consistency stays over 24 hours.  Very impressive, huh?  If you travel for a long trip on the road during summer time, bring along this smoothie is way better than a cup of expensive iced coffee.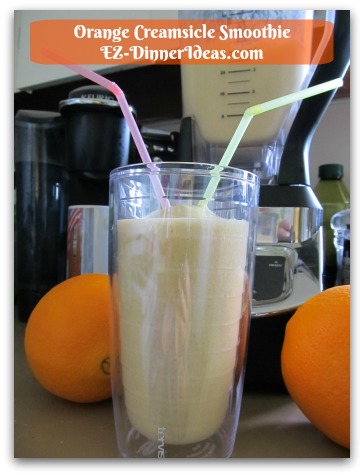 Creamsicle Smoothie Recipe and Instructions

Ingredients
1/2 container (about 6oz / 170g) Frozen Orange Concentrate
1 1/2 cup (13oz / 355g) Half and Half, Whole Milk or Any Milk of your choice
4 cups (33oz / 946g) Ice Cubes
1 cup (8oz / 237g) Sugar
1 pinch Salt
1 tsp Vanilla Extract

Combine all ingredients into a blender.
Pulse ground about 15 times before switching to full speed for 1-2 minutes to desired consistency and serve immediately.

Creamsicle Smoothie Recipe Steps with Photos
---

Recipe Ingredients and Tools

---

You May Also Be Interested In:

---
Home > Dessert Recipes > Orange Creamsicle Smoothie Recipe