Easy Cake Mix Cookies Recipe
Orange Creamsicle Cookies
Easy, Gorgeous and Economical To Make

This easy cake mix cookies recipe is simple and economical.  It makes a big batch of fancy looking cookies that nobody would know it is out of the box.  Kids go crazy for these cookies.  Grown-ups, too.


Total Time: 40-55 Minutes
Prep Time: 10-15 Minutes  
Inactive Cook Time: 30-40 Minutes  
Serving: 18-20 Cookies
This most probably my son's favorite cookie.  He always asks me to make a batch and is always proud to bring them back to school or church to share.  Since I keep our sugar consumption as little as we can, I only make them whenever there is any big occasion.  Then, my little one will have a few while we share the majority of these cookies with the others.


CHEF NOTES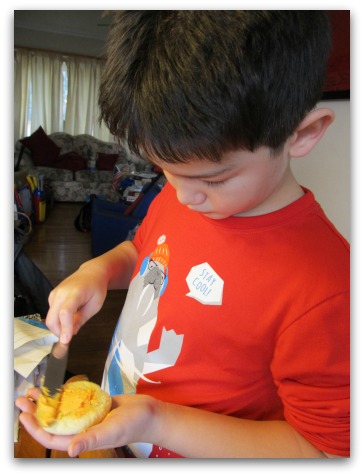 Have your little helper(s) to assist you.
I use French vanilla cake mix to intensify that orange creamsicle flavor.  If that cake mix is not available in the store, you can use regular yellow cake mix and add a teaspoon of vanilla extract.  That will do, too.

Cookies completely cool down in about 3-4 hours at room temperature.  However, I prefer to let them cool overnight and let the extra moisture evaporate before adding the icing on top of the cookies.  Either way works.

If you prefer a very thin layer of icing on top (not the royal icing), cut the icing ingredients into halves.

Other than transferring the baking sheet of cookies in and out of the oven, almost the entire easy cake mix cookies recipe can have your little helper(s) to assist you in the kitchen.  It is great for family time, especially during school breaks.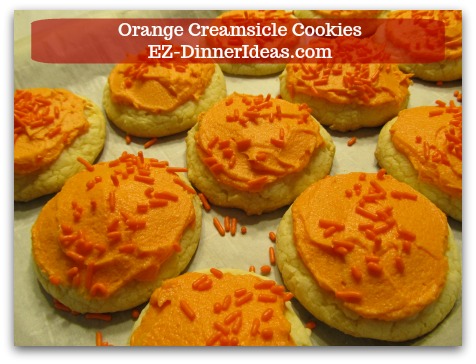 Easy Cake Mix Cookies Recipe and Instructions

Cookie Ingredients
1 Box French Vanilla Cake Mix
2 Eggs
1/3 cup Canola Oil

Icing Ingredients
1/2 cup Butter (softened and at room temperature)
2 envelopes Orange Drink Powder Mix (Unsweetened)
2 cups Confectionery Sugar
2 tbsp Milk
Orange Sprinkles

Combine cake mix, oil, and eggs in a mixing bowl.
Use a small ice-cream scoop or roll 2 tsp of cookie dough into a ball shape.
Transfer to a parchment-paper-lined baking sheet (I use a 12" x 17" size baking sheet) leave about 1.5" - 2" space around each cookie dough.
Bake at 350°F for 10-12 minutes, transfer cookies to wire rack and let them cool at room temperature.
May need to separate 2-3 batches to bake.
Combine all icing ingredients in a mixing bowl and beat the mixture with hand mixer until smooth.
Ice cookies and add sprinkles on top.
Enjoy immediately or wrap them up as gifts.
When transfer cookies into any container or gift box/bag, single layer cookies.  Always separate the cookie stacks with parchment or wax paper.  This will prevent cookies sticking together.  Cookies are good up till 2 weeks if they are stored in air tight glass container.


Easy Cake Mix Cookies Recipe Steps with Photos

---

Recipe Ingredients and Tools

---

You May Also Be Interested In:

---
Home > Dessert Recipes > Easy Cake Mix Cookies Recipe | Orange Creamsicle Cookies