Recipe for Devils Food
Chocolate Mocha Cookies Irresistible To Any Chocolate and Coffee Lovers

This recipe for devils food is super easy because all ingredients are store-bought.  Basically, you only need to mix and assemble everything together.  But it is so unique that any chocolate and coffee lovers will fall head over heels in love with these chocolate mocha cookies instantly.  

Still don't believe me?  Well, let's put it in this way.  If you think coffee or chocolate is addicting, you will be hooked with these cookies after the first bite.  (Just like the a devil watching over your shoulder and tempting you.)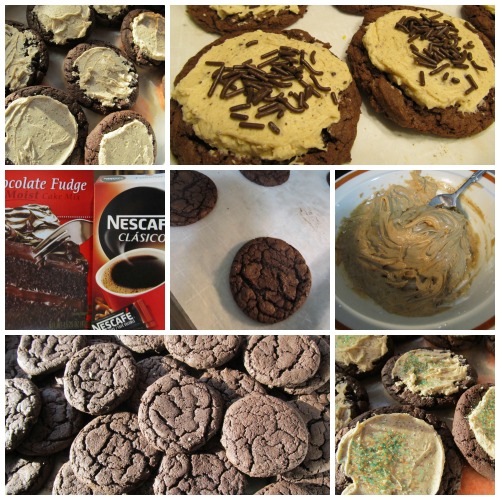 Total Time: 40-55 Minutes
Prep Time: 10-15 Minutes  
Inactive Cook Time: 30-40 Minutes  
Serving: 18-20 Cookies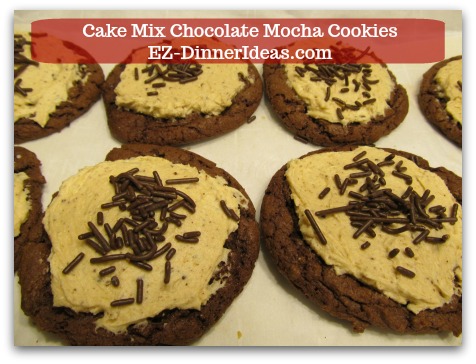 CHEF NOTES
I tried using both regular chocolate cake mix and Devil's Food cake mix at different times.  Personally, I prefer Devil's Food cake mix to the other one because of a more intense taste.  My recommendation to you is to use whatever is handy or on sale.

In our circle of friends, there are a handful of people not be able to have caffeine.  It could cause some physical problems to them, such as accelerated heartbeat and hand shaking.  Therefore, be mindful when you serve this recipe for devils food.  If possible, switch to decaf instant coffee mix in packets.

I love these chocolate mocha cookies loaded with icing.  But I also understand that some people are conscious about the sugar intake.  Feel free to cut the quantity of icing ingredients into halves.  When you top it on the cookies, it will be a super thin layer of icing.  Anybody enjoys these cookies will feel less guilty of the sugar consumption.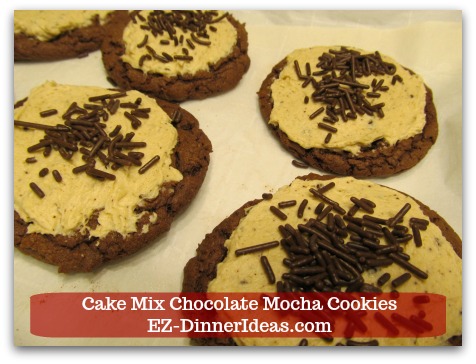 Recipe for Devils Food and Instructions

For Cookie Batter
1 Box Devil's Food Cake Mix
2 Eggs
1/3 cup (2.6oz / 76g) Canola Oil


For Icing
1/2 cup (4oz / 113g) Butter (softened at room temperature)
4 small packets of Expresso Coffee Mix (Unsweetened; cut the quantity into half will help to lessen the flavor and strength of the caffeine.  But it is optional.  In this recipe, 4 small packets of coffee mix is the maximum amount to add into the icing.  Otherwise, the coffee flavor will be too overpowering.)
2 cups (16oz / 454g) Confectionery Powdered Sugar
2 tbsp Milk
Chocolate sprinkles (for garnish; optional)

Combine cake mix, oil, and eggs in a mixing bowl.
Use a small ice-cream scoop or about 2 tsp of cookie dough and roll to a ball shape.
Transfer dough to a parchment paper-lined baking sheet (I use a 12" x 17" / 30 x 43cm size baking sheet) leave about 1.5" - 2" (4 - 5cm) space around each cookie dough.
Bake at 350°F (177C) for 10-12 minutes, transfer cookies to wire rack to cool at room temperature.
May need to separate 2-3 batches for baking.
After cookies are completely cool down, combine icing ingredients in a mixing bowl and beat at medium speed with a handmixer to mix everything together until smooth and well combined.
Use a butter knife to top each cookie with mocha icing (about 1 1/2 tsp of icing for each cookie).
Add chocolate sprinkles on top to garnish.  You may need to lightly press the sprinkle into the icing so that they stick to it.
Continue until all cookies are completed with mocha icing.
Use parchment paper or wax paper to put between layers of cookies.  This will prevent the bottom of a cookie stick to the icing of the one underneath.
Store cookies in a tight glass container to keep them fresh for up to 2 weeks.
---

Recipe Ingredients and Tools

---
Recipe for Devils Food Steps with Photos
Cookies can be left at room temperature overnight to let them completely cool down before adding icing on top.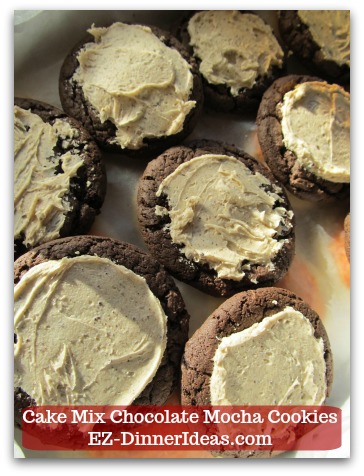 Feel free to skip the sprinkles and dive into the yumminess of these cookies right after adding icing on top.
---

You May Also Be Interested In:

---
Home > Dessert Recipes > Recipe for Devils Food | Chocolate Mocha Cookies