Corn Black Bean Tomato Egg Muffins
Corn Black Bean Tomato Egg Muffins

Eat With Your Eyes
Breakfast Filled With Vibrant Colors
Corn Black Bean Tomato Egg Muffins...after making those spinach ham egg muffins, I love them so much that I started to ask myself, "What else I can put into an egg muffin?"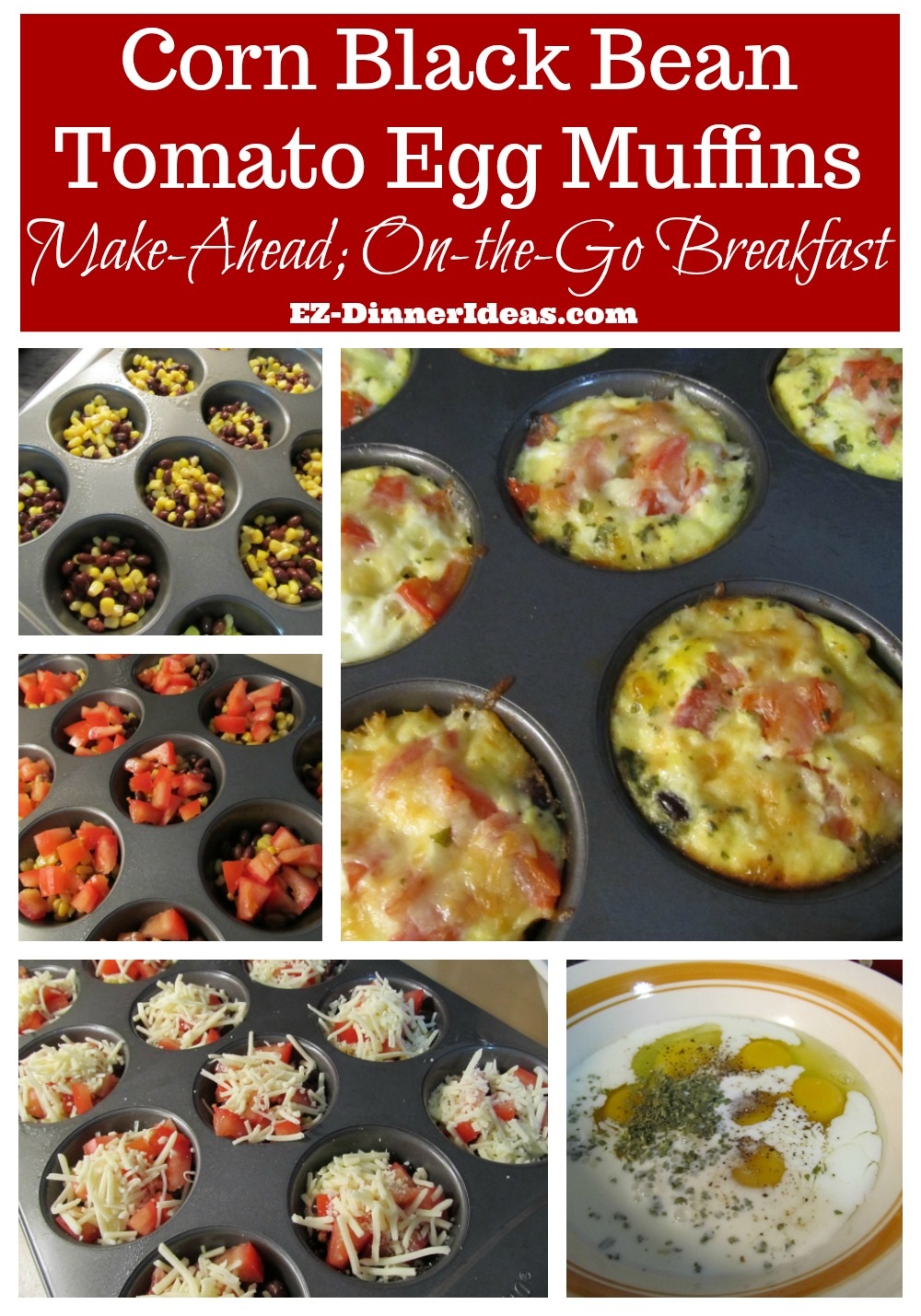 Total Time: 30-35 Minutes
Prep Time: 10 Minutes  
Inactive Cook Time: 20-25 Minutes  
Serving: Make 12 Muffins


In the back of my mind, I wanted something purely vegetarian, but not a lot of work.  A few days later, I came up with this recipe.  So, I made and brought them to church for coffee time after the service.

Since they are huge, I cut all of them into halves before serving.  Well, you know what?  Before I knew it, they were all gone.  Another great success!!!

CHEF NOTES

I used vine tomatoes in this recipe.  You can switch to grape tomatoes and click here to find out how to slice them in seconds.  You can also substitute tomatoes with roasted red pepper in the jar.  Drain and cut most likely takes less time and effort than tomatoes.

Just in case, there is leftover (which I doubt it...) click here to find out how you can save it.

I hope you enjoy these egg muffins as much as I did, especially when it comes to eating healthy.


Corn Black Bean Tomato Egg Muffins Recipe and Instructions

Ingredients
1 can (14oz / 397g) Black Beans (drained and rinsed well)
1 can (14oz / 397g) Sweet Corn kernels (drained)
2-3 Vine Tomatoes (seeded and diced)
1 cup (8oz / 237g) Shredded Sharp Cheddar Cheese
1 tsp Dried Cilantro
6 eggs (beaten)
2/3 cup (6oz / 158g) Milk
1/2 tsp salt
1/4 tsp Black Pepper
No-stick Cooking Spray

Preheat oven at 375F (191C).
Coat no-stick cooking liberally on a muffin pan or line each cup with muffin liner
In a bowl, combine corn and black beans
Equally distribute the mixture among 12-cup muffin pan
Top with diced tomatoes, then cheese
In a separate bowl, whisk eggs, milk, cilantro, salt and pepper
Equally divide egg batter into the muffin cups
Bake for 20-25 minutes until knife inserted in the middle and come out clean
Let sit in room temperature for 5 minutes before serving

Corn Black Bean Tomato Egg Muffins Steps with Photos

Recipe Ingredients and Tools

---
Serve This With: 

---

You May Also Be Interested In:

---
Home > Breakfast Recipes > Corn Black Bean Tomato Egg Muffins