Spring Mix Tomato Pasta Salad
A Beautiful and Colorful Meal
Make Everyday Looks Like Spring
Spring Mix Tomato Pasta Salad...You know that I love carbs.  To balance from over consumption, I need to add a lot of vegetables into a pasta or rice dish.  So, here is one of them.

It is super for summer and spring because it is filling and filled with vibrant colors.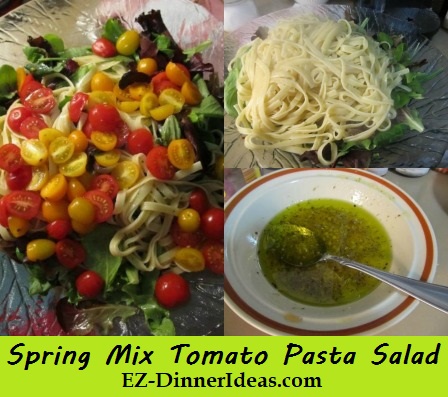 Prep Time: 8-10 Minutes   Cook Time: 20 Minutes   Serving: 4-6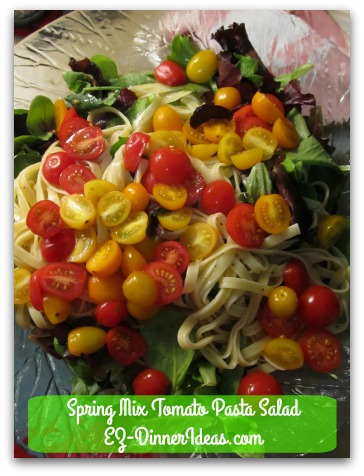 More Tips On The Recipe
There are several twists you can add to this pasta salad dish per your schedule and preference.

First, if you cook any pasta dinner during the week, double the quantity.  Save half of the cooked pasta for making this Spring Mix Tomato Pasta Salad.  Although the recipe calls for long pasta, you can use any kind.

The dressing is purposefully made to be light in flavor.  This allows the vegetables and tomatoes to show and shine their fresh flavors.

I prefer to add the dressing into the pasta while it is warm because it is the best time for the flavors to be sucked up.  If you want to serve the salad cold, chill the pasta, after tossing in the dressing. Then, mix cold pasta with vegetables and tomatoes before serving.  Add more dressing if needed.

Another quick and easy way is to use store bought dressing per your preference.  It is less work for you if you have very tight schedule.  If so, any vinaigrette works best for this salad.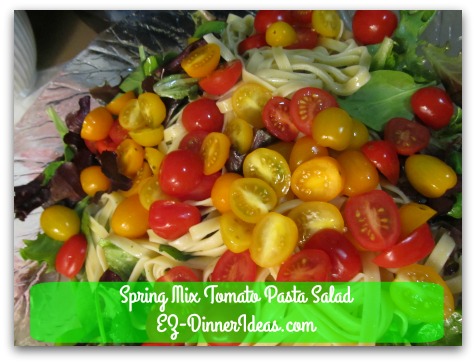 Slice Grape/Cherry Tomatoes In Seconds
To quicken and save your time for cutting the grape tomatoes into halves, use 2 containers lids with rims.  Put as many tomatoes as you can between both lids.  The rims help to keep the tomatoes from running away from you.  Gently press on the top lid and run a sharp knife between the lids.  All grape tomatoes are cut into halves in less than a minute.
Spring Mix Tomato Pasta Salad Recipe

Ingredients
1 box (5 oz) Pre-washed Spring Mix
1 pint Grape Tomatoes or any colorful combination (cut into halves)
1 lb Linguine
1 pot of Water
1 tsp Salt
1 tbsp Canola Oil

Dressing
1 tsp Salt
1/2 tsp Black Pepper
1 clove (Minced) Garlic
3 tbsp Red Wine/Apple Cider Vinegar
1/4 cup Extra Virgin Olive Oil

Bring a pot of water to a boil
Add 1 tsp salt, 1 tbsp canola oil and pasta
Stir for 2 minutes
Cook until al dente and drain
While waiting for the pasta, whisk all ingredients of dressing together in a separate bowl and put aside
Transfer mixed green to a big salad bowl
Top it with pasta and dressing
Toss to coat; salt and pepper to taste
Add tomatoes on top and serve immediately or serve it cold

Recipe Ingredients and Tools


You May Also Be Interested In:

Return from Spring Mix Tomato Pasta Salad Recipe page to Pasta Recipes page

Return to Easy Dinner Ideas Homepage