Creamy Ham and Pea Pasta with Béchamel Sauce
A Versatile, Easy Comfort Food that You Will Make All Over Again!
Creamy ham and pea pasta is a dinner under 30 minutes from prep to the table using mostly your pantry staples. You can easily switch up some main ingredients to multiply it into various easy dinner ideas. How awesome is that, huh?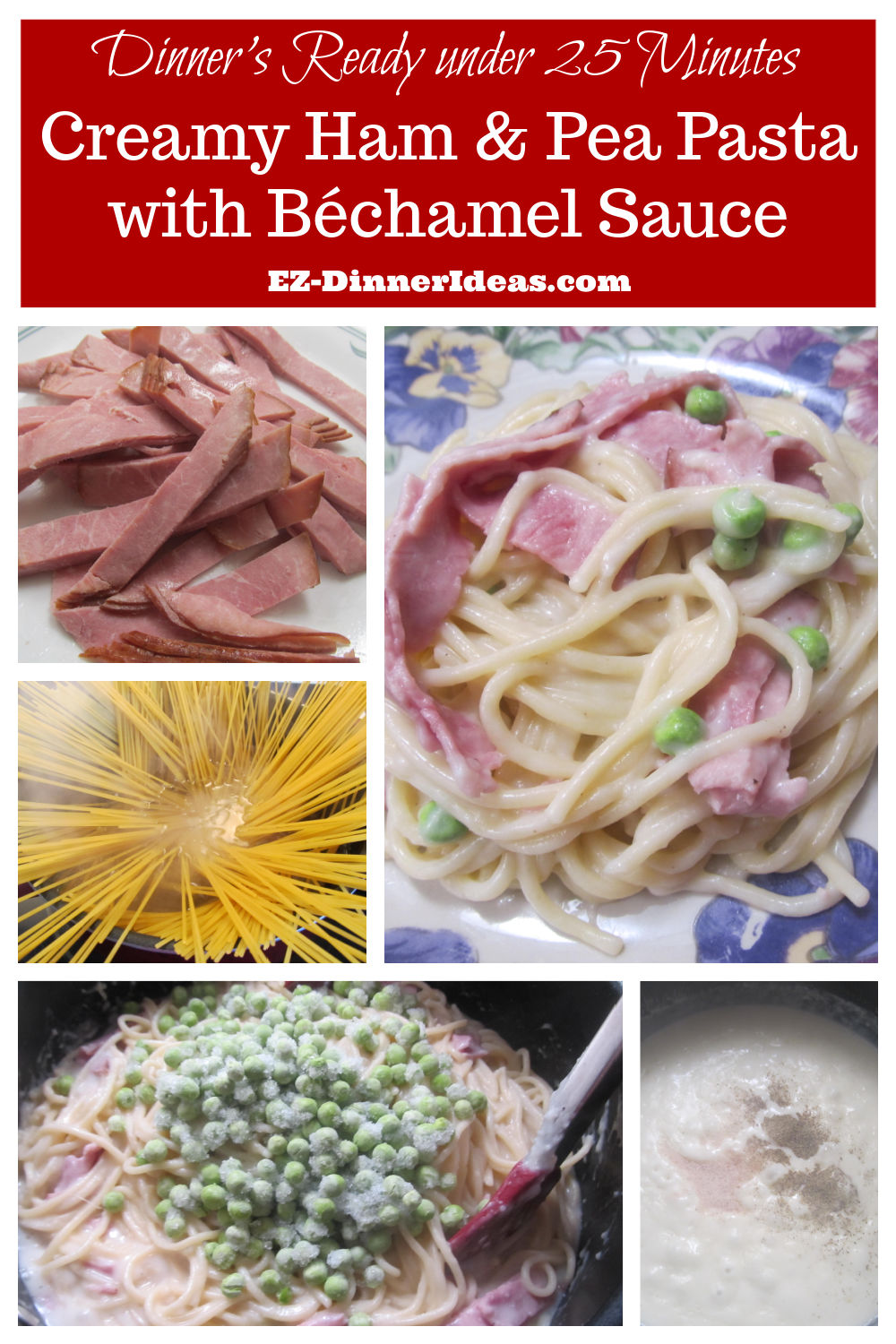 Total Time: 22 Minutes
Prep Time: 2 Minutes  
Active Cook Time: 20 Minutes  
Serving: 4-6


How this recipe came about was from a short trip going to the grocery store and saw that some deli ham was on sale. Right at that moment, a spark lighted up. I thought that I could use it to experiment it. But also thinking at the same time, this would be a great pasta recipe used up ham leftover, especially during the holiday season. It sounded super promising and went back home and gave it a try. It turned out really well.
CHEF NOTES
Firstly, Let me clarify what "Béchamel Sauce" is. It is a white sauce mixed with butter, flour and milk. It's a French word to call this creamy sauce in a very elegant way. If you happen to serve this pasta recipe with any guests or visitors, it will just make it sound more special.
Feel free to use deli or leftover baked ham. It can be in any kind of shape, such as stripes, dice or free form.
Cheese lovers, you can add cheese at the end of cooking. To make it cheesier, add pre-shredded mozzarella cheese. Do feel free to use any cheese of your preference. There are 2 ways to add cheese into this creamy ham and pea pasta. 1) Simply add cheese and stir to combine until cheese is melted. Then, enjoy immediately. 2) Add cheese on top and quickly put it under the broiler to melt the cheese. Here are the steps to follow if you choose the second way to finish this dish: a) Half of it into the pasta and save the other half. b) Transfer pasta into a casserole dish and top it with the other half of the cheese. c) Put it under the broiler for about 3-5 minutes until cheese is bubbly. Add green parsley on top to garnish (optional)
As mentioned earlier, the creamy sauce of this pasta recipe is made out of butter, flour and milk. It was all based on my assumption that almost all households have these 3 ingredients. You may not have either one or all of those for many reasons. That's totally fine. You can replace the creamy sauce with store-bought alfredo sauce, creamy salad dressing, such as garlic Parmesan. In short, anything looks creamy has a potential to make this recipe quicker and easier to finish, go for it.
One last tip, this will be a surprise for you. Instead of ham, replace it with pre-cooked shrimp. My late father-in-law used a very similar recipe like this one and serve it with shrimp. Now, let's get cooking.
---
---

Recipe Ingredients and Tools

---
Creamy Ham and Pea Pasta with Béchamel Sauce Recipe and Directions
Ingredients

1 lbs Deli Ham (sliced), pre-diced ham or leftover ham
1 cup Frozen Green Peas
1 lb Spaghetti (or any kind of pasta per your preference)
3 tbsp Butter
1/4 cup All Purpose Flour
2 cups Milk (You may need a little more in case the sauce is too thick that you need to thin it out. For more flavor, combine a cup of milk and a cup of chicken broth.)
Shredded Cheddar or Mozzarella Cheese (optional)
Salt and Pepper to taste
1 pot of Water (about 4-5 gallons)
1 tsp Salt
Directions

Bring a pot of water to boil, add 1 tsp of salt and spaghetti. Quick stir and let it cook until al dente (by following package instructions). Drain pasta.
Use the same pot. Melt butter and sprinkle flour on top and whisk to combine. Cook roux until it starts bubbling. Whisk in milk until sauce gets smooth. Add more milk if sauce is too thick.
Stir in ham and spaghetti until well coated. Stir in frozen green peas. Salt and pepper to taste. Enjoy immediately.
---
Creamy Ham and Pea Pasta with Béchamel Sauce Steps with Photos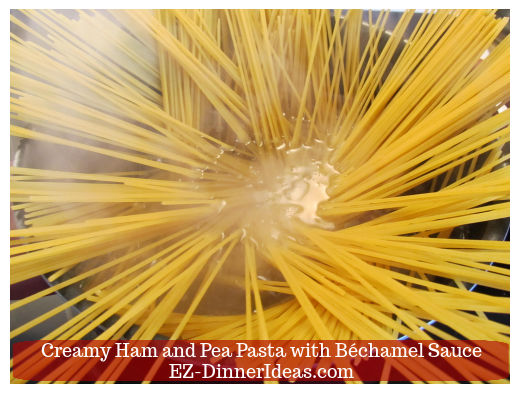 Cook spaghetti or any kind of pasta of your preference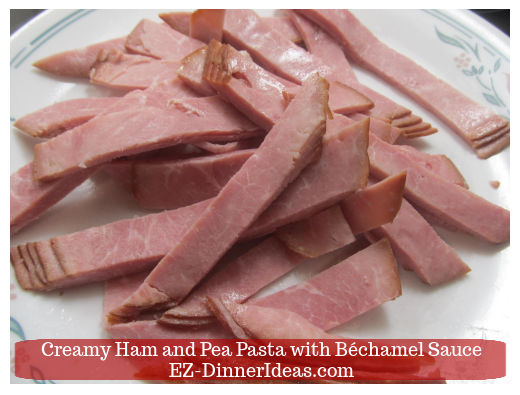 While waiting, cut deli ham into slices or bite size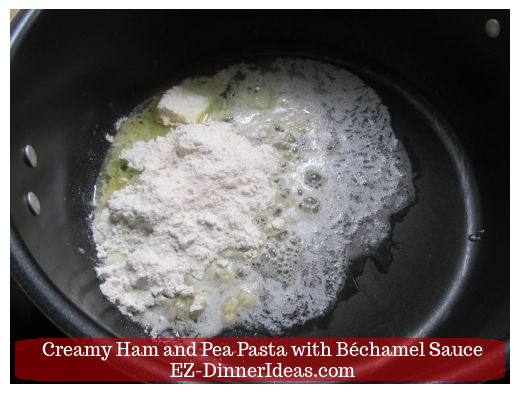 Mix butter and flour to make roux in the same pot after straining pasta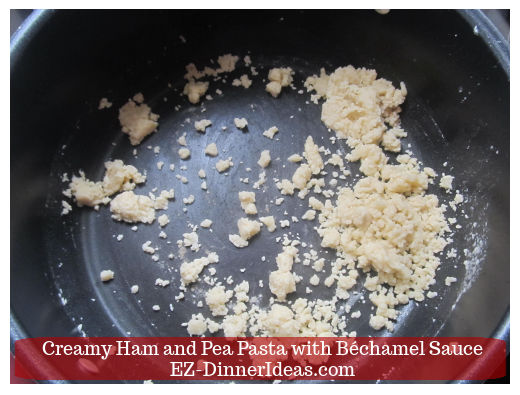 Let roux cook a minute or 2 before adding milk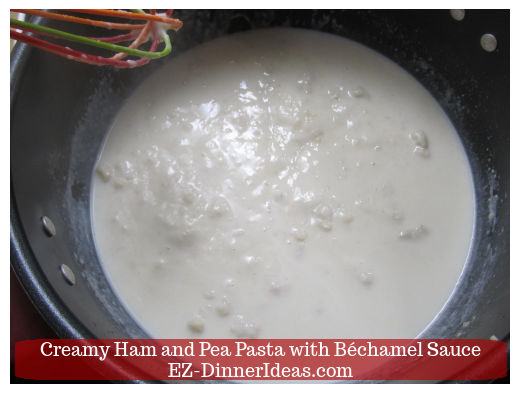 Whisk in milk and stir until lumps disappear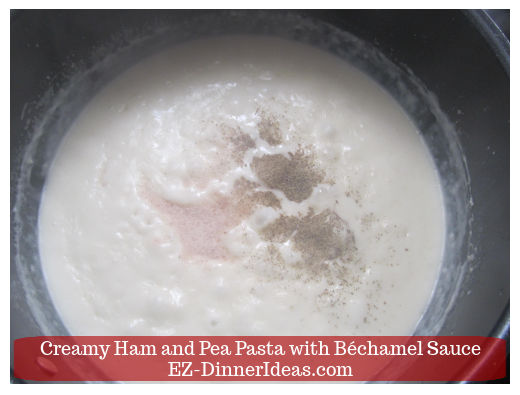 Salt and pepper to taste the sauce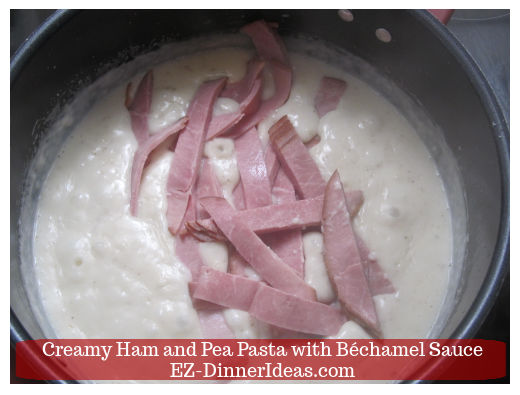 Stir in ham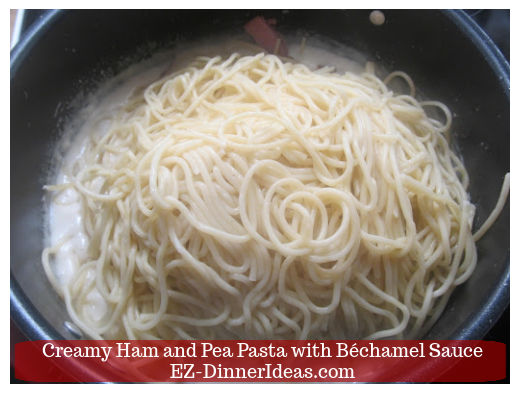 Stir in spaghetti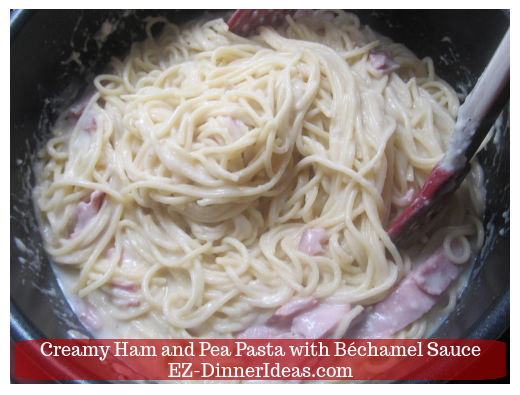 Toss to coat everything with Béchamel sauce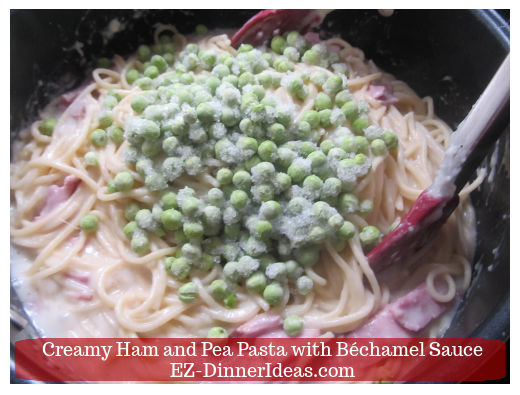 Add frozen green peas. They get cooked and heat up instantly.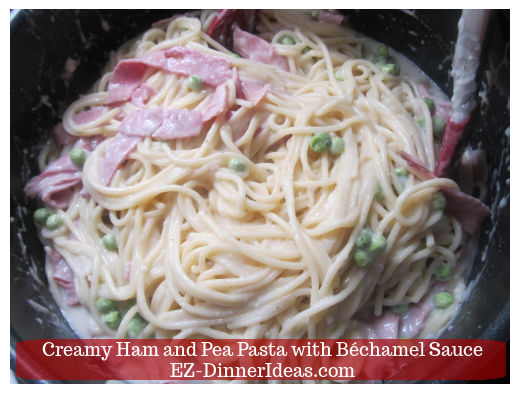 Stir to combine everything one more time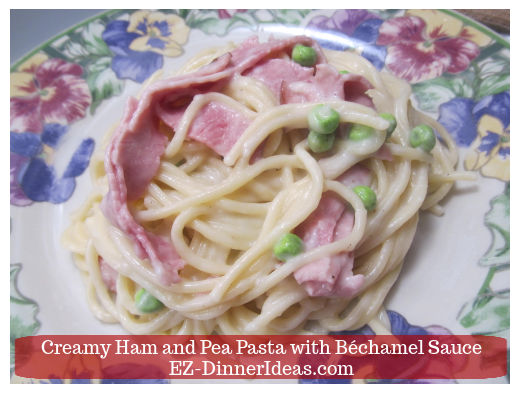 ENJOY immediately!
---
Serve This With: 

---

You May Also Be Interested In:

---
Home > Ham Leftover Recipes > Creamy Ham and Pea Pasta with Béchamel Sauce