Baked Ham Dinner Menu
Baked Ham with Fruit Cocktail Gravy
A Versatile Recipe For All Shapes, Sizes and Cuts of Ham

The entire baked ham dinner menu is a hand-me-down recipe from my mother-in-law.   This recipe is very versatile.  It applies to different shapes, sizes and cuts of ham.  Makes serving ham dinner super easy.


Total Time: Depends on the weight of the ham
Prep Time: 15 Minutes  
Active Cook Time: 10 Minutes  
Inactive Cook Time: 18-25 Minutes per pound of ham
Serving: 6-8 or more


I have never cooked ham in my life. We always have ham in one of our relatives' house for special occasions and/or holidays.I do always get the leftover. So, I developed some delicious ham leftover recipes without cooking it. Funny, huh?

But one year, nobody cooked any ham either on Thanksgiving or Christmas. My husband talked about how much he craved to have some. So, I decided to give it a try.
My hubby always raves about how good his mom cooks the ham and gravy. So, when I first cooked it, I was nervous like crazy. You know that feeling like having butterflies in your stomach and worry that you may not meet the expectations.

The funny thing was that when my mother-in-law told me about her recipe, she somehow misspoke a very important ingredient. She always used fruit cocktail syrup from the can to make her delicious gravy. Instead, she told me using pineapple juice.

It was a perfect opportunity to allow me trying out the pineapple juice base gravy. 'Cos throughout all these years, everybody follows my mother's-in-law recipe to cross the t and dot the i.
Cooking so many times since I started making my own baked ham, I started to make my twists.  It turned out....it tastes better and better.  Here is my updated version.  You may see the pictures look very different from each other.  Some of them were taken after making some changes of my original recipe.

What's on Baked Ham Dinner Menu?
Whenever we (either one of my relatives or I) serve baked ham, these side dishes are the MUST.

Pineapple or Fruit Cocktail Juice for Gravy?

So, what's the verdict?  I must agree with my husband and his family that the fruit cocktail juice is better than the pineapple juice when it comes to gravy. There is some depth of the taste of the gravy.  The fruit cocktail base gravy has a darker brown color, too.

However, different people have different preference. So, it will be fine to use either.

And how are you going to use up the pineapple and the fruit cocktail? Of course, you can eat them. But you can make delicious meals and/or side dish out of them. How?
Here are a couple recipes you can use up the canned fruit, pineapple kielbasa and the fruit cocktail shrimp salad.  While the ham is cooking, you have plenty of time to prepare either one of these easy side dishes.

I love to hear from you which kind of juice you prefer for making your ham gravy.  Please scroll to the bottom of this page and write it on the Facebook comment box.



CHEF NOTES
My personal preference is to use disposable roasting pan because the sugar in the cocktail juice could stick to the pan which makes cleanup difficult.

I always have 2 cans 6oz (170g) each of pineapple juice handy.  I learned this lesson in a hard way.  Sometimes, the juice evaporated so much during the cooking process.  I ended up having not enough gravy to serve along.  There was a time that I needed to send somebody to the store to get extra can of fruit cocktail.
I tried many sizes, weights and portion of ham with this recipe.  It works from 3 pounds to 13 pounds (1.3- 5.8kg) of ham  .  If it is more than 10 pounds (4.5kg), there is a slight difference in the process.  I will cover it at the bottom of this page.

Tips How to Carve Baked Ham
The package will have a direction how to carve ham.  Just in case you didn't realize it and throw it away.  Here are some basic tips:
Always cut side down. (This is for your safety.  Cut side down allows the ham stabilizing on the surface for you to work with)
Cut around the bones and cut against the grain. (this step always applies to all kind of meat, especially beef)
A side note...electric knife is a great way to carve ham or turkey.  But always remember the kitchen safety, especially if you have small children at home.  Once you finish carving, unplug it from the outlet immediately before walking away.

Best Way to Serve Ham Moist
This is a lesson I learned. 

Well coordination of cook time and serve time is very important.  If you plan to cook the ham very early on and leave it in a warm oven until meal time, the ham will be very dry.
 
If you have a big crowd to serve and expect some people may come late, try to schedule serving your ham dinner about 30 minutes later than expected.  This will give you enough buffer and not to worry about serving the dry ham on the table.
Baked Ham Dinner Menu Recipe and Instructions

Ingredients
7.5-10 pounds (3.4 - 4.5kg) Bone-In or Boneless Ham (Shank is the best cut.  But any cut fits your budget works well)
3 cup (22oz / 605g) Pineapple Juice or Fruit Cocktail Juice (from 3 cans of 28-oz each fruit cocktail; drain the fruit very well to make a salad later.)
12-14 Whole Cloves
1/2 cup (64g) tightly packed Light Brown Sugar
2 tablespoons Butter
2 tablespoons Flour
1 2-inch (51mm) deep Disposable roasting pan (for easy clean-up)

Preheat oven at 325F (163C).
Put the disposable roasting pan on a baking sheet which will provide good support.
Trim fat from the ham and transfer to roasting pan and cut side down. (I learned that you do need some fat, but not too much.  Otherwise, your gravy will be super salty.)
Cut through the surface of the ham in criss-cross pattern.  Just cut about 1/2 inch (1.3cm) deep to make pretty diamond shapes on top of the ham.
In each diamond, push in a whole clove.

Pour fruit cocktail juice on top of the ham.
It may look like a lot of liquid. But the ham will absorb a lot in exchange of the grease to make the gravy later.
Cook 18-25 minutes for every pound.
In the middle of the process, take the ham out and use a spoon or syringe to braise the ham. 

Use a fork to take out the cloves one by one.  The meat is very hot to handle.  So, slide a fork between the clove and the ham, the clove will be captured in between the tines of the fork.  Use a spoon to push the clove out of the fork and discard.  Repeat this step until all whole cloves are removed.  Continue the 2nd half of the cooking time.

Use the meat thermometer to test until the internal temperature  reaches 160F (72C). (Test the temperature in the thickest park of the meat, but not close by the bone)
Let it rest for 8-10 minutes before carving.



10 Pounds/4.5kg+ Baked Ham Dinner Menu

If the baked ham is 10 pounds (4.5kg) or more, add these steps.  This will guarantee a beautiful ham and delicious family dinner:
Cover the ham with aluminum foil in the first and last hour of cooking time.  It is because the bigger the size, the longer it cooks.  Exposing under the heat for too long, the surface will burn.
Braise it one more time in the middle of the 2nd half of the cook time.

Fruit Cocktail Gravy Recipe

While the meat is resting, transfer baked ham to a cutting board and leave the juice in the roasting pan.
Add butter and flour into a medium sauce pan and whisk to combine.
Cook the roux at medium to medium high heat for a minute or so to get rid of the flour taste.
Pour cooking liquid from the roasting pan into the saucepan.
Whisk until the sauce is thickened.

And adjust the seasoning with brown sugar, salt and pepper to taste.

Transfer gravy to the serving bowl.
Carve ham and serve along with gravy.
Baked Ham Dinner Menu Steps with Photos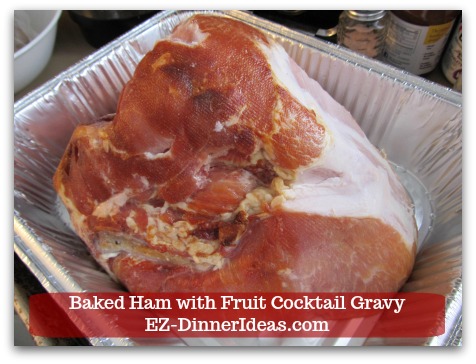 Trim fat from ham and transfer to roasting pan.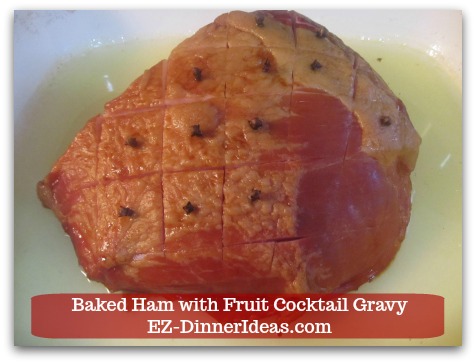 Cutting the surface of the ham in the diamond pattern. Then, pin a whole clove in each diamond.
Bake 18-25 minutes per pound. Braise ham once it is halfway through cooking time.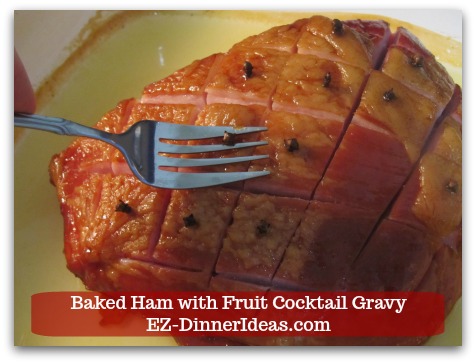 Use a fork to remove the whole cloves one by one. Use a spoon to push the clove out of the fork and discard.
Continue 2nd half of cooking.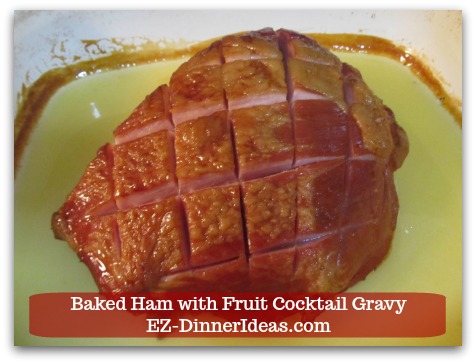 Rest for 8-10 minutes before carving.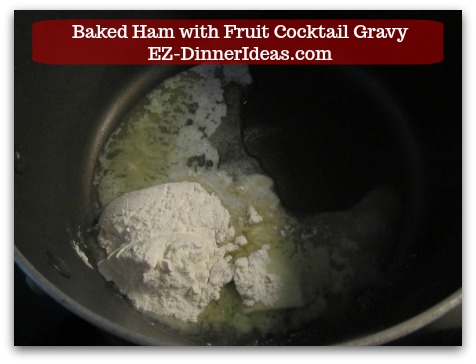 While ham is resting, make gravy starting with 2 tbsp each of butter and all purpose flour.
Whisk to combine and make roux. Let it cook and bubble for a minute.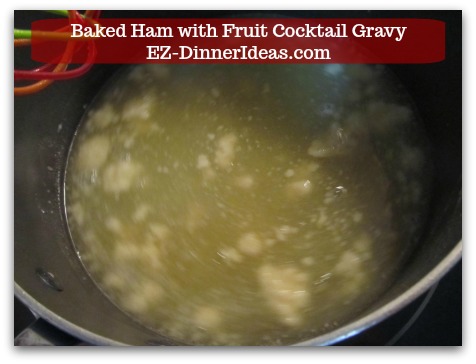 Pour in cocktail juice/ham cooking liquid.
Whisk until gravy is thick, add brown sugar, salt and pepper to taste.
Gravy should be thick enough to cover the back of a spoon.
Carve ham against the grain of meat.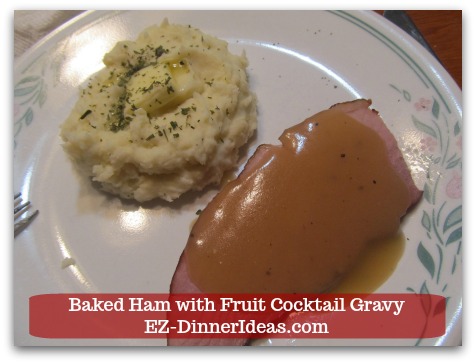 ENJOY!
---

Recipe Ingredients and Tools

---

Baked Ham Leftover Recipes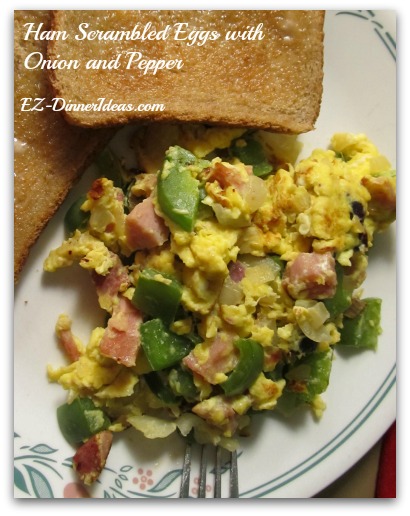 What to do with all the leftover from the baked ham?  What about the bone?

You got to save everything.  There are some delicious and creative dishes you don't want to miss.  Yummmm....

Check out the list on the Ham Leftover Recipes page

If you have any great ham leftover recipes, please share with us. You can either scroll down to the bottom to fill out the Facebook comment form or Contact Me.  I am sure visitors of this web site would greatly appreciate your help and sharing. Thank you for stopping by and enjoy!
---
Serve This With: 

---

You May Also Be Interested In:

Last updated on Aug 4, 2023

Home > Holiday Recipes > Baked Ham Dinner Menu with Fruit Cocktail Gravy