Roast Duck Breast Recipe with Ginger Orange Glaze
Unbelievably Easy Entree

Roast Duck Breast Recipe with Ginger Orange Glaze sounds fancy, but super simple.  If you love dark meat, this is the recipe for you.  You can prepare 2 to 8 servings with one simple way and same cooking time.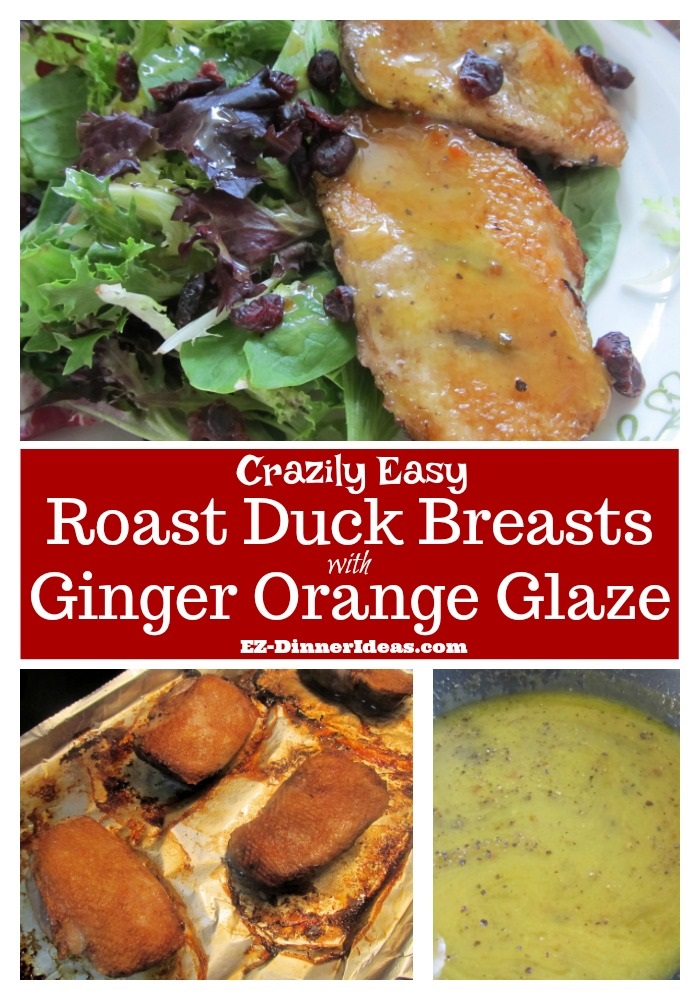 Total Time: 40-45 Minutes
Prep Time: ZERO  
Active Cook Time: 5 Minutes  
Inactive Cook Time: 35-40 Minutes  
Serving: 2-4


Serving Duck is usually for special occasions.  But my little one loves it so much that I serve duck for dinner more than you can imagine.

This recipe is perfect if you need to cook 8 duck breasts for serving a bigger crowd.  You only need a bigger baking dish.  In between, you need to take it out more than once to discard the extra grease.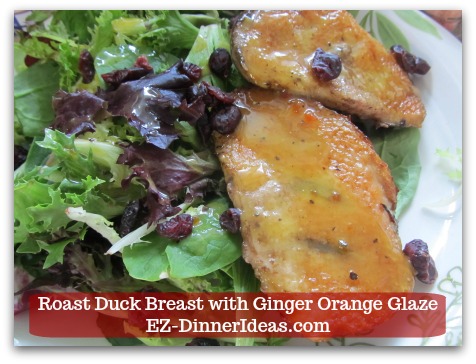 You can prepare 2 to 8 servings with one simple way and same cooking time.

CHEF NOTES
Add salt after the meat is cooked.  It will guarantee the tenderness of the meat.

My little one loves to have salt and pepper only.  If you are on low carb diet, this is a great recipe.  Skip the sauce and serve it with mix green and a very light vinaigrette.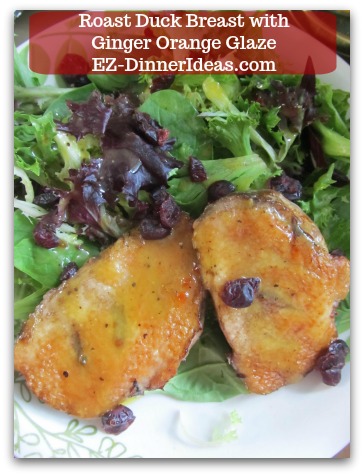 This can be served with a very light vinaigrette. Season the meat with salt and pepper. There is your keto meal.
To make 8 servings, all you need is a bigger baking dish. Superb easy!!!
Cut down the cooking time 10-15 minutes if you want to have a bit of pink in the meat.

Roast Duck Breast Recipe and Instructions

Ingredients
4 (8oz each) Boneless Duck Breasts
2 tbsp Frozen Orange Concentrate
1 heaping tbsp Ginger Preserve
1 tbsp Water (maybe more if needed)
1/4 cup Dried Cranberries (optional)
Salt and pepper to taste
Mix Green Salad (optional)

Preheat oven at 425F.
Line a baking sheet with aluminum foil for easy clean up.
Cut 3 slits on duck skin (optional, this step is more for plating purpose).
Add black pepper on duck and skin side down on the baking sheet.  Allow plenty of space, at least 1" around, between each piece of meat.
Bake for 20 minutes, spoon out any extra grease from pan and discard.  
Turn over and cook another 15-20 minutes.
Crisp up skin under the broiler for about 2-3 minutes (This is an optional step.  The oven may have already done the work. Do watch out for the grease burn or cause fire).
(If you skip the above step, use broiler to cook some asparagus while resting the meat.  It will be something super quick and awesome with duck which takes 5 minutes only.  It is also perfect for low carb diet.)
Rest for 5 minutes.
While resting, make sauce in a small sauce pan.  Add orange concentrate, ginger preserve and water into the pan and cook at medium heat.  Stir until all ingredients are blend together.  Add more water if needed, 1 tbsp at a time, until sauce coats the back of a spoon.  Salt and pepper to taste.
Transfer roasted duck on serving plate and served it along with ginger orange glaze and mix green (and/or dried cranberries).

Roast Duck Breast Recipe Steps with Photos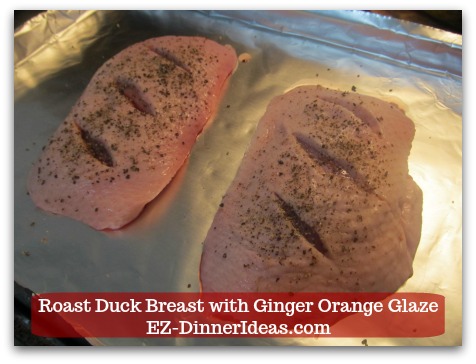 Cutting 3 slits on the skin side is optional.
Skin side down on a foil covered baking sheet before going into the oven.
Turn duck to skin side up after roasting the first 20 minutes.
After another 15-20 minutes, look at that crispy skin.
Make dressing while meat is resting.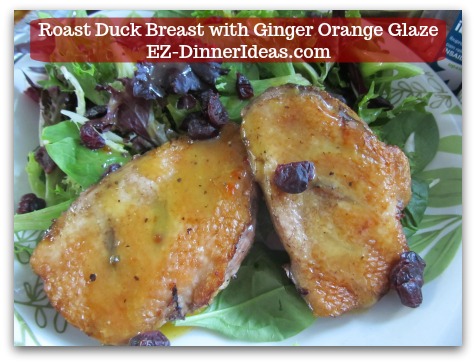 Serve it with mix green and dried cranberries.
Slice meat up to make each serving looks more, but with less meat.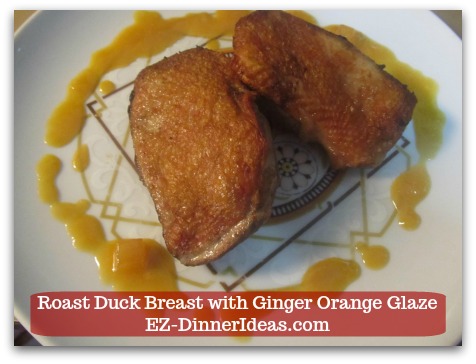 Or you can skip everything, but just salt and pepper to make a low-carb meal.
---

Recipe Ingredients and Tools

---
Serve This With: 

---

You May Also Be Interested In:

---
Home > Holiday Recipes > Roast Duck Breast Recipe with Ginger Orange Glaze