Fruit Cocktail Shrimp Salad
Fusion Cuisine
Easy Side Dish Recipe
This fruit cocktail shrimp salad is a very popular dish serving in Hong Kong restaurants. It is also a make ahead salad.

When they first came out in the 1980s, it was very popular in Hong Kong. It was like a must-have. Many restaurants serving Cantonese cuisine still serve this dish nowadays.

I always make this salad after using up all the syrup for the baked ham with fruit cocktail gravy.  It is perfect because nothing goes to waste.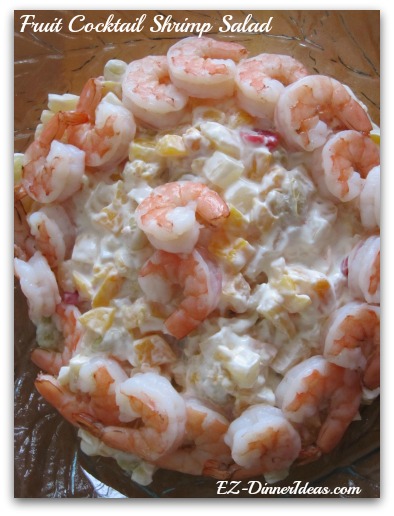 Total Time: 25 Minutes
Prep Time: 15 Minutes  
Active Cook Time: 10 Minutes  
Serving: 4-6



CHEF NOTES
The original dish uses jumbo shrimps. So, I stick to the original version. But please feel free to use any size of cooked shrimp for your budget.
If you use store-bought pre-cooked shrimp, it cut down a lot of cook time.  However, cooking shrimp yourself gives you a lot of control of when you want to make this salad.  Either way works.  Pick what fits your schedule best.
To have a professional plating of this fruit cocktail shrimp salad, leave the shrimp from mixing together with the fruit cocktail and the dressing.  After transferring the salad into a serving bowl, add shrimp on top in a decorative way and serve.

Fruit Cocktail Shrimp Salad Recipe and Instructions

Ingredients
1 pound Frozen shrimp (16/20 count and deveined)
2-3 Cans (29 ounces each) Fruit Cocktail (very well drained; I find that using a strainer works best for this recipe. By the time I assemble the salad together, there was no extra liquid)
1 tablespoon Dijon mustard
1 1/2 cups Whipped salad dressing (aka Miracle Whip)
½ cup Sour Cream (optional; if you choose to add this ingredient, cup down ½ cup of salad dressing)
Salt and pepper to taste
Bring a pot of water to a boil and add shrimp into the boiling water and cook until shrimp is pink/opaque.
Transfer shrimp into a bowl of ice water to stop the cooking process.  Shell shrimp.  (If you decide to have a professional plating, put shrimp aside.  Otherwise, continue to proceed to the next step.)
In a mixing bowl, combine all ingredients and dressing together.
Transfer to a salad serving bowl (if you left shrimp out of mixing with the rest of the ingredients and dressing earlier, this is the time to add shrimp on top) and serve it immediately.  ENJOY!
---

You May Also Be Interested In:

---
Home > Restaurant Remakes Recipes > Fruit Cocktail Shrimp Salad