Potato Finger Food
These Mini Potato Pancakes with Ham and Corn Look So Cute.  Shhhh....Nobody Knows It's Not From Scratch.

Potato finger food is a crowd pleaser.  It's a great, fun dish served in a party dinner for any age group.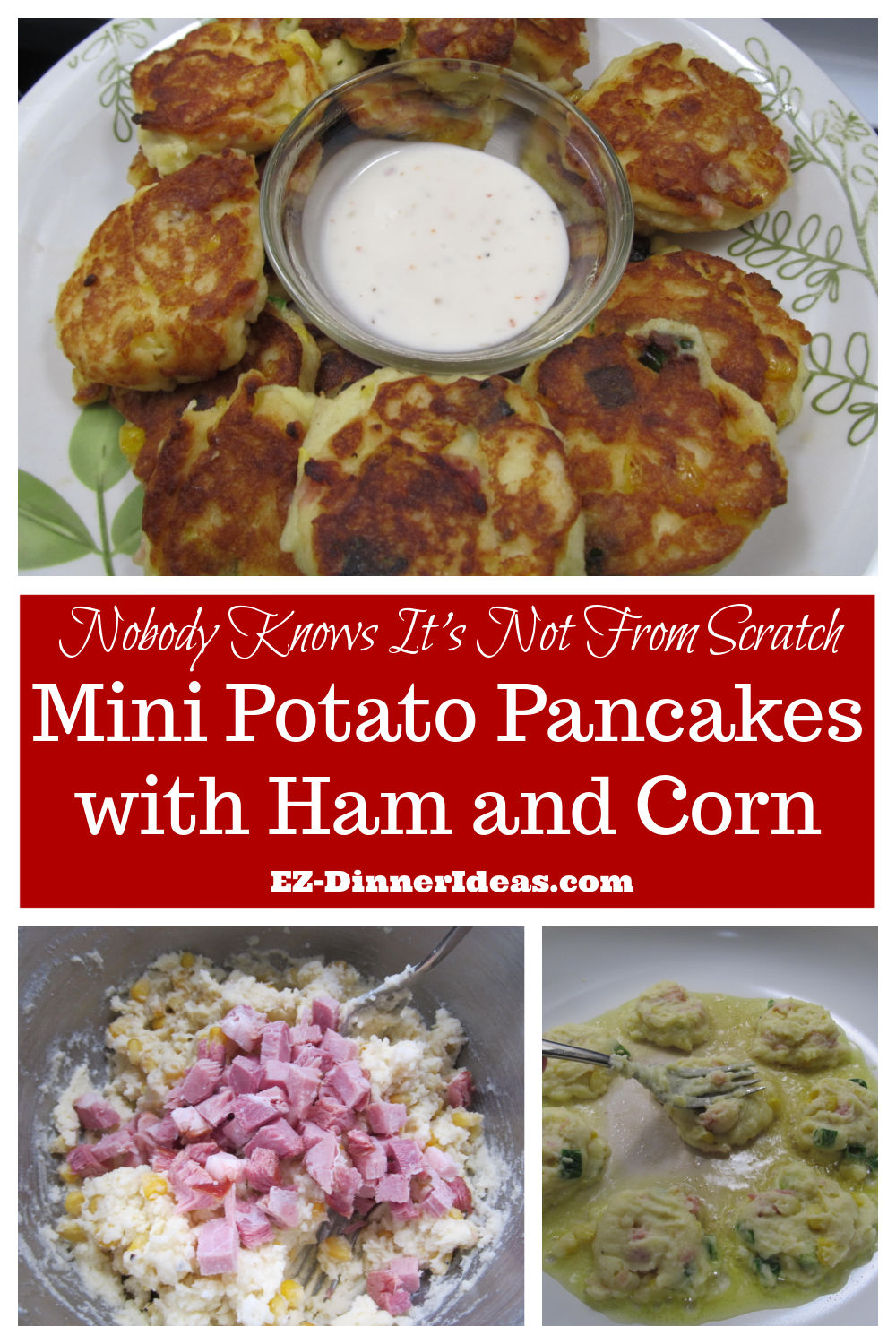 Total Time: 25 Minutes
Prep Time: 5 Minutes  
Active Cook Time: 20 Minutes  
Serving: Makes 21-24 Mini Pancakes


As you may have known by now that I always love to use leftover to make a new dish.  My mom always reminds us to treasure all foods putting in front of us.  So, food goes to waste is the last thing I want to see.

Every time when you open the fridge, it is like an "eye sore" in front of you.  I know, I know.  So, instead of dragging to finish the leftover, why not make something new?  Not only you will have fun, but also feel great for finishing leftover.

CHEF NOTES

Yes, I did use all leftover ingredients to make this dish.  You can also use some store-bought ingredients to replace the leftover ingredients listed in this potato finger food recipe, such as mashed potatoes in the deli section, pre-diced ham and canned corn kernels.

The thickness of the pancake batter should be between cookie and regular cake batter.  That's why we only add one egg at a time.  

If you want to make sure that the mini pancakes would come out as expected, you can do a little taste test.  Here are the instructions:

In a small medium pan, heat about 1/2 tsp extra virgin olive oil at high heat and cook 2 teaspoonful of potato pancake batter.  Use the back of a spoon to slightly press it down and flatten the pancake.

Once it turns golden on the edge, turn it over. It will take 2-4 minutes in total. Give a taste test and see if the pancake stays in shape and/or need more seasonings. 

If it's too wet, stir in 1 tsp of flour at a time until it reaches desired consistency.  If it's too dry, add a dash of milk, not egg anymore.  Or it will be too wet.
---

Recipe Ingredients and Tools

---

Potato Finger Food Recipe and Instructions

Ingredients
2 cups Mashed Potatoes leftover
1-2 Large Eggs (Only add the second egg if it needs to)
1/2 cup Corn kernel leftover
1 cup Ham leftover (small dice)
1 Scallion (chopped and optional)
All Purpose Flour (optional)
Salt and pepper to taste
Ketchup, mustard and/or ranch dressing for dipping (optional)
Extra Virgin Olive Oil

Combine an egg and mashed potatoes together (hold the second egg for now. You may not need it.)
Stir in corn, diced ham and scallions together (hold flour, the 2nd egg, salt and pepper for now)
At this time, the batter should be very close to regular cookie dough batter, slightly thinner.
If it's too liquidity, add sprinkle of flour. Add 1 tsp at a time. If it's too solid, add another egg. Sometimes, after adding the 2nd egg, the batter may become too wet, then add a bit of flour to bind it together.
Since all these ingredients are leftover, there was enough seasoning in each of them.  (If you use any store-bought ingredients to replace leftover, all of them should be very well seasoned, too.) I highly recommend to hold the salt and pepper until last.
At this point, you can do a taste test first.  If so, follow the instructions in the "Chef Notes" section.  Otherwise, let's get cooking.

Preheat a big skillet at high heat with 1tbsp extra virgin olive oil.  Use an ice-cream scoop to transfer pancake batter into the hot pan.  Make sure there is enough space in between. Then, use the back of your spoon to gently press the batter to flatten each out.
When the edge starts to turn golden, about 1-2 minutes, use a spatula to flip it over. You may need to turn down the heat slightly at this point. It will take about another 1-2 minutes.
Transfer cooked potato pancakes to serving plate. Sprinkle salt while pancakes are still hot (optional). Continue to cook the rest of the batter.  (You will need to add 1tbsp olive oil each time.)
Serve mini potato pancakes with ketchup, mustard and/or ranch dressing.  Enjoy immediately.
Potato Finger Food Steps with Photos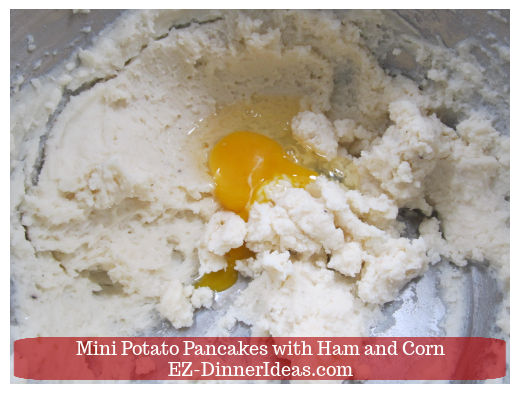 Mix one egg into mashed potatoes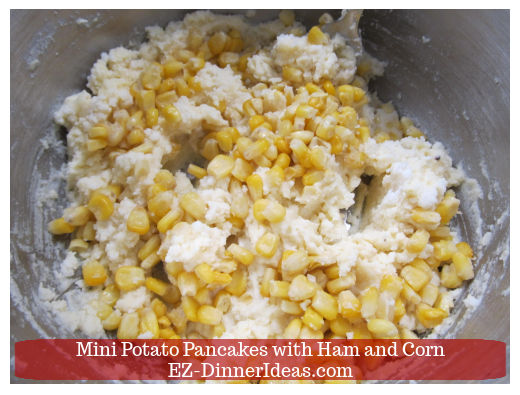 Stir in corn kernels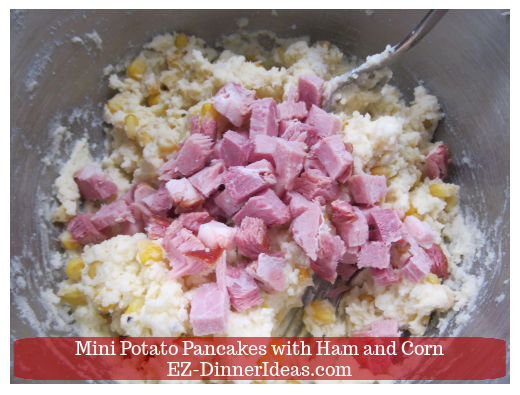 Stir in diced ham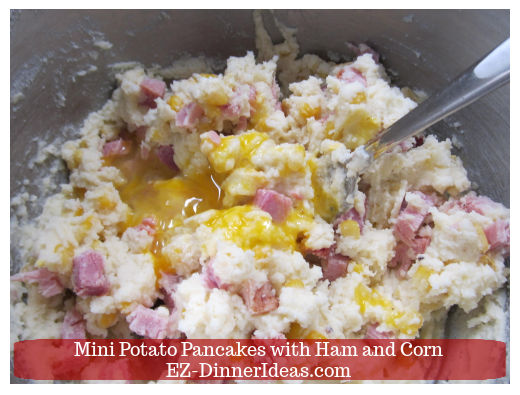 Stir in another egg if mixture is too dry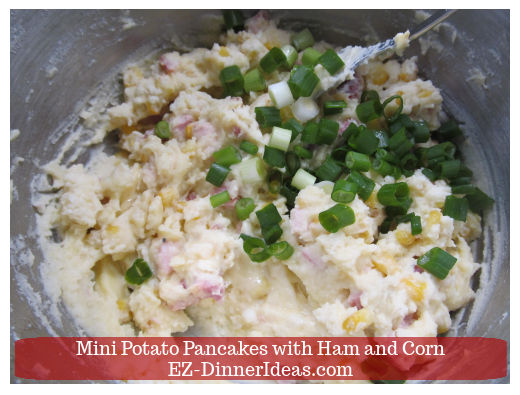 Stir in scallion (optional)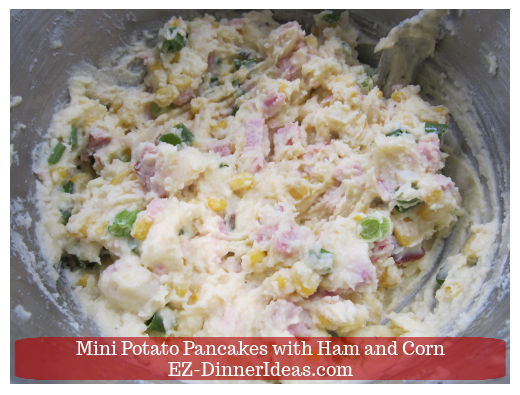 Sprinkle some flour if pancake batter is too wet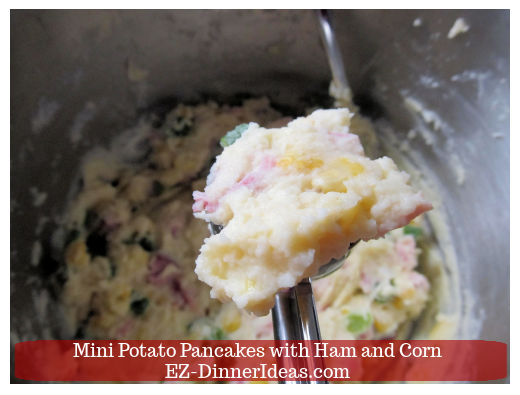 Use cookie dough scoop to transfer batter into hot skillet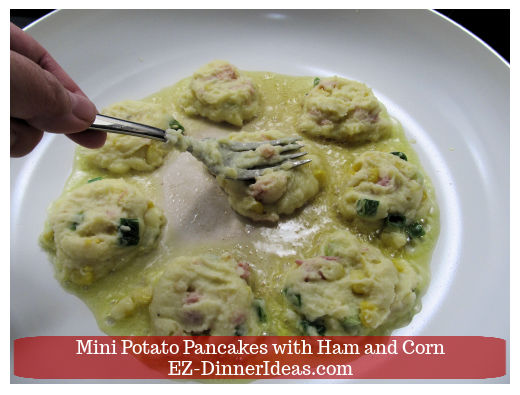 Use the back of a utensil to gently press the batter down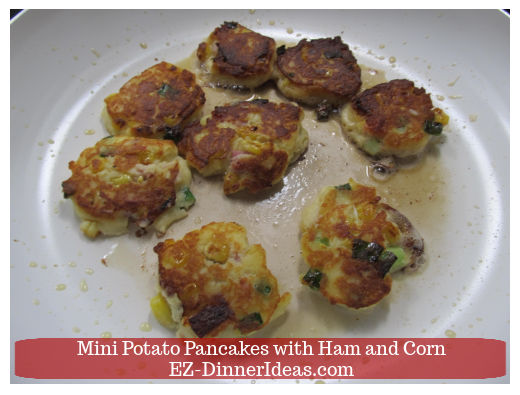 Cook both sides until it is browned and cooked through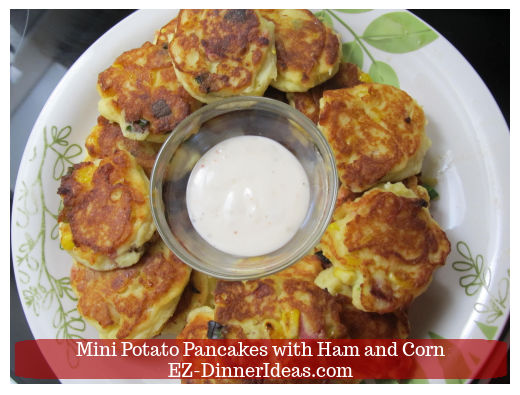 Serve with ranch dressing, mustard and/or ketchup. ENJOY!
---

You May Also Be Interested In:

---
Home > Ham Leftover Recipes > Potato Finger Food | Mini Potato Pancakes with Ham and Corn