Pork Cabbage Recipe

Sauteed Ham Cabbage
A Little Help From Leftover A Healthy and Flavorful Dinner
This pork cabbage recipe is super versatile.  You can use leftover or pre-diced ham.  You can also make single serving or multiply it to feed your family.  This sautéed ham cabbage was inspired by a Chinese luxurious dish. It is made of Chinese ham and Napa cabbage. 
The original dish is a must for any special occasion, such as wedding reception, Chinese New Year and so forth.

Prep Time: ZERO  Cook Time: 20-25 Minutes  Serving: 2-4
CHEF NOTES
Yes, you can find Napa cabbage in the supermarket easily. But why did I pick the regular green cabbage instead?

It is because green cabbage is 1. More affordable; 2. Easier to cook. Napa cabbage has the leaf part which requires a much shorter cook time. It takes special cutting to
separate the leaves and stems. Otherwise, the leaves got soggy when the stems got tender.

You can serve this sauteed ham cabbage as a side dish or a dinner.  I personally prefer to serve it as a dinner.  It is filling and healthy.  And it uses up your ham leftover.  Less headache.  What is better than that?
Pork Cabbage Recipe Steps with Photos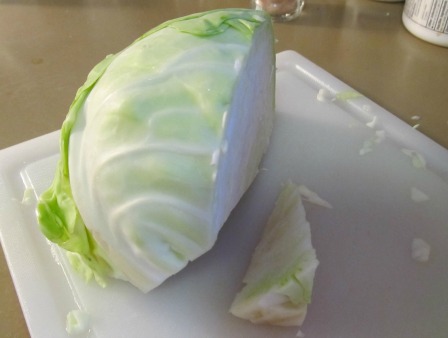 Cut cabbage into quarters. Tilt the knife at 45 degrees angle to cut out the core of each cabbage quarter
Cut the cored cabbage into stripes
Pork Cabbage Recipe and Instructions
Ingredients
2-3 cups diced ham leftover (at the time when I took the pictures of this meal, I only got 2 cups of ham leftover remained. Feel free to add up to 4 cups. The main idea is to use the ham to give flavor to cabbage. I truly believe that this is the way to encourage you to eat more vegetables)
1 medium cabbage (about 3 pounds; cored and cut into long strips)
1/4 cup Extra Virgin Olive Oil
A pinch of crushed red pepper
Salt and pepper to taste

Cut cabbage into quarters
Tilt the knife at 45 degrees angle to cut out the core of each cabbage quarter
Preheat a Dutch oven with 2 tablespoons Extra Virgin Olive Oil and crushed red pepper flakes at medium to medium high heat
Chop and drop
Thinly sliced the cabbage and put it into the Dutch oven and stir
Repeat the last step for a quarter of cabbage at a time
Add the remaining extra virgin olive oil if necessary
Cover and let the vegetable cook for 12-15 minutes
Check and stir regularly
While the cabbage is still cooking, dice the ham and transfer to Dutch oven
Cook until crisp tender and serve immediately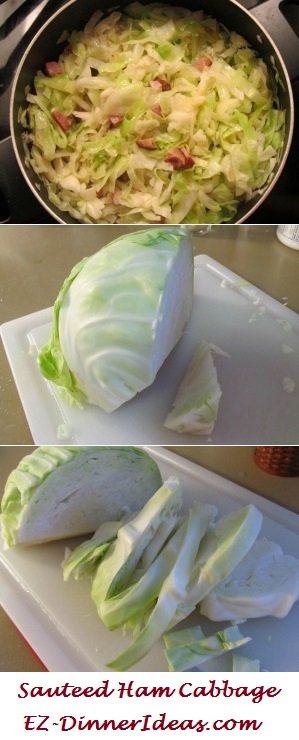 ---

You May Also Be Interested In:

---
Home > Quick and Easy Dinner Recipes > Pork Cabbage Recipe | Sauteed Ham Cabbage