Ham Leftover Recipes
Ham Spaghetti Stir-fry
Becomes A Delicious Asian Meal
Ham spaghetti stir-fry was the one of the first ham leftover recipes I created several years ago. It was so good that every time when I got ham leftover, that is the first
thing I want to cook and eat.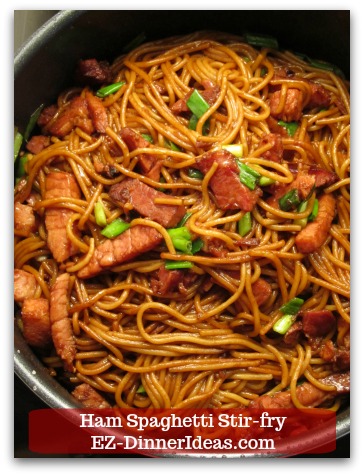 Prep Time: 10 Minutes  Cook Time: 20-25 Minutes  Serving: 4-6
Tips
If you don't have any ham leftover, replace it with ham steak or Canadian bacon.  Try your best to stay away from deli ham.
Hope you will enjoy as much as I do.
Ingredients
4 cups ham leftover (cut in 1/4" x 1" strips)
1/2 cup ham gravy leftover (if you don't have any, replace it with the combination of 1/4 cup molasses and 1/4 cup water)
1 pound spaghetti
6 scallion (optional; diced)
1 pinch crushed red pepper flakes
1 teaspoon superior light soy sauce
1 tablespoon superior dark soy sauce
2 tablespoons Extra Virgin Olive Oil
1 Pot of Water
1 teaspoon salt
1 tablespoon canola oil

Bring a soup pot of water to a boil
Add salt, canola oil and spaghetti in
Quick stir and cook until al dente and drained
Use the same pot, heat Extra Virgin Olive Oil at high heat and add crushed red pepper flakes to infuse the oil for 30 seconds
Add ham and cook until warm; about 1 minute
Add spaghetti, soy sauces and gravy
Toss to combine
Taste to adjust seasonings
Add scallion and quick toss
Hold the salt because the ham is salty enough to give enough flavors
Serve immediately 
---
Serve This With: 

---

You May Also Be Interested In:

Return from Ham Spaghetti Stir-Fry Recipe page to Pasta Recipes page

Return to Easy Dinner Ideas Homepage