Baked Ham Side Dishes Recipes
A Stress-FREE Guide of Managing To Serve Everything On The Table At the Same Time

Baked ham side dishes recipes are the guides to show you how to manage preparing several side dishes, including dessert and appetizer, while your ham is cooking in the oven.  This makes classic big family gathering stress-free.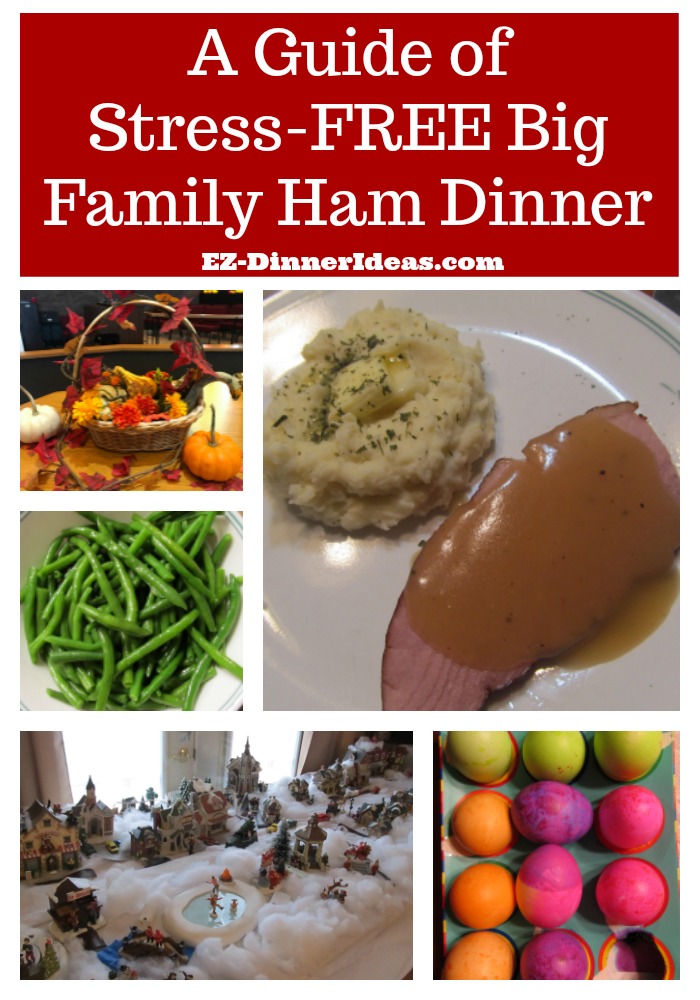 Just like many of you, we do love to serve classic American turkey or ham dinner every year for special occasions.  It could be Thanksgiving, Christmas, Easter or any time in between. 
Depending on each household's preference, we serve ham dinner more than turkey ones.  So, this is my experience talk.

Throughout my life, since I started cooking dinner for a family of 6 at the age of 11, there were always 2 stove tops.  To cook 4 dishes and a soup every night, it always based on the priority of what dishes should go first with the least washing to do in between.  It is because washing takes up so much time.  Or the whole cooking process would take a lot longer than it was supposed to be.

After marrying in 2002, my husband's expectation is, "Everything must be served at the same time."  Serving each dish 5 minutes apart from each other means some of them get cool and that is not acceptable.  Honestly, I got aggravated at the very beginning.  To me, what matter the most is always the time to sit together on a dining table as a family to enjoy each other.

It took a long time to learn that it is pretty much the expectation here in this culture.  Throughout my learning curve, I saw people struggle.  As a result, some dishes are overcooked or burned.  The host/cook is always guilty and the most unforgiving of her/himself while your guests are always understandable and forgiving.  I would not say that I have never hit this kind of roadblocks before.  But I was able to manage them after a few trials.  So, here are my guides sharing my experience with you.



CHEF NOTES
Feel free to replace ham with turkey.

The guidelines of preparing these baked ham side dishes recipes are based on majority American household having 4-range stove oven. 

One very important thing I learned throughout the years is the punctuality of your guests.  It makes a huge difference in your time management of cooking this entire meal.  Not everyone would arrive early and hang out.  Some may like to arrive at your house early and leave in the middle of the visit to go do something else.  Some like to be there just before dinner and they leave as soon as the dinner is over.

There are many reasons why people do that.  Regardless, it is about spending quality time with family.  But bear in mind that having this knowledge helps you to figure out when exactly you should start preparing the ham and the rest of the side dishes.


Managing Baked Ham Side Dishes Recipes To Serve Everything At The Same Time

Here are the orders of what to prepare for your big ham dinner:

1) Pumpkin Roll

As long as you can resist your temptation, you can prepare this dessert up to 3 days ahead.  Once it is cool down, transfer it into a container where you can cover it with a flat lid.  It will make your life much easier in the next few days when you have more things piled up on top of each other in the fridge.

If storing the whole roll causes problems, cut the roll into slices and transfer the slices into a baking dish in the way as you will present this beautiful and delicious dessert; cover with lid and store in the fridge until serving.


2) Veggie Tray and/or Cheese and Cracker Tray

Some may prefer to the short cuts of buying the ready-to-serve trays for both of these appetizers/finger food.  But some love to DIY. 

If you choose the later option, start to cut up the vegetables a day ahead.  There are trays in the markets where you can store the vegetables in a very pretty presentable way.  Do the same thing with your cheese and cracker tray.

However, if the trays causing storing problem by taking up too much room in your fridge, store the vegetables separately in airtight storage bags.  You can then assemble everything together on the day of dinner.


3) Baked Ham with Fruit Cocktail Gravy

This may be the easiest, but most important dish in the entire dinner.  I always ask this question to myself the day before our dinner, "How long does it take to bake the ham?"  Since different weights, different inactive cook time.  Once you figure out your answer, you know when you need to start to prepare and put the ham into the oven.

I know you are going to ask me why I need to prepare this the day before.  Well, things happen.  You may need to make some last-minute adjustment.  For example, some of your guests travel from afar that their arrival time delays.

Once the ham is in the oven, you can start to assemble your veggie and/or cheese and cracker trays.  Get the table setting ready and relax until about an hour before the ham is out of the oven.
BONUS: What are you going to do with the fruit from the canned fruit cocktail?  You can make another easy appetizer, Fruit Cocktail Shrimp Salad.  Download the FREE shopping list and bonus tip of how to manage this extra dish if you want to serve with the rest of the baked ham side dishes recipes.    Scroll to the bottom of this page and sign up the newsletter.  Then, you will get the instant download.


4) Creamy Mashed Potato

This is the dish, next to the ham, takes the longest to cook.  You certainly can peel the potatoes right after putting the ham into the oven which could possibly a few hours ahead of cooking.  Make sure you transfer the peeled potatoes into a pot of cold salted water.  This will prevent the browning.

Otherwise, start preparing this classic dish an hour before serving your ham if you have not yet started after transferring the ham into the oven.

But first, fill up a big soup pot with water in which you will put in your peeled potatoes later.  Then, fill up a medium to large sauce pan with water that you are going to use for the green beans.


5) Perfectly Blanched Green Beans and Easy Butter Sweet Corn

These 2 dishes start about the same time.  Depending on how many ranges on your stove top, if there are not enough, you can cook the corn in the microwave.  However, that is the last thing I want or recommend you to do.

About 30 minutes before serving your ham, start bringing the sauce pan of water that you filled earlier to a boil.  Then, start cooking the sweet corns 10 minutes after.  In other words, start cooking sweet corns about 20 minutes before serving the ham.

6) Crispy Brussels Sprouts

Pop this into the same oven with your ham an hour before dinner.  It will take care of itself in the oven.  Best of all, you get the same awesome result as served in the restaurants.



Yes, you will start to get a little busier 30 minutes before the dinner is officially started.  But there is plenty of time in between when you can relax or visit with your guests.

So there you are.  These are all the steps you need to take for making baked ham side dishes recipes. 
To download the FREE shopping list, sign up my monthly newsletter, plus exclusive recipes, tips, menus and shopping lists just for You.


7) Mashed Cauliflower

Mashed potatoes can be a little too much, especially if you are in low-carb diet.  Or, you just want to have more vegetables blended into your heavy holiday meal.  Here is one great easy and low maintenance recipe.


8) Mashed Broccoli

This recipe has similar method of making mashed cauliflower.  If you like a different green instead of typical green bean casserole, this beautiful recipe is absolutely the way to go for.


9) Roasted Potatoes Green Beans

These 2 main ingredients are always on the dining table with ham or holiday meal.  Cooking both on the same pan may be a bit different to you. It goes super well with gravy.  I guarantee that you will fall in love with it from the first bite.

Shopping List
FREE Download

Fill out the following form to subscribe E-Zine for FREE E-books, exclusive recipes, tips and many more. 

Please note....after clicking the "Subscribe" button, you will receive email asking you to confirm one more time.  This is for your privacy protection.
Then, you will receive another email with an exclusive link for your instant access. 

Once subscribed, you will be requested to confirm your email address one more time.  Then, you will have a direct link to download this e-book.

---

Recipe Ingredients and Tools

---

You May Also Be Interested In:

---
Home > Holiday Recipes > Baked Ham Side Dishes Recipes | A Guide of Stress-FREE Big Family Dinner