Easter Dinner Recipes
What are your favorite go-to Easter dinner recipes?

Most people in America like to have ham.  But throughout all these years, I realized that the day of Easter could be pretty warm that you want to go by something light instead of heating up your whole house with an oven.

Sometimes, you have a lot of people in the house that you may want to spend more times visiting instead of being trapped in the kitchen.  

Or, you may need to visit different families and make several stops on the same day.  If the visit happens to be short, why spend so much time on a big dinner, but visit, right?

So, I thought some other options for family Easter dinner would help to relieve some pressure.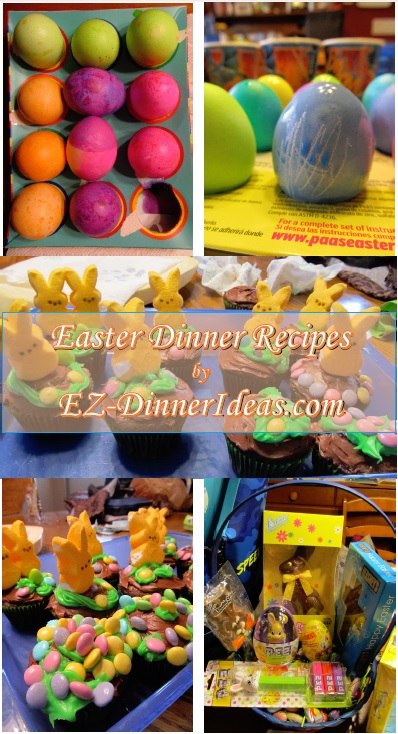 Options For Easter Dinner Recipes

We are going to cover 3 options of dinner style:

1) Traditional Easter Ham Dinner (all full-blown dinner can feed 7-10 people easy)

2) Light Brunch (with a lot of store-bought help and a little work to make it "semi-homemade" to give it a special touch)

3) Brunch Buffet Style (it is great for big family gathering.  But everybody wants to go light on food to save some room for candies and other sweet treats later.)
Traditional Easter Ham Dinner
Baked Ham with Fruit Cocktail Gravy
This is a hand-me-down recipe from my mother-in-law.  It was perfected after several twists.
Fruit Cocktail Shrimp Salad
Getting all the fruit cocktail juice for the ham, what do you do with the fruit?  This is a restaurant classic dish in Hong Kong restaurants.  Shrimp and any seafood always gives a perfect touch to big festivities.
Creamy Mashed Potatoes
You got the gravy.  Of course, you must have mashed potatoes, right?
Perfectly Blanched Green Beans
Many people love to pair the ham dinner with traditional green bean casserole.  I found that a very light vegetable dish is more welcomed than one loaded with cream and cheese.
Easter Bunny Cake
It is Easter.  That means candies are everywhere.  Let the kids to play with the food.  I love to see them decorate the cake with all the candies they received from Easter Bunny.
No-Towel Pumpkin Roll
What does pumpkin roll do with any Easter dinner recipes?  Although pumpkin season is far from Easter, my family loves to have this dessert.  It became our tradition to have this as a dessert in every big festival and dinner.  This is another dessert suggestion for you.
Light Brunch
Bagels with Semi-Homemade Cream Cheese Spread
Using different drink powder mix, such as coffee, hot chocolate, juice and so forth, it gives a lot of choices for your guests to pick.
Fruit Salad
You can use all fresh, frozen or combined both fresh and frozen fruit together to whip up a quick and refreshing salad.
If you don't want to do a lot of cutting, try this Lazy Bum Fruit Salad.

Pineapple Cucumber Smoothie
You got the fruit from the salad.  Now, you serve the vegetables, too.
Brunch Buffet Style
One-Pan Roasted Kielbasa Pepper Onion Potato Hash
This is a chop and drop recipe.  It is loaded with a lot of colorful vegetables.  Feel free to hold the eggs.
English Muffin Casserole
This low-maintenance recipe is always a crowd pleaser.  It is filling and flavorful.  People always ask for encore.
Denny's Mango Smoothie
Washing everything down with this restaurant remake recipe.  Now, you should still have room for candies from Easter Bunny. I love using my Ninja blender to make a big batch for feeding the crowd.
---

You May Also Be Interested In:

---
Home > Holiday Recipes > Easter Dinner Recipes