Easy Breakfast

Semi-Homemade Cream Cheese Spread for Bagels.  You Can Personalize A Simple Breakfast At Home Or Meeting At Work.
An easy breakfast can be something common, but special at the same time.  With store-bought help, you still can make an extraordinary breakfast.  Semi-homemade cream cheese spread makes your simple breakfast kicking up a notch.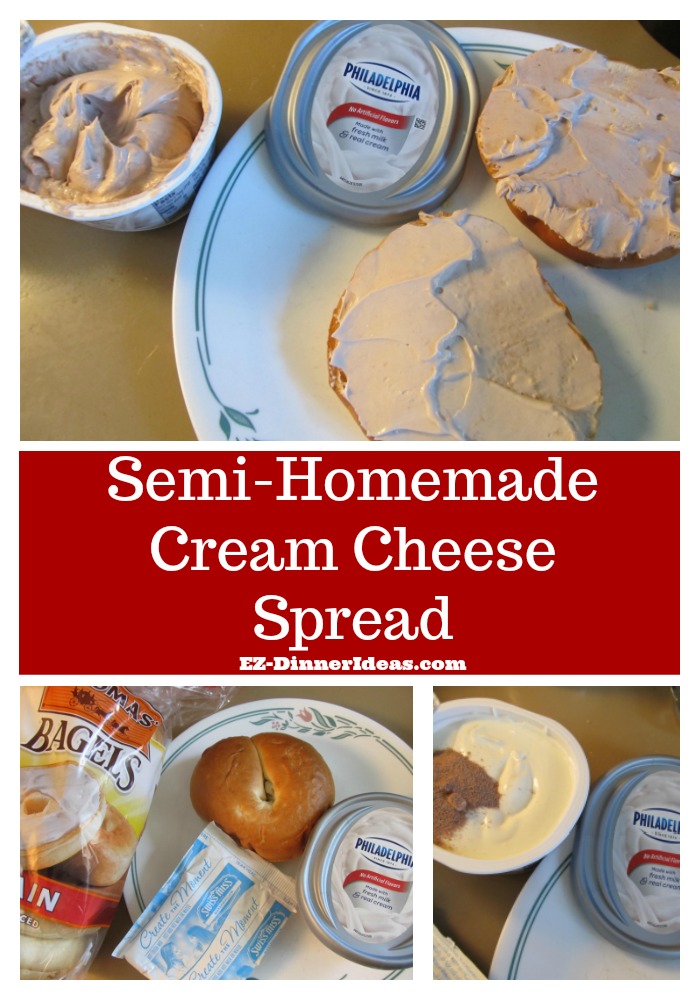 Total Time: 5 Minutes
Prep Time: 5 Minutes  
Active Cook Time: ZERO  
Serving: 4-6


I was looking back to the recipes I wrote in the spiral bounded notebooks for inspiration (yeah, spiral bounded notebook.  I started writing recipes since 2004.  Over 1,000 of them are still saved in that format).

I stumbled on this cream cheese spread recipe that I put a note there telling me that it was right after my baby was born back in 2009.

During that time, I had the craving (yes, craving after the birth of the baby instead of still having him in the womb) of cream cheese and bagels.  

For several weeks, I had to have cream cheese and bagels at least once a day.  Then, I got tired of the same flavor of cream cheese that I bought week after week and the money I spent on it.  Well, you would think that I would stop eating.  Then, it would be out of sight, out of mind, right?  No, I didn't.  What I ended up was creating this semi-homemade cream cheese spread recipe which is very addicting.

It gave me various flavors to pick from and saved tons of money.  Good thing was that my craving eventually faded.  

Funny that, back then, the only 8 ounce package was either the bar or the Italian Mascapone cream cheese.  7 years later, cream cheese packed in an 8-ounce tub is finally available in the supermarkets.  It made it easier to make this recipe happens.  If you want to make an easy breakfast for any occasions, this is THE one.

All you need to do is to set up several different semi-homemade cream cheese spreads with different kinds of bagels on the table.  Let your guests to help themselves.  
Remember to name the flavors of all cream cheese spread.  With this recipe, your guests will definitely ask you how you make them.  This allows conversation flowing around easily.  If your meeting is an icebreaker, it is even better.
CHEF NOTES
Since all the gadgets used in this recipe are very kid-friendly, you can even ask your little helper(s) to give you a hand.


Easy Breakfast Recipe and Instructions

Ingredients
8ounce Cream cheese bar or in a tub
2 heaping tablespoons drink mix powder or any individually packed one-serving drink mix

If it is an 8-ounce bar, transfer cream cheese into a glass container that you can put the lid on later to store the cream cheese spread (Skip to next step if cream cheese comes in an 8-ounce tub).
Add 1/2 tablespoon drink mix into the tub, use a butter knife gently stir until cream cheese starts to loosen up.
Add the rest of the drink mix in 1/2 tablespoon at a time and stir to combine and serve immediately or chill and enjoy later.

Easy Breakfast Steps with Photos


More Easy Breakfast Ideas with
Semi-Homemade Cream Cheese Spreads
Here are several flavors suggested to you.  All you need to do is to replace the drink mix with the following ingredient(s) and combine with cream cheese.  I can guarantee you that you will make your own flavored cream cheese spread over and over again.

Cinnamon Brown Sugar
2 tablespoons Dark brown sugar
1/2 teaspoon ground cinnamon
Coffee Flavor
1 pack one-serving Coffee mix
Chocolate Flavor
1 pack one-serving hot chocolate mix
Season of Fall Flavor

1 pack instant apple cider drink mix

Fruity Flavor

You can easily use any fruit flavored drink powder mix to make your own cream cheese flavor.  Strawberry is a popular one.  My favorite one is lemonade flavor.

Final Thoughts

You may discover more options out there.  Let me know and share with everybody what flavor did you make?  Please put your comment at the bottom of this page to share.
---

You May Also Be Interested In:

---

Recipe Ingredients and Tools

Home > Breakfast Recipes > Semi-Homemade Cream Cheese Spread