Memorial Day Meal Ideas
Pay Tribute to Our Fallen Heroes by Gathering Around the Dinner Table with Family for a Patriotic Meal
Before diving into my Memorial Day meal ideas, I want to give my heartfelt gratitude to the men and women who fought and are fighting for our country.  Because of you, we are able to live in peace and enjoy freedom.  Thank You!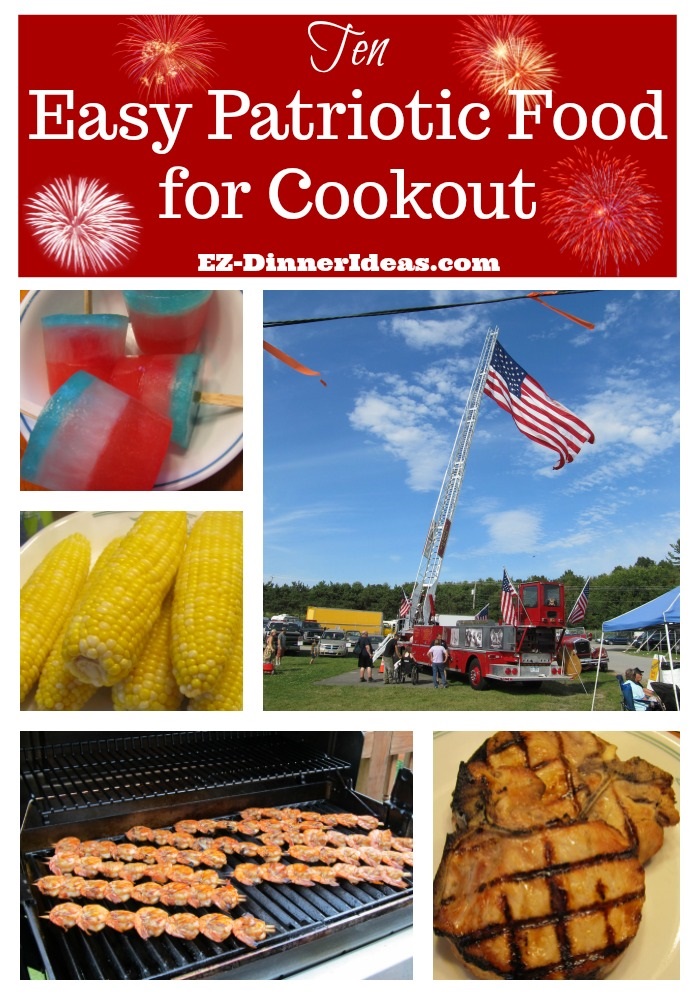 Did You Know?
The Memorial Day and the 4th of July are two holidays that are only celebrated in the USA.
These patriotic meal ideas would also be great for the 4th of July.  Temperatures can vary greatly between Memorial Day and the 4th of July, so keep in mind that if it is warm and in high temperature, your biggest concerns is how you can get the kind of food which can stand in the hot weather for a long period of time.
While I was writing this page, I realized it would be helpful for you to have the dates for the next few Memorial Days at your fingertips.  

If you are thinking to schedule family union, wedding or some special parties around the holiday of Memorial Day, this chart will come in handy. 
Other than having the typical hot dogs and burgers on the grill, anything else you can enjoy cooking out?

Here is the list of recipes and ideas recommended for you:

Perfectly Grilled Steak

Steak is obviously more expensive than just regular hot dogs and burgers.  But if the crowd is about 4-6 people, this is a great alternative to be on the grill.
Most of the time, supermarkets start to have the steak on sale at least a week before the big holiday.  Just keep your eyes open. (Get recipe)


Shrimp on the Barbie

Talking about surf and turf, huh?  Seafood makes you think of "ching, ching" (money).  In fact, 3 pounds of shrimp costs less than an entree in a fancy restaurant.  And you can feed a crowd.

I am not kidding.  Throughout the years, I pay attention to the on sale price of the prawns.  Buy them in bulk when it is at good price (especially if you have an extra fridge or freezer at home).  (Get recipe)

Herb de Provence Brined Pork Chops
If surf and turf is not your kind of food, what about this grilled pork chops?  Brined in salty water with Herb de Provence overnight.  The meat is super tender and can be cut through with a butter knife.  You will not believe pork chops could be as good as this one. (Get recipe)

Perfectly Cooked Corn On The Cob
How would you miss the time to enjoy corn on the cob while it is in season, right?  It is a very simple recipe that not many people get it right.  You must try this one so that no matter when and where you get the corn, you always get the best out of them. (Get recipe)


Fruity Kielbasa Kebab
Before the grill starts, everybody is mingling.  So, what do you think of side dishes or appetizers?  People would love to have some vegetables and fruit, especially during the holidays.  Because everybody tends to eat a lot.  Something healthy is very crowd pleasing. (Get recipe)

Seedless Cucumber Strawberry Salad
If you are looking for simple and seasonal ingredients, this salad is perfect.  The seedless cucumber stays crunchy throughout the day, that is definitely a winner.
(Get recipe)

Spicy Watermelon Pineapple Palm Heart Salad
Memorial Day may not be the best time for watermelon.  It depends.  But 4th of July should be the prime time for this summer fruit.  With a little bit of chili pepper in the dressing, the sweetness from the watermelon, the heat from the pepper and the tanginess from the pineapple, this salad is very addicting. (Get recipe)

Pepper Pepperoni Pasta Salad
You and I may miss carb, right?  This pasta salad should satisfy that crav.  The longer it sits, the more flavorful it is.  This recipe is perfect for staying in high temperature for a long time.  (Get recipe)

Simply Healthier Lemonade Concentrate
You may like to have a bottle of beer.  To me, nothing is better than a glass of homemade lemonade.  This lemonade concentrate not only can serve a big crowd, but also very versatile.  It allows your guests to adjust to their preferred sweet and sour level of a glass of lemonade.  Remember, "one size doesn't fit all".  This recipe solves your problem. (Get recipe)

Old Glory Popsicles

A patriotic family meal must finish it off with a patriotic dessert.  We stick to our plan to have all the dishes able to stay in high temperature for a long time so that we have room in the freezer to save the best for last. (Get recipe)

Download Your FREE Memorial Day Meal Ideas Shopping List

You can customize your shopping list for Memorial Day or 4th of July.

Click here to sign up our newsletter and download the FREE shopping list to get ready for the patriotic holiday.
It lists out all the ingredients of the recipes mentioned above. 

Return from Memorial Day Meal Ideas page to Holiday Recipes page

Return to Easy Dinner Ideas Homepage