Perfectly Cooked Corn On The Cob
A Basic Skill To
Bring Out The Best Of The Best
This perfectly cooked corn on the cob recipe is for the stove top.  If you have a burner next to your grill, I encourage you to cook the corn on the burner, especially on a hot summer day.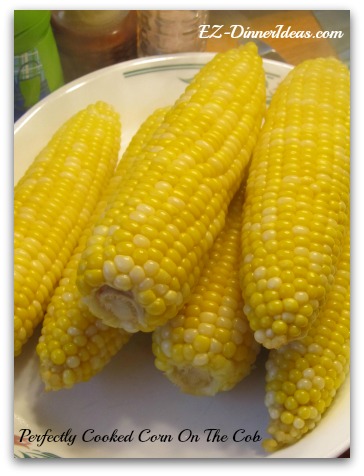 Total Time: 35-45 Minutes
Prep Time: 10 Minutes  
Active Cook Time: 25-30 Minutes  
Serving: 4-8


Do you find that some basic cooking skills are so hard to get a grasp on?  In fact, these skills are the determined factors of a good cook or a good chef.

Cooking corn on the cob is one of the best examples.  Why?  Have you ever set out to the local market to purchase the best corn on the cob, anticipating that it would be nice, fresh, crisp, and sweet? Then, you realize it was chewy instead?  What happened?  It was overcooked.  How disappointing, huh?

Where the corn comes from and when they harvest it definitely makes a big difference in the quality.  With this method, you will bring out the best of it.

The other thing I want to emphasize....this recipe calls for Himalayan Pink Salt and Cane Sugar.  You may think that they are just fancy ingredients.  In fact, making this recipe countless time, I found that these two ingredients make a huge difference in taste.

Once you try them, you will know what I mean.  And you won't want to go back to regular salt and sugar.

Besides, they are 100% natural and provide more health benefits for you, especially the Himalayan Pink Salt.

So, learn this recipe and enjoy the corn on the cob this summer.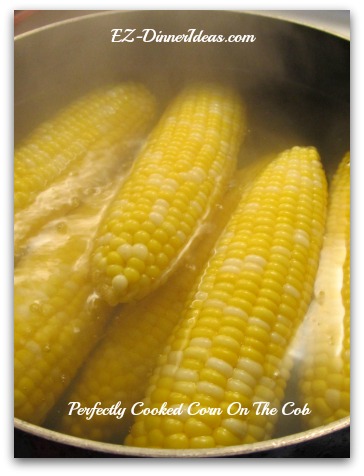 Are You Serving This in Upcoming Cookout?

If you are planning to serve this perfectly cooked corn on the cob at a cookout, you may be interested in this book, Competition BBQ Secrets 300 (degree) Hot & Fast.  This book was written by a nine-time-BBQ-competition-champion author.  I always love to look for great tips when it comes to food.  This is the kind of book that I love to dive into.

Being a "bug magnet" (yes, that's what my hubby called me), I don't grill too much outside, except I have to.  If you are interested in different cooking methods, especially grilling, this is a great book.  It goes hand in hand with all the tips I share here with you.

You will learn everything about BBQ inside and out.  It is more than just a recipe book.  It surely is a great read for cooking outdoors.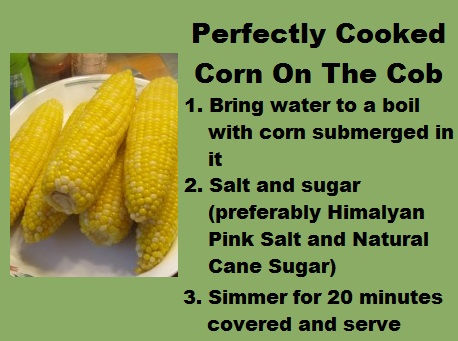 Perfectly Cooked Corn On The Cob
Recipe and Instructions

Ingredients
6-8 Ears Corn on the Cob (husk removed)
1 teaspoon Salt (preferably Himalayan Pink Salt.  Otherwise, table salt is fine.)
1 tablespoon Sugar (preferably Cane Sugar.  Or, regular granulated sugar is fine.)

Remove and discard husk.
Fill up the pot with water and the corns submerged into it.
Bring the water to a boil.
Add 1 teaspoon Himalayan Pink Salt and 1 tablespoon cane sugar.
Lower the heat and simmer with the lid on for 20 minutes and serve along with butter.
---

Recipe Ingredients and Tools

---
Serve This With: 

---

You May Also Be Interested In:

Home > Easy Side Dish Recipes > Perfectly Cooked Corn On The Cob