Chinese Corn Egg Drop Soup
Comfort Food On A Chinese Dinner Table
A Healthful Dish For You
Chinese corn egg drop soup is a typical "fast" soup on a Chinese family dinner table.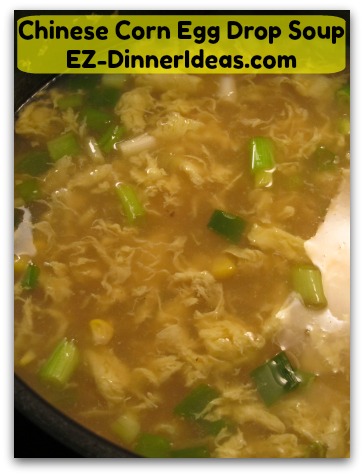 Total Time: 15 Minutes
Prep Time: ZERO  
Active Cook Time: 15 Minutes  
Serving: 4-6


For a traditional Chinese family, the first course of a dinner is always a bowl of soup.  It has been like this for years.  That bowl of soup looks almost as clear as water, but packed with tons of natural flavors and nutrients.  It takes 4-8 hours to cook it low and slow. 

But there are occasions that when time is not allowed, a bowl of "fast" soup like egg drop soup will do.  So, you most likely start to think or ask, "What exactly is "fast" soup?"

I must say that the term was created by my mom.  The idea is using on-hand ingredients and take 10-20 minutes to put a pot of soup together.  This is exactly what this recipe is about.  Normally, there is more liquid than any other ingredients.

However, to me, why not taking the advantage to bump it up, right?  You can easily turn this into a one-pot dinner.  That's what I did one night.  Stock up all the ingredients.  This can easily become your pantry staple recipe.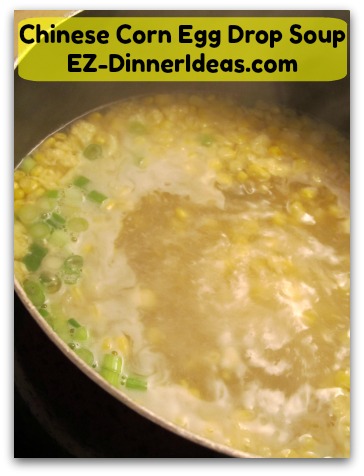 Chinese Corn Egg Drop Soup Recipe

Ingredients

6 cups Chicken/Vegetable Broth
2 lbs Frozen Corn Kernels
2 Eggs (beaten)
1/4 cup Corn Starch
1/8 cup Cold Water
2 tsp Superior Light Soy Sauce
2 Scallion (chopped; for garnish only)
Salt and Pepper to taste (Chinese prefers white pepper.  If you have it on hand, it would be better than regular black pepper.)

Bring broth to a boil in a soup pot
Add frozen corn kernels
While waiting, beat eggs in a separate bowl
Combine corn starch and water in another bowl
When soup comes to rolling boil again, slowly drizzle beaten eggs into the soup (If possible, use a ladle to stir while you are doing it)

Slowly stir in corn starch slurry into the boiling soup
Add soy sauce, salt and pepper to taste
Garnish with scallion and serve immediately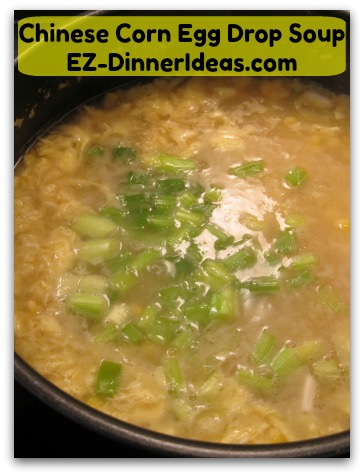 Chinese Corn Egg Drop Soup Steps with Photos


Recipe Ingredients and Tools

---
Serve This With: 

---

You May Also Be Interested In:

---
Home > Soup Recipes > Chinese Corn Egg Drop Soup