Easy Ground Beef Meal

Chinese Beef Egg Drop Soup Turning A Traditional Chinese Quick Soup Into A One-Pot Low Carb Meal

Easy ground beef meal is a Chinese traditional soup recipe which is quick, easy, yummy and filling.  Now, it is your next low carb meal.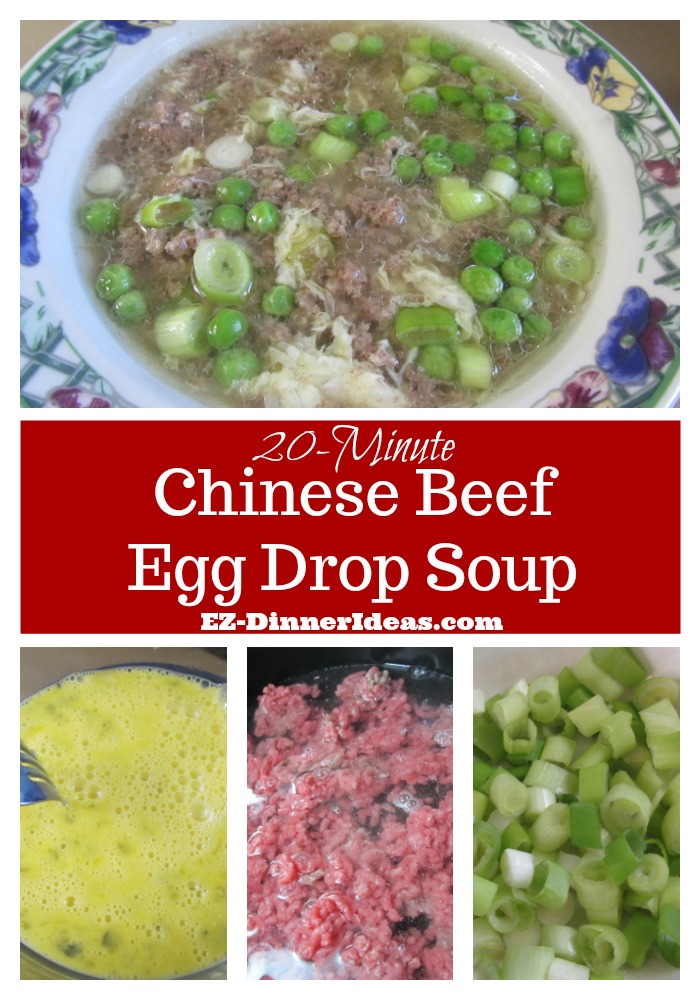 Total Time: 25 Minutes
Prep Time: 5 Minutes  
Active Cook Time: 20 Minutes  
Serving: 4-6


Traditionally, Chinese love to serve soup in small portion (a little bit over a cup size) in every meal as an appetizer.  My mom used to do that, except certain soup recipes, such as tomato carrot potato soup, she will make sure that we each had a big bowl.  (You will find out the story behind it on that recipe page.)

Anyway, when inspiration strikes, I decided to combine the traditional Chinese and my mom's ways together to serve it as a dinner.  That was how this soup recipe came along.  So, it is a one-pot low carb meal.


CHEF NOTES
For die-hard low carb diet, skip frozen green peas entirely.  Although corn starch has high carbs, it is a must to give this soup the right texture.  Unless, you are ok with a watery egg-drop soup.

It only needs 1/2 tsp white pepper in this soup.  However, this seasoning gives a nice touch of the traditional Chinese flavor.
---

Easy Ground Beef Meal Recipe and Directions

Ingredients
1-1.5 lbs Ground Beef
4 cups Water
2 cups Beef Stock
2 Eggs (beaten)
3 Scallions (chopped)
8oz Frozen Green Peas
2 tsp Light Soy Sauce
1/2 tsp White Pepper
1/2 tsp Ground Ginger
1/4 cup Corn Starch
1/4 cup Water
Salt and pepper to taste

Directions
While transferring ground beef into the soup pot, use your hand to break them up.
Add 4 cups of water and use a fork to mash up the meat.  You want the pieces to break down as small as it can and no big lumps.
Stir in beef stock, cover the soup pot with lid and turn to high heat.
While waiting, beat eggs in a small bowl.  In another bowl, combine 1/4 cup each of corn starch and water together to make slurry.
Once the soup is in rolling boil, stir the slurry again and slowly stir it into the soup. 
Then, slowly stream in the beaten eggs.
Turn off heat and add frozen green peas, scallions and all seasonings.  Salt and pepper to taste and enjoy immediately.
This ebook will teach you to cook authentic Chinese food in a healthy way. It will also show you how to get the beautiful colors, texture and taste you get from your favorite Chinese restaurants.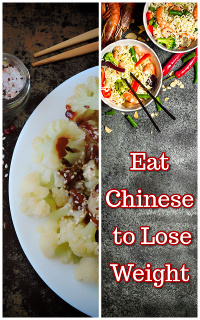 ---

Easy Ground Beef Meal Steps with Photos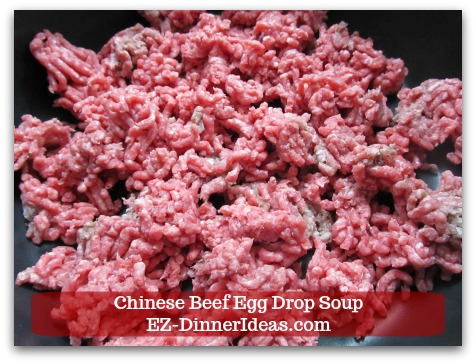 Crumble 1 pound of ground beef into a soup pot.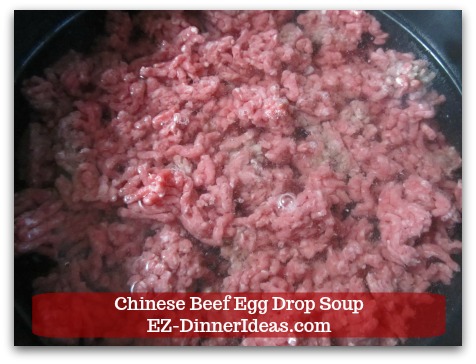 Add 4 cups of water.
Use a fork to break down the beef more until it is into small pieces.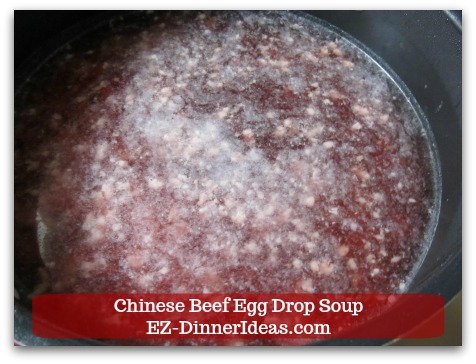 Add 2 cups of beef broth/stock.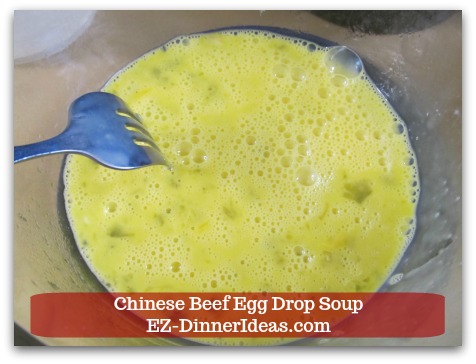 While waiting for the soup to come to a boil, beat 2 eggs.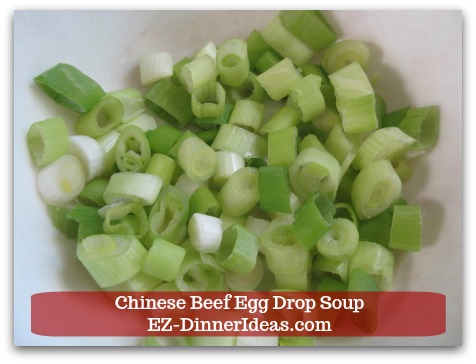 Chop 3 scallions for garnish later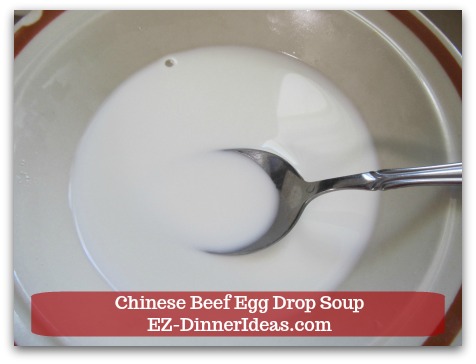 Combine a 1/4 cup of each corn starch and water together to make slurry which will be your thickening agent.
Beef soup is in rolling boil.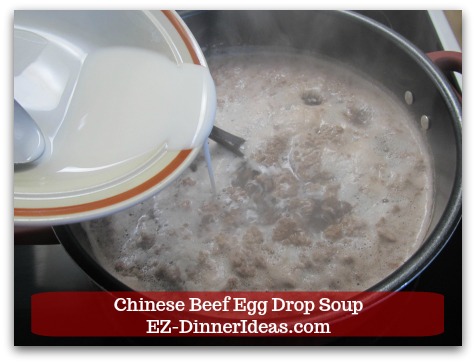 Stir in corn starch slurry.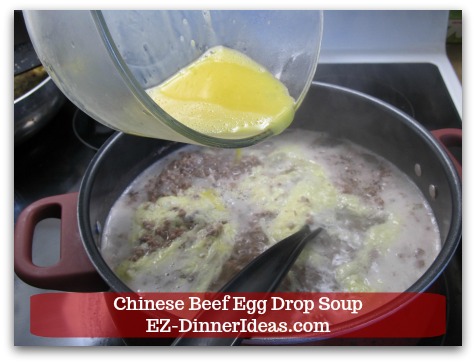 Slowly stream in beaten eggs while stirring.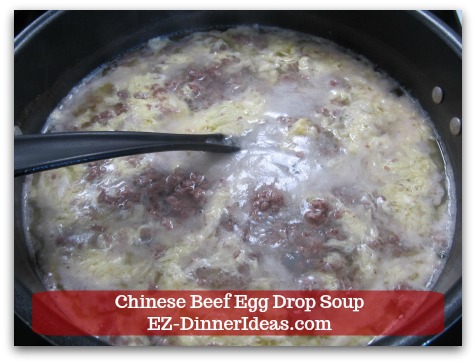 Everything is cooked through and you can turn off the heat at this stage.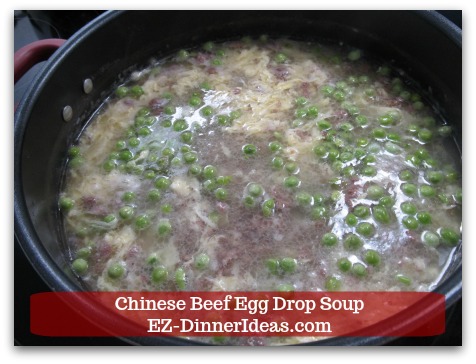 Add frozen green peas.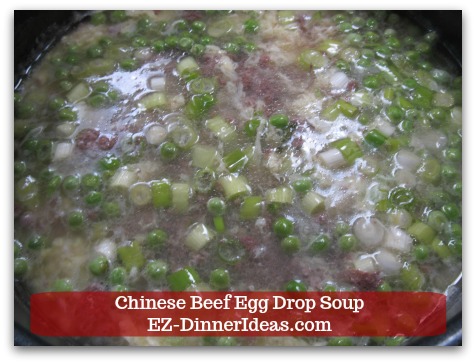 Add chopped scallions.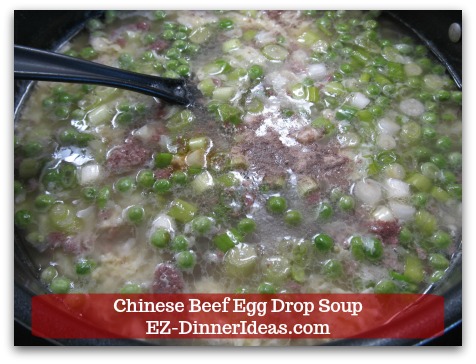 Add seasonings, salt and pepper to taste.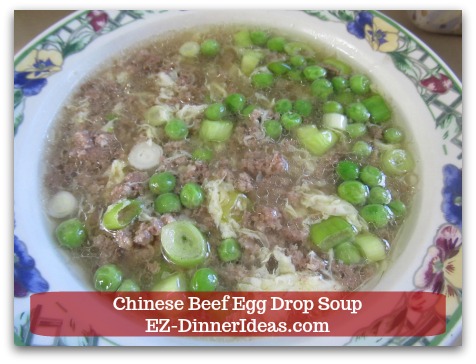 ENJOY!
---

Recipe Ingredients and Tools

---

You May Also Be Interested In:

---
Home > Soup Recipes > Easy Ground Beef Meal | Chinese Beef Egg Drop Soup