No Cook Meal Ideas
Regardless What's Your Reason of No Cooking Tonight, These 45+ Recipes Will Take Care of Your Whole Family From Morning Till Dessert After Dinner
45+ no cook meal ideas from breakfast, snacks, side dishes, main courses to desserts. You can even make a 3-course or 5-course dinner by combining several of them together without even turning on the stove top or oven. How awesome is that!
How many of you love no cook meals? For foodies, it is great to have a break once in a while. For many busy-bees, it is hassle free. Not only you don't need to worry about cooking dinner, but also saving money. For some of you, you may not feel like cooking tonight. Or, you want to start to teach your kid(s) independence. So, you decided to start with some no cook meal ideas to get the ball rolling. Or, it's way too hot to cook. For me, with so many sport activities, running with my son during spring and fall, we come back home very late. These no cook meal ideas are always my life saver. You may have many other reasons why you have to have no-cook meals. No matter what, it is surely great to enjoy some breaks and still have some semi-homemade dinner on the table.

CHEF NOTES
A few points that I want to make sure we are on the same page before diving into these delicious no cook meal ideas:

Some original recipes listed here require cooking. I will provide you the twists and tips to turn them into 100% no cook meal ideas.

Many of these recipes are very versatile. You may have better ideas than mine. If you do, please share with us which will benefit many families like yours. So, always keep your mind open and be creative. There is no limit but the sky.
---

Recipe Ingredients and Tools

---

No Cook Meal Ideas Roll Call
No-Cook/No-Bake Breakfast

Avocado Smoothie Recipe with Apple Oatmeal
Apple and avocado are 2 well-known healthy ingredients. This breakfast is perfect for those who are super health conscious. (Get Recipe)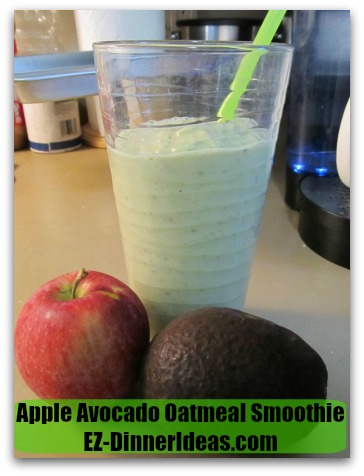 Mocha Oatmeal Smoothie
Coffee lovers will enjoy this smoothie immensely. You can use decaffeinated expresso powder to make it family-friendly. (Get Recipe)


Peanut Butter Banana Oatmeal Smoothie
I am all for anything with peanut butter and banana. What's better than blend everything in one place and no mess, then enjoy it, right? (Get Recipe)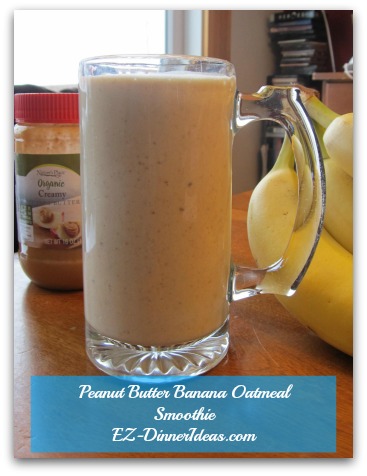 No-Fry Breakfast Snack Taquitos
The beauty of this recipe is that you can prepare it overnight. The texture stays the same next morning. Perfect for any busy family if you are on a run all the time. (Get Recipe)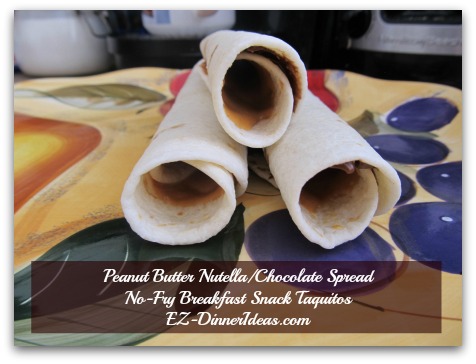 Overnight Oatmeal On-The-Go
This recipe is going to show you how you can make a few easy twists to multiply the variations of the same breakfast. It makes life much easier. (Get Recipe)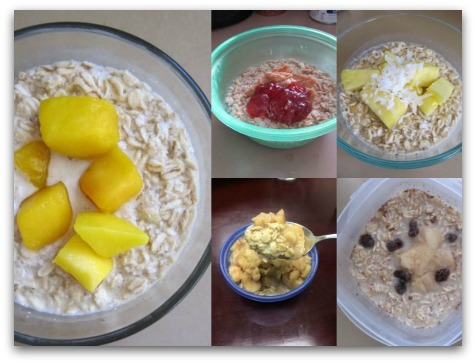 Very Healthy Chocolate Overnight Oats
Chocolate lovers, you can have chocolate in many different ways. Of course, this is a very healthy way to indulge. (Get Recipe)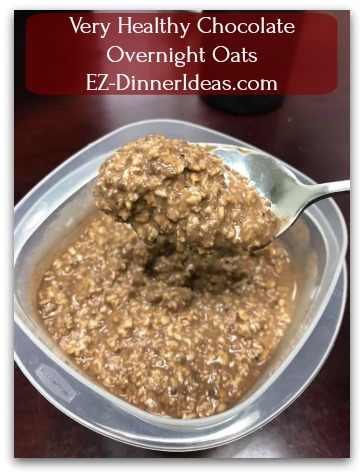 Semi-Homemade Cream Cheese Spread
This is no regular bagel breakfast. It is going to take your creativity to another level. I bet you will never get enough of it. (Get Recipe)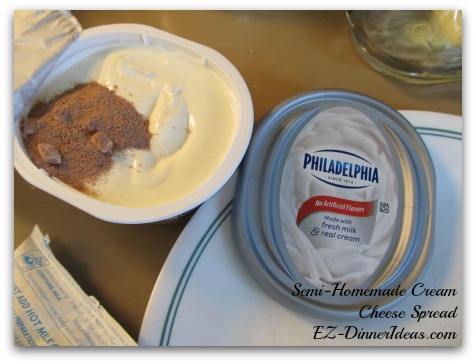 Turkey Cheese Wraps
To make it completely no-cook or no-bake, utilize your toaster at home. (Get Recipe)
---

No-Cook Snacks
The following 2 dip recipes are perfect to serve as appetizers. You can also consider to serve as snack for movie night after dinner. Of course, you can serve any of them along with crackers and/or chips instead of purely vegetables.
Low Carb Keto Tuna Salad Dip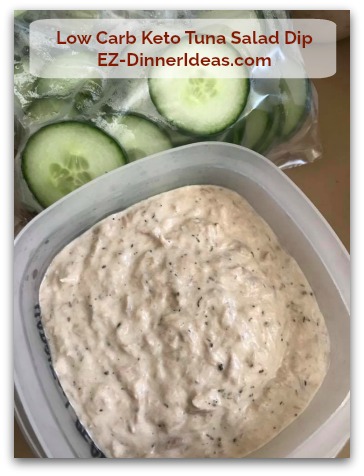 No-Bake 5-Minute Canned Chicken Dip Keto Style


Pepperoni Tomato Cheese Bites
You may wonder why we bother to assemble these 3 ingredients together. Well, it is the appeal with our eyes. It just makes it more pleasant when you enjoy it. (Get Recipe)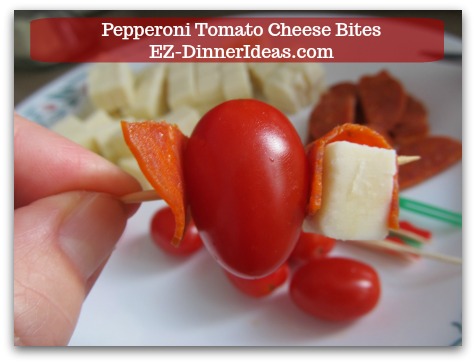 Pineapple Cucumber Smoothie
One thing many people concern about if no-cook meal is not salad, there will not be enough fiber. This is a sweet way to feed your family with fiber, but taste super yummy and look beautiful. (Get Recipe)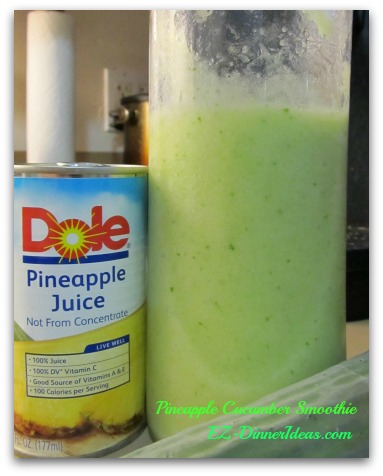 Spicy Watermelon Pineapple Palm Heart Salad
To eliminate the cutting part, you can purchase pre-cut watermelon and pineapple in the store throughout the year. (Get Recipe)
---

Recipe Ingredients and Tools

---

No-Cook/No-Bake Side Dishes
Salad lovers, these recipes can be your go-to meals or great side dishes to pair with other no-cook meal ideas. As mentioned earlier, be creative!

5-Minute Keto Low-Carb Romaine Salad
This salad packed with plenty of fiber which is the kind of meal that make you feel awesome after dinner. (Get Recipe)


Cabbage Mandarin Orange Salad With Honey Garlic Dressing
This recipe has some Asian flare and very beautiful. How can you resist it, right? (Get Recipe)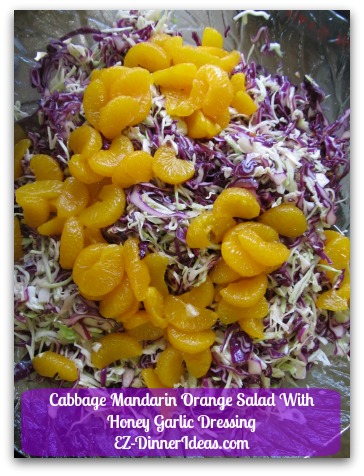 Easy Tomato Mozzarella Caprese Salad
This salad recipe makes cutting of the ingredients to the minimal so that you can enjoy it asap. (Get Recipe)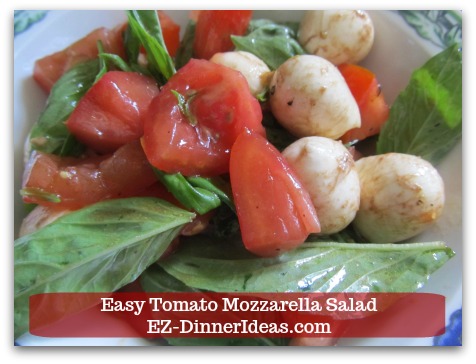 Cucumber Ham Salad
Original recipe uses yogurt and sour cream to make the salad dressing. You can easily replace that with other store-bought dressing, such as ranch, Cesar or creamy Parmesan. (Get Recipe)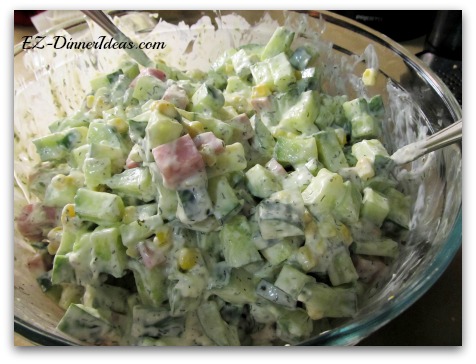 I always use jelly to make a salad dressing. For these recipes, you can use other jelly flavor which is on hand. Purely strawberry jam or jelly absolutely works.


Cucumber Nectarine Salad with Strawberry Rhubarb Dressing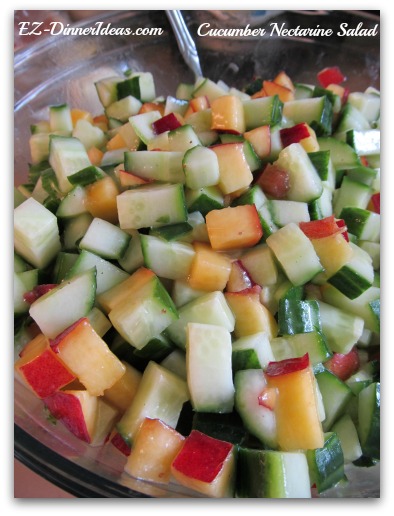 Iceberg Salad Recipe with Strawberries and Mint Jelly Dressing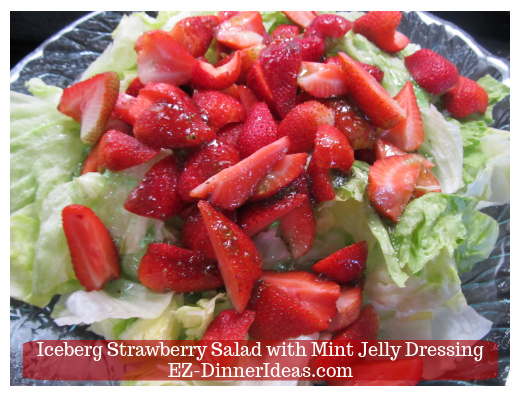 Seedless Cucumber Strawberry Salad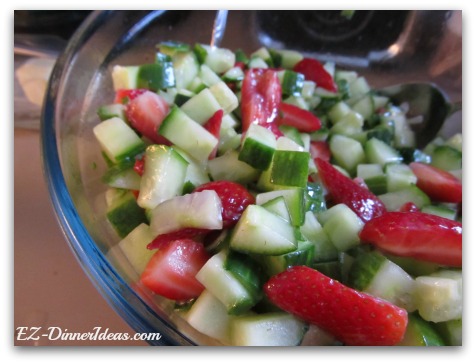 Frozen Sweet Corn
For a side dish, this recipe can be very versatile. You only require some help from your microwave oven. I sometimes just add butter, salt and pepper. There were times that I added some spice/herb blends in my pantry, such as Herbs de Provence. It is so good that nobody can stop eating it. (Get Recipe)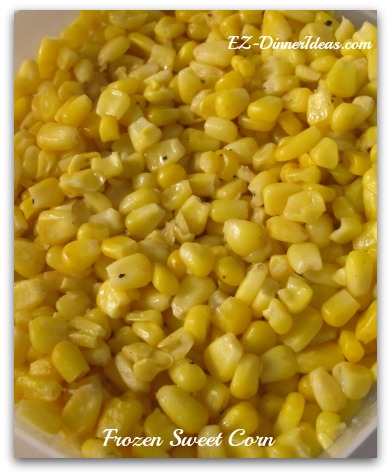 Fruit Cocktail Shrimp Salad
Use store-bought pre-cooked and pre-shelled shrimp will make this recipe ready on the table in no time. (Get Recipe)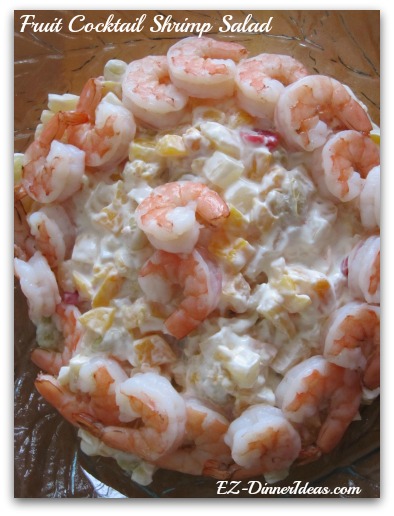 Lazy Bum Fruit Salad
The beauty of this recipe is that you can skip all the peeling and cutting of the fruit, but just let it thaw. You will do the finishing touch by combining everything together. (Get Recipe)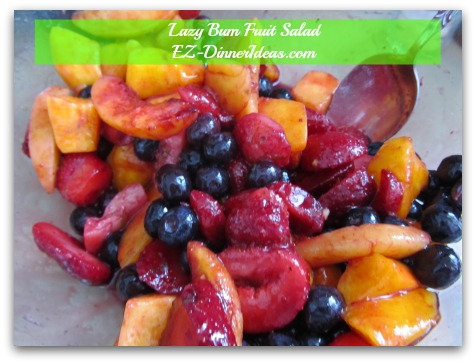 Savoy Cabbage Salad Ginger Vinaigrette
This salad dressing was inspired by a traditional Chinese dish. And Savoy cabbage is more tender than the regular green one. This cabbage may become one of your favorites. (Get Recipe)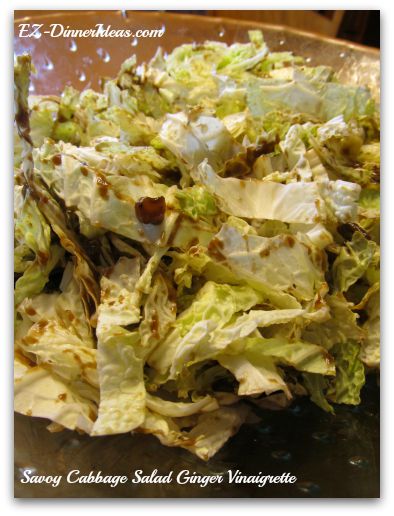 Southwestern Style Corn Black Bean Lettuce Salad
If you want to expand the volume of this salad, add some chicken meat by using store-bought rotisserie chicken or other pre-cooked/pre-grilled chicken which is available in grocery store as well. (Get Recipe)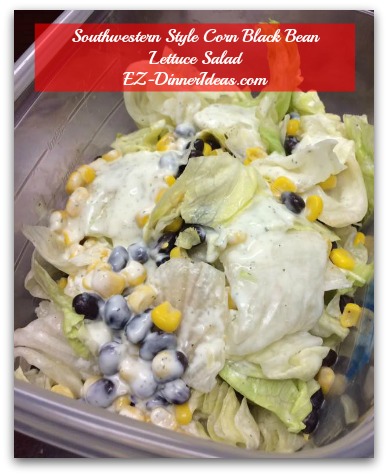 Tasty Cucumber Corn Salad
This recipe is so well received in my family. I hope it will be the same in yours as well. (Get Recipe)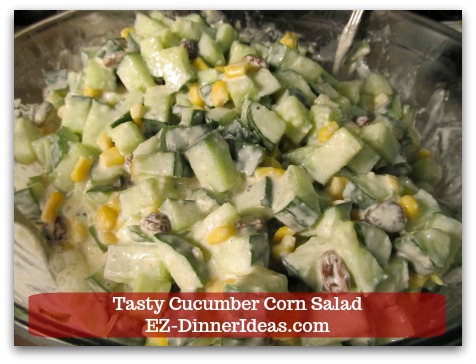 UNO Chicago Grill Berry And Goat Cheese Salad
Talking about eating fancy, you can enjoy this dish at home instead of breaking your wallet in a restaurant. (Get Recipe)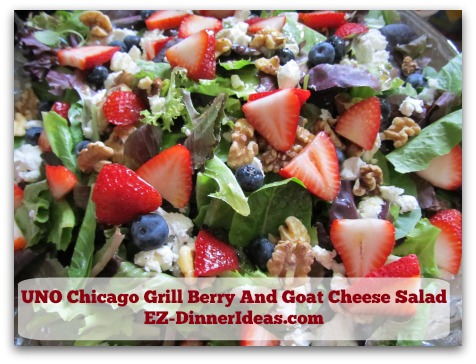 ---

Recipe Ingredients and Tools

---

No-Cook/No-Bake Meals

Asian Pasta Salad with Chicken
Want some Asian dinner but not to break your wallet? This no-cook meal is just for you. (Get Recipe)


Bell Pepper and Pepperoni Pasta Salad
The original recipe requires you to cook the pasta. You can simply replace it with ready serve pasta which is the pre-cooked pasta. All you need to do is to pop the bag into the microwave to warm it up. Plus, use mini pepperoni instead of regular size one. Then, assemble everything together and enjoy your no-cook dinner. (Get Recipe)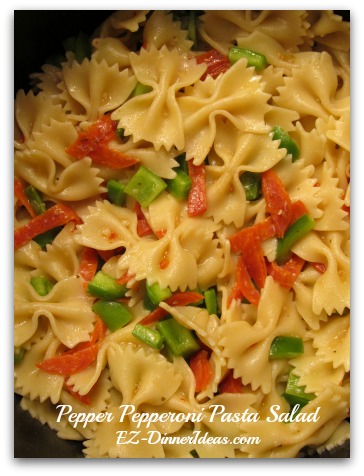 BLT Pasta Salad
This no-cook dinner recipe is easier than having everybody to assemble their own BLT sandwich. All it takes is 5 minutes to put together. (Get Recipe)


Bunless Open Face Cucumber Chicken Sandwich
Creamy, crunchy and refreshing. This sandwich recipe has it all. (Get Recipe)



Easy Chicken Cesar Salad
NO cook and 10-minute ready. This awesome dinner is made for hungry family, especially coming back home late from a game. (Get Recipe)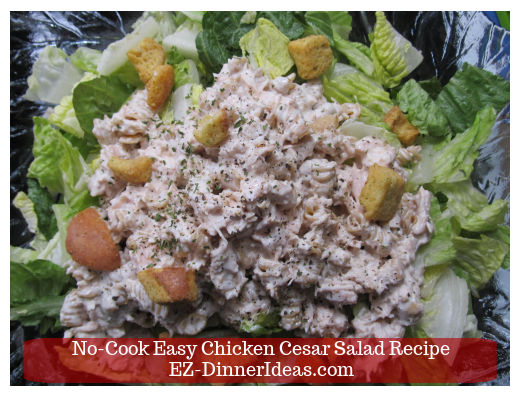 Chicken Salad Lettuce Boats
This beautiful and fun recipe is very versatile. Choose rotisserie chicken, leftover chicken or canned chicken. Pick whichever works best for you. (Get Recipe)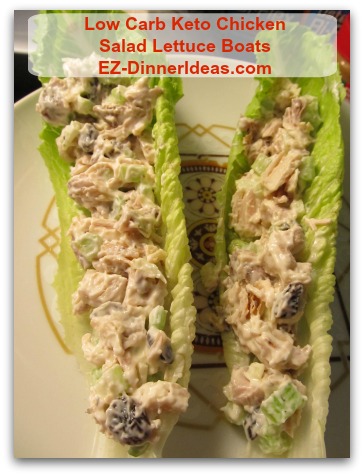 Keto Chicken Cordon Bleu Cabbage Wraps
Although original recipe calls for cabbage which means cooking is required, you can easily replace it with iceberg lettuce or any lettuce of your preference. (Get Recipe)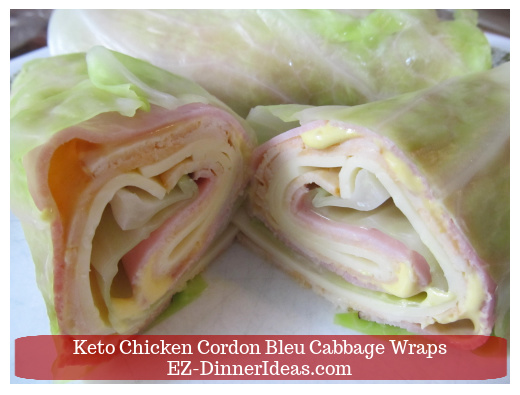 Lettuce Chicken Pasta Salad
It got fiber, protein and grains. Who said no-cook meal is no good? (Get Recipe)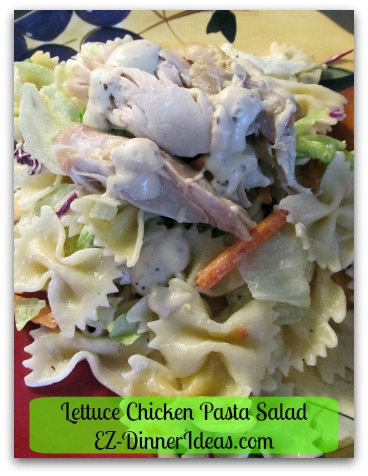 Salmon Avocado Salad
Original recipe uses leftover salmon. What about just use store-bought smoked salmon? See, easy peasy. Problem solved. (Get Recipe)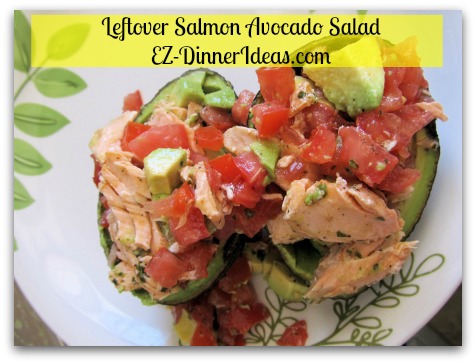 Spring Mix Tomato Pasta Salad
You can easily replace the pasta called in the original recipe with ready-serve pasta. Warm the noodles in the microwave, no cooking at all, assemble and dinner is ready. (Get Recipe)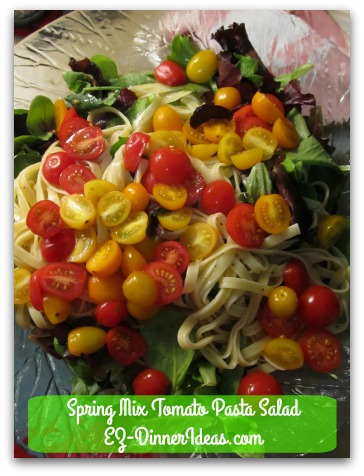 ---

Recipe Ingredients and Tools

---
 No-Cook/No-Bake Desserts

2 Layer Jello Recipe
These kid-friendly jello cups are in patriotic theme because of my son's patriotism. But you can switch it up by combining different colors to match your own themes. (Get Recipe)


Keto Low-Carb Chocolate Mousse
A very satisfying dessert, but light and airy. (Get Recipe)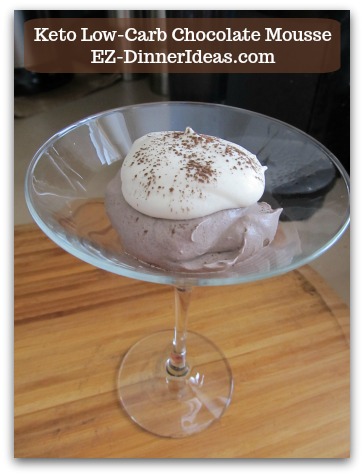 The following 2 no-bake cheesecake recipes are fun to have some kids helping in the kitchen. It's one of the greatest way to spend quality time together.

No-Bake Crustless Mini Lemon Cheesecake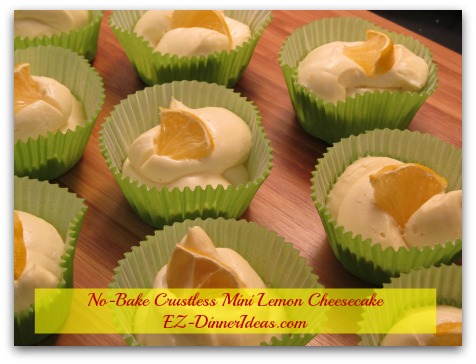 No-Bake Mini Caramel Cheesecake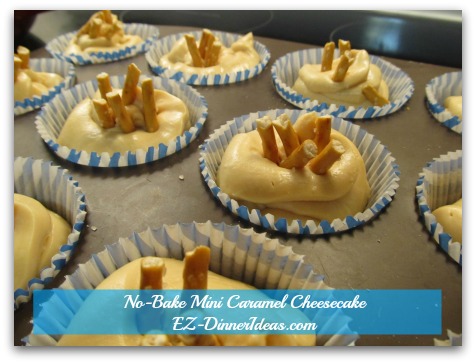 These 2 smoothie recipes can be your dessert after dinner. If you have some thermo cups to pack it, it is going to be an absolutely refreshing drink in a road trip.

Orange Creamsicle Smoothie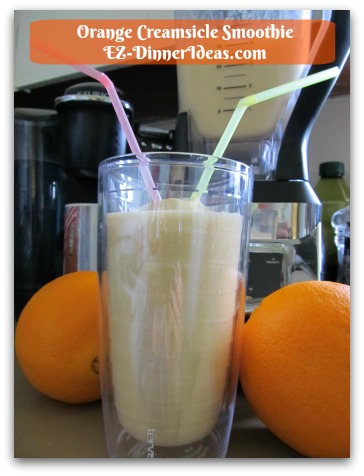 Denny's Mango Smoothie


Pina Colada Popsicles
You don't need to travel far to get some exotic fruits. You got it at home already. (Get Recipe)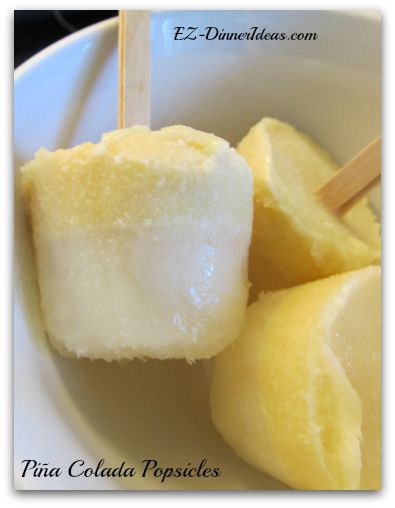 Old Glory Popsicles
Just like the jello cups, choose your favorite colors to create your own theme of popsicles. (Get Recipe)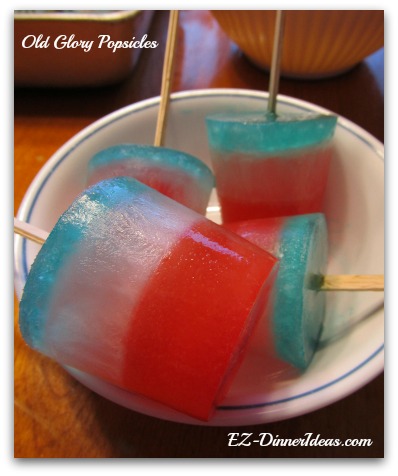 Spooky Worm Jello
If there is a celebration of Christmas in July, you can make this dessert for a movie night, Halloween in August or whatever you want to call it. (Get Recipe)
---

You May Also Be Interested In:

---
Home > No Cook Meal Ideas | 45+ Recipes for Meals and Anything In Between